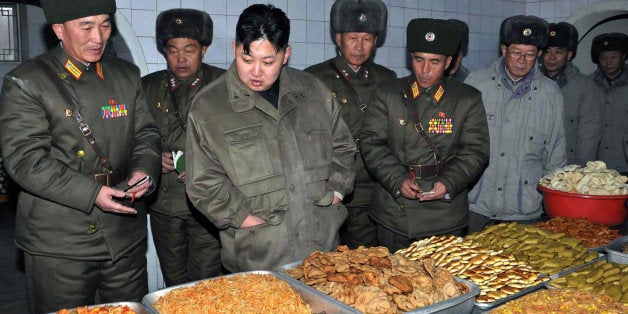 Not news: A fabricated story coming out of North Korea. News: It's not North Korea doing the fabricating!
It's being widely reported that Kim Jong-Un is considering Scotland for his next restaurant venture, which will feature dog meat on the menu. What's not being reported is... well, anyone ever saying that in the first place.
We're here to help you, the reader, mull through all the hot garbage being served up today by telling you exactly what we know, and pointing out the news organizations that are spreading misinformation. Yes, it's FACT or SHITE time!
FACT: Kim Jong-Un already has a restaurant in Amsterdam.
Kim Jong-Un's regime opened a North Korean chain restaurant called Pyongyang in Amsterdam in 2012. It was eventually closed down but reopened under the name Haedanghwa, according to CNBC. It also gets better-than-average Yelp reviews, and features noodles with bean paste and fried scallops. Yum!
FACT: A reporter for the Scotland Daily Post wants the dictator to open a restaurant in Scotland, but has no proof of a plan to do so.
Let's break down the facts in the Sunday Post article. Reporter Gordon Blackstock asks, "Is dictator Kim Jong-un planning to open a restaurant in Scotland?" He claims that North Korea indeed has Scotland "in its crosshairs" -- a particularly bad metaphor to associate with a militaristic dictator. His source is a blogger with the North Korea Leadership Watch (which has no official ties to Kim Jong-Un). This blogger allegedly said that "it would not surprise me if they opted to open a restaurant in Scotland."
FACT: That blogger never actually said a restaurant is opening in Scotland.
In fact, that blogger, Michael Madden, told The Huffington Post that the whole story is...
SHITE: Kim Jong-Un plans to open a restaurant in Scotland.
Madden, who didn't even write up the story on his own blog, says that the use of his quote is misleading.
"Kim Jong Un is most certainly not thinking of opening restaurants anywhere," he told HuffPost Weird News. "In terms of the sourcing I have nary a clue; this could come from local partners in Scotland floating a trial balloon or deliberately disseminated disinformation. If DPRK entities are thinking of opening restaurants in Europe, the UK, or the Republic of Ireland, Scotland would likely be on the short list which is what I said last week."
FACT: If Kim Jong-Un were planning to open a restaurant in Europe, Scotland would "likely be on the short list."
That's cool! But nobody ever said he plans to open anything. Heck, even if he did, the western version of the restaurant wouldn't feature dog meat like their North Korean counterparts reportedly do. We know this, because the Sunday Post's "experts" know this -- their experts being Michael Madden, a blogger who wouldn't touch this fake story with a 10-foot pole.
FACT: If Kim Jong-Un does open a restaurant in Scotland, we'll be embarrassed.
But given the information we have now, there's no way we expect to see "Pyongyang" in Scotland.
Popular in the Community