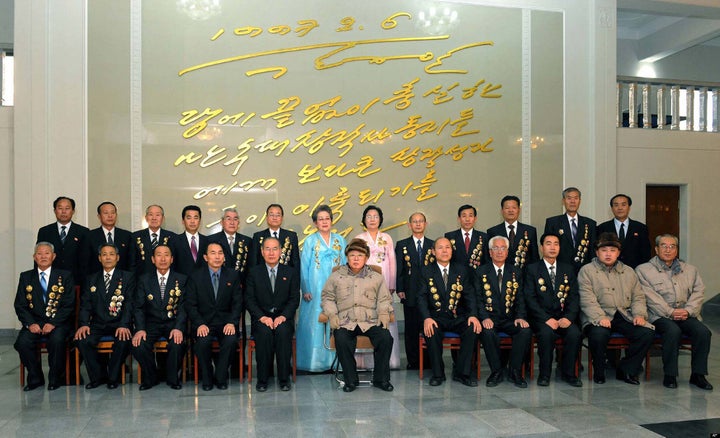 When it comes to secretive and reclusive North Korean leaders, experts and media analysts are often forced to rely on visual clues to determine any shift in the regime.
As the Christian Science Monitor is reporting, a detailed report in a respected South Korean daily placed political significance on a peaked fur cap made of otter pelt with earflaps -- seen sitting on the head of Kim Jong-Un, the presumed heir to his father Kim Jong-il as North Korea's supreme leader, in a newly-released shots from a trip to the Mansudae Art Studio in Pyongyang on January 23 and 24.
According to an unnamed "senior South Korean government official" quoted by English news source Chosun Ilbo, the hat is identical to one worn by Kim's father, making it a very signal that a transfer of power is imminent:
"The hat was customized by a foreign master craftsman using top-quality otter fur. It's an unwritten rule that nobody else can wear such a hat, so if Kim Jong-Un is also wearing one, it means he has now reached almost the same status as his father."
The site also notes that Kim junior was first seen donning the hat on Dec. 16, when he inspected a North Korean Army unit, after about "three months of internal consolidation of his status following his first official appearance on Sept. 28 last year," an official is quoted as saying.
In other North Korean news, preparations are underway for an annual botanical tribute to Kim Jong-Il, with the army, ministries and the internal security apparatus tenderly caring for this year's crop of Kimjongilia -- a bright red begonia flower meant to symbolise wisdom, love, justice and peace -- to mark the North Korean ruler's 46th birthday, the Telegraph is reporting:
According to the Korean Central News Agency, preparations for the festival are "at their final phase" - despite an unusual spell of cold weather - and the Pyongyang venue for the main event is ready. The theme of this year's festival is "February, when Kimjongilias are in full bloom, is the spring for all people to sing the praises of Kim Jong-Il," KCNA reported.

"Service personnel of the Korean People's Army and officials of the Ministry of People's Security have thousands of potted Kimjongilias ready for display. Officials of the ministries of Light Industry, Agriculture, Metal Industry, Railways and Chemical Industry are busy cultivating flowers and preparing peculiar [sic.] stands for their display," it added.
Calling all HuffPost superfans!
Sign up for membership to become a founding member and help shape HuffPost's next chapter