Now, you would think that, considering the way Kim shares almost everything about her life, there would be nothing new for us to glean from GQ's article, but you would be so very wrong.  Here's what we learned: 
Kim plans to vote for Hillary Clinton and describes George W. Bush as "a cute little president."
The reality star's politics have changed as she's aged, according to the magazine. While she once identified as a "liberal Republican," she now votes Democrat and plans to vote for Clinton in the 2016 election. 
That's not especially surprising given her past support for Obama and the selfie she took with Clinton last August. What is surprising is her affection for former president George W. Bush, whom she professes that she "loves" when faced with the conundrum of what to do while playing the game "F**k, Marry, Kill" in a video on her app. When she realizes that her husband, Kanye West, has a history with Bush and is even more fraught over what to do, she says: 
"I love George, though. I just think he's cute. Like a cute little president.... And the [Bush] kids sent us a baby gift. Let me think about it."
Kim says Taylor Swift approved Kanye's West's "Famous" lyric about her, and there's even video proof. 
Remember when West released his song "Famous" with the lyric: "I feel like me and Taylor might still have sex. Why? I made that bitch famous." Surely you remember how Taylor Swift claimed it was misogynistic and that she never approved the lyric.
Well, Kim is standing by her husband on this one. She claims that West doesn't just have the receipts, he has actual video proof. From the article:
"She totally approved that," Kim says, shaking her head in annoyance. "She totally knew that that was coming out. She wanted to all of a sudden act like she didn't. I swear, my husband gets so much shit for things [when] he really was doing proper protocol and even called to get it approved." Kim is on a roll now, speaking faster and more animatedly than at any other point during our time together. "What rapper would call a girl that he was rapping a line about to get approval?" 
I don't know why she just, you know, flipped all of a sudden … It was funny because [on the call with Kanye, Taylor] said, "When I get on the Grammy red carpet, all the media is going to think that I'm so against this, and I'll just laugh and say, 'The joke's on you, guys. I was in on it the whole time.'" And I'm like, wait, but [in] your Grammy speech, you completely dissed my husband just to play the victim again.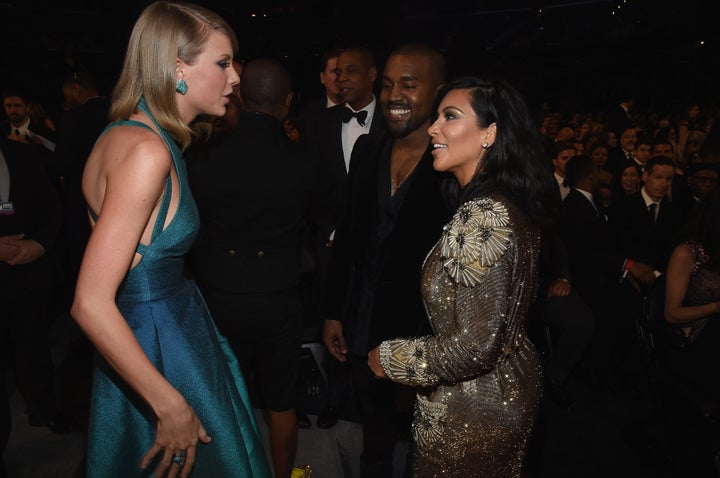 Swift provided a statement about the song to GQ that has to be seen to be believed.
When GQ asked for further clarification on the matter, the statement they received is nothing short of breathtaking:
Taylor does not hold anything against Kim Kardashian as she recognizes the pressure Kim must be under and that she is only repeating what she has been told by Kanye West. However, that does not change the fact that much of what Kim is saying is incorrect. Kanye West and Taylor only spoke once on the phone while she was on vacation with her family in January of 2016 and they have never spoken since. Taylor has never denied that conversation took place. It was on that phone call that Kanye West also asked her to release the song on her Twitter account, which she declined to do. Kanye West never told Taylor he was going to use the term "that bitch" in referencing her. A song cannot be approved if it was never heard. Kanye West never played the song for Taylor Swift. Taylor heard it for the first time when everyone else did and was humiliated. Kim Kardashian's claim that Taylor and her team were aware of [the song] being recorded is not true, and Taylor cannot understand why Kanye West, and now Kim Kardashian, will not just leave her alone.
And, of course, Kim went through O.J. Simpson's Louis Vuitton bag. 
"I know people said at the time that he [joined Simpson's defense team] so he couldn't be called as a witness, because he had that Louis Vuitton bag that supposedly had the [murder] weapon and stuff like that," she told the magazine.
"But that bag was sitting at my dad's house,"Kim said. "I remember I went through it. The news was like, 'Where is this Louis Vuitton bag?' And I'm like, 'Oh, it's upstairs.'"
Kim told GQ she "totally" went through the bag and found, "toiletries and clothes and golf clothes. Just random stuff. I'm pretty sure it's, like, still in -- probably in my dad's storage."
Calling all HuffPost superfans!
Sign up for membership to become a founding member and help shape HuffPost's next chapter
BEFORE YOU GO
PHOTO GALLERY
Kim Kardashian Through The Years