Kim Kardashian sparked anger from fans and the wrath of actress Jameela Jamil for promoting "appetite suppressant lollipops" to her 111 million followers on Instagram.
The reality TV star on Tuesday shared a since-deleted photograph of herself sucking on a Flat Tummy Co lollipop ― which she described as "literally unreal."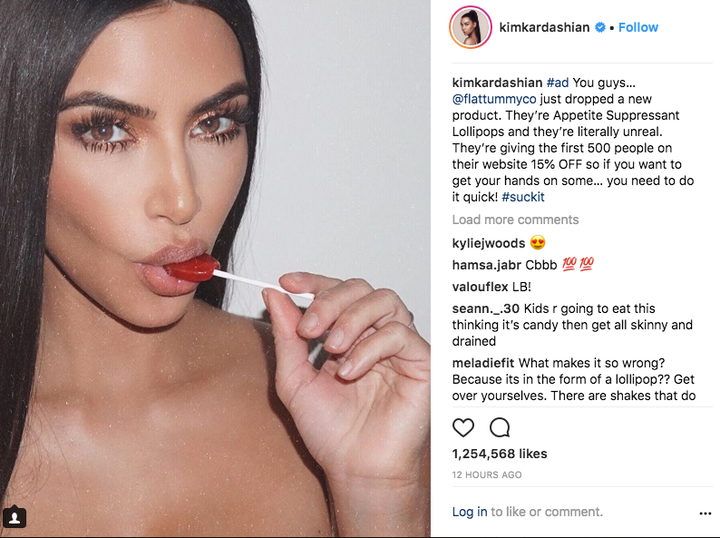 The backlash was immediate, with fans criticizing Kardashian in the comments for promoting "such an unhealthy approach to weight loss."
"This is disgusting," wrote one. "Your fans are going to be seeing this and thinking that this is how to get your body. Eating is good for you, stop convincing people to literally starve themselves of food to get a flat tummy."
"The Good Place" star Jamil assailed Kardashian on Twitter, describing her as a "terrible and toxic influence on young girls" and telling her to "fuck off."
"I admire their mother's branding capabilities, she is an exploitative but innovative genius," wrote Jamil. "However, this family makes me feel actual despair over what women are reduced to."
Jamil later fired off this second tweet:
Other people echoed Jamil's concerns, condemning the message Kardashian appeared to be sending:
"So with 1-2 pops per day, you'll have your hunger under control and cravings in-check," promises the company.
Flat Tummy Co didn't immediately return HuffPost's request for comment.
Popular in the Community