 Kim Kardashian, with her tumultuous search for love and her voluptuous figure, has the tabloids wrapped around her ringless finger. Now it seems she has the gallery world under her spell as well. Spanish artist Domingo Zapata recently created an artwork inspired by Kardashian entitled "American Dream".
Zapata seems to be working hard for the money. His most recent painting featured Lindsay Lohan, the troubled starlet rendered as the original sinner Eve. Lohan is surrounded by some pretty weird Biblical dirty talk: "Adam and Eve changed mankind forever... started SIN ... it was a plain simple apple hanging from a tree. Then the world changed for all of us." While the painting itself wasn't crossing many boundaries art-wise, it sold for $100,000.
Zapata's rendering of Kardashian is even more over the top than his Lohan piece. In the Polaroid collage, Kardashian poses dressed as an angel, a military soldier, Marilyn Monroe and as the statue of liberty. She is surrounded by Maya Angelou's poetry quotations: "Love arrives and in its train comes ecstasies, old memories of pleasure, ancient histories of pain. Yet if we are bold, love strikes away the chains of fear from our souls." (We didn't know Kardashian was an Angelou fan...) We spoke to Amanda Brown, Zapata's studio manager, who said that the piece has an $158,630 offer from the HUS Gallery in Zurich, but they aren't releasing images just yet. The work is part of Zapata's "10" series, which will star 10 Hollywood icons including the Modern Family actress Sofia Vergara, bombshell Pamela Anderson and our favorite fighter, Michelle Rodriguez.
What do you think, readers? We're certainly open to seeing more of Sofia Vergara and Michelle Rodriguez...
Check out some other works inspired by celeb muses below.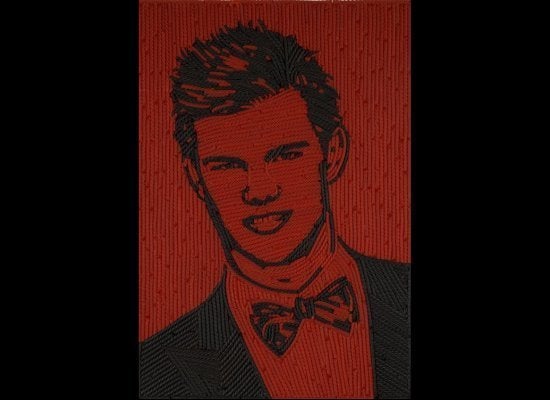 Zapata
Popular in the Community