 LOS ANGELES -- About the only thing Kim Kardashian and Kanye West may hate more than being seen without their bling is the public knowing where they might take up residence. After all, even in Karadashianville, some things are private, right? Especially with a baby on the way and crazy fans being crazy fans.
But such is life in the limelight. We know that the parents-to-be have been out house-hunting in Los Angeles, and reliable sources tell us their interest is keyed in on one particular house in Bel-Air, listed at $10.75 million. They may or may not have made an offer, and it was unclear whether the offer was accepted and escrow opened. But they absolutely did not buy it yet -- and they certainly have not been busy tearing it up to remake it in their image, as was reported by various websites Tuesday.
The home's current owner is still there, the house is still listed for sale in the MLS, and we're told that the property was shown to someone else as recently as Monday.
The mere act that TMZ and other sites reported the house sold could be enough to quash the deal, said an agent not connected to the listing. When most celebs buy a principal residence, they do their best to keep it under wraps. For instance, sometimes the intended purchase is withdrawn from the market before it closes escrow just to throw the real estate snoops off the trail.
The 9,000 square-foot house in question was built in 2010, but sources who know Kardashian and West say they were already eyeing what kind of remodeling would be necessary to make it "their" home. In its current incarnation, it has five bedrooms and seven bathrooms. Hard to tell from the photos whether the yard is big enough for a Kardashian-sized wedding, assuming one is planned.
UPDATE: The house Kim Kardashian and Kanye West are reportedly buying had a status change in the MLS Wednesday morning. The sellers are now looking for back-up offers and escrow has been opened. Stay tuned for another update when the deal closes. Good luck to the soon-to-be-parents!
UPDATE FEB. 21: The MLS is now reporting the sales price to be $9 million. A steal!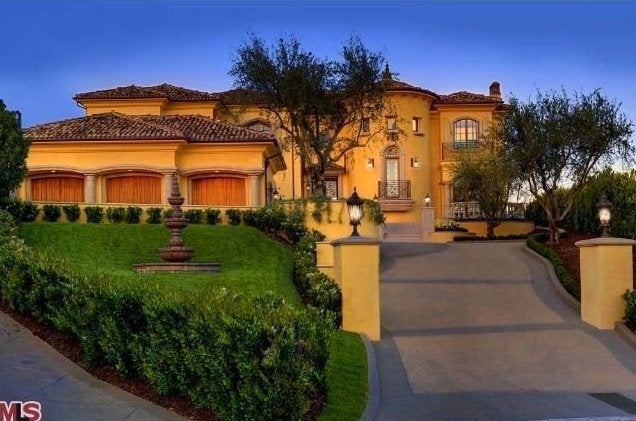 Are Kim & Kanye Considering This Home?
Related
Popular in the Community