The clip, which Kardashian alluded to in her recent GQ profile, proves that Swift at least had knowledge of the line, "I think me and Taylor might still have sex" ― she even considered it a compliment ― but it's unclear whether West informed her of the "I made that bitch famous" lyric. Alas, here we are, witnessing the celebrity feud of the century.
Following Kardashian's snap, celebrities like Selena Gomez and Chloë Grace Moretz unnecessarily added their voices into the mix, and the internet had a field day. By the looks of things, Swift won't be getting out of the woods any time soon.
Here's everything that's happened so far. (Hope you're prepared, because things are about to get shady):
First, Kim released her tell-tale Snapchat video.
The mother of two posted the below video of her husband talking to Swift on the phone about his song "Famous." You can hear Swift thank Ye for calling her to give her a heads up, saying it's "so nice."
Then, Swift responded.
"That moment when Kanye West secretly records your phone call, then Kim posts it on the internet," she wrote on Twitter, along with a lengthy statement.
Though she previously denied having any knowledge of specific song lyrics, Swift really had no defense against the video evidence. All she could do was take issue with the fact that West called her "that bitch" in the song. At this point, it's tough to tell whether or not Swift really knew about the fact West was going to call her "that bitch," as the video doesn't show the two discussing it.
In defense of Swift, her BFF Selena Gomez inserted herself into the feud, and got dragged through the mud as a result.
In a series of tweets, Gomez said she was "disappointed" with the entertainment industry and told her followers, "There are more important things to talk about."
The tweets didn't go over so well. People on twitter instantly called Gomez out for being hypocritical, as she generally stays quiet on those very important issues she tried to bring attention to.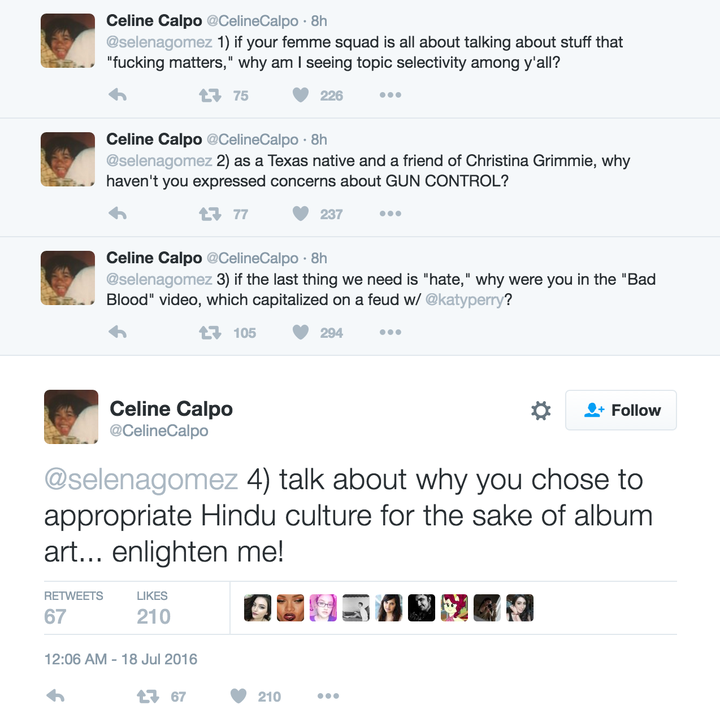 Los Angeles Times journalist Gerrick D. Kennedy was among those who called out Gomez, saying he was "offended" by her tweets because she failed to comment on "important matters" when asked in the past.
She did get a little support, though.
Demi Lovato seemingly sided with Kim K, while Katy Perry threw out some shameless self-promotion.
Singer Zendaya, who was a member of Swift's "Bad Blood" squad, also reportedly watched the drama unfold online. According to The Shade Room, the 19-year-old liked and unliked some shady tweets about Swift. Pharrell Williams was also among those who reportedly sided with Kardashian by favoriting a tweet, according to Just Jared. (He has since un-favorited said tweet.)
The next celeb to jump in was Chloë Grace Moretz, who herself had a previous feud with Kardashian.
Things didn't go over so well for her, either. Kim's sister Khloe stepped in with this tasteless tweet:
In response, Moretz posted her own bikini photos from the set of "Neighbors 2," seemingly to prove she DGAF about Khloe's tweet. She also corrected the Kardashian sister:
A few others, including Ruby Rose of "Orange Is the New Black," called Khloe out for being a bully.
On Monday morning, the Strong Looks Better Naked author responded.
Oh, and Justin Bieber posted this video, which may or may not be about the feud.
Of course, Swift and West's relationship had quite a volatile past, even before this mess. As you may recall, the "Jesus Walks" rapper interrupted Swift on stage while she was accepting her award at the 2009 MTV VMAs. Since then, they've had an on-again, off-again friendship ― there were plenty of flowers involved and Swift even awarded Ye with the Video Vanguard award at the 2015 MTV VMAs.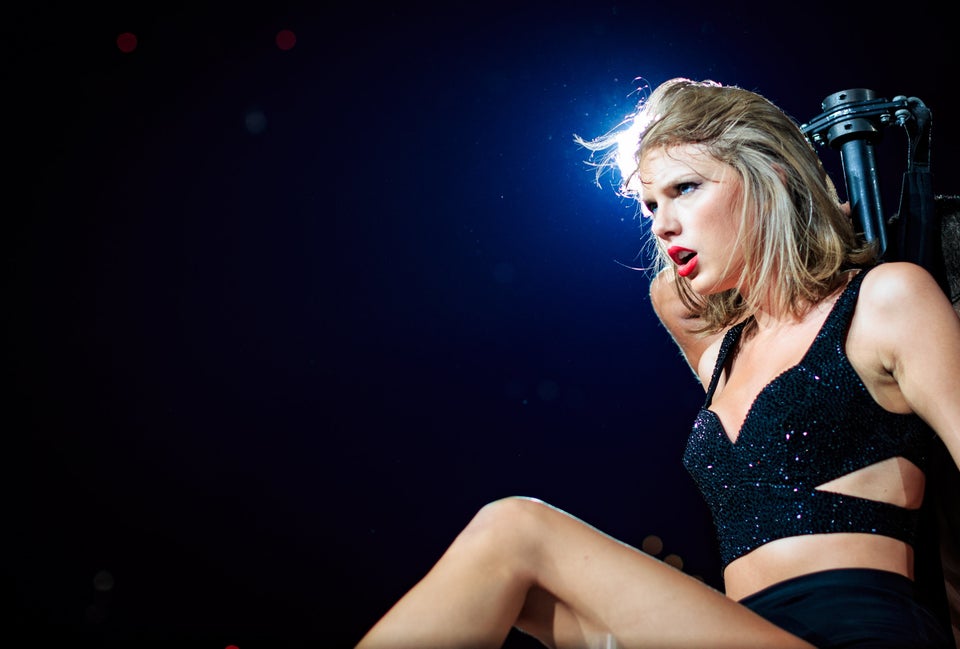 Taylor Swift Sexiest Photos