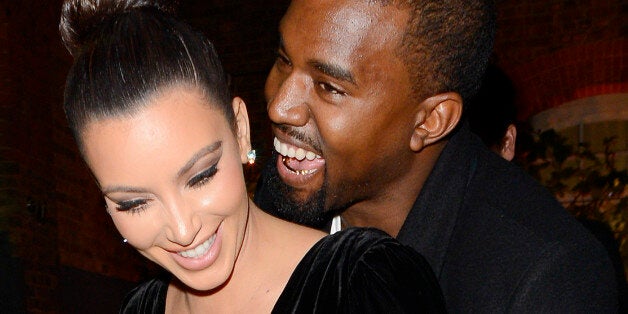 They're hot and heavy, but are they for real? Kim Kardashian and Kanye West's whirlwind romance went surprisingly public last week, and has some celebrity experts scratching their heads about whether this pairing is the result of true love, or just a calculated publicity stunt timed to help Kanye sell singles and Kim revamp her public image.
"I certainly hope Kim and Kanye's whirlwind dating isn't merely a ploy to drum up publicity. But it does seem like it's already driven a tremendous amount of interest in Kanye's semi-leaked new single, 'Theraflu,' in which he raps about falling for Kim and then disses [her ex-husband] Kris Humphries. In which case, the relationship is already proving lucrative publicity-wise," Hollywood Life Editor-in-Chief Bonnie Fuller told The Huffington Post.
Later that day, the couple visited New York hot spot Cafeteria and the famed FAO Schwarz toy store, where Kanye reportedly reimagined the scene from the Tom Hanks flick "Big" and taught Kim to play "Chopsticks" on the large floor piano.
Movie date? Check. Walk of shame? Check. Obvious hickeys? Check. All the signs are there, but let's look at some of the evidence that points to publicity stunt over real romance:
Their romance was timed: Kanye stepped out with Kim in sync with the leak of his new single, "Theraflu," which includes provocative lyrics hinting at his longtime infatuation with the reality star. Each subsequent story about Kim and Kanye's romance has mentioned said single, which basically amounts to free publicity. Kanye is no stranger to stunts: One of his more memorable publicity stunts was a manufactured feud with fellow rapper 50 Cent when they released their albums on the same day back in 2007.
"It was a complete publicity stunt. It was my idea," West later told GQ magazine. "I knew it was going to take off as soon as we were going to come out on the same date. Think about it. You got the two biggest shit-talkers in rap history. There's no one in rap history [known] for talking more s**t than me and 50. That's something I will stand on."
Kim needs a public romance right now: As the news media continues to focus on Kim's failed marriage to Kris Humphries, even going so far as to question the validity of their union, Kim needs to do something to deflect all of that negative attention.
"After the Kardashian wedding fraud, I don't believe anything Kim does, so of course it's a publicity stunt," said "Cult of Celebrity" author Cooper Lawrence. "Every tweet, every word out of her mouth, everything she wears is geared toward publicizing herself or selling products. Celebrities with genuine relationships want to hide them, not flaunt them. They have more respect for their personal life than that, but as we learned from Kim Kardashian and her fake wedding, she'll exploit anything."
"Are you ready for a frenzy? Hip-pop has its next big super couple, and it's none other than Kim Kardashian and Kanye West," the site reads.
But some celebrity experts think that all of those reportedly staged paparazzi photos and the copious details leaked from the couple's dates are enough evidence to prove that this relationship is far from true love.
"Of course this is a publicity stunt. Kanye is famous for doing them well and at very strategic times," Lawrence said. "Anytime you see any celebrity looking for photographers or showing up in places they will be seen ... You have to ask yourself, what are they selling? And in Kanye's case, he just dropped a new single in which he references Kim Kardashian. If in the song he referenced Ashley Olsen, we would see him out with Ashley Olsen. It's what Kanye does best. He's a good musician, but he's a better promoter."
PHOTO GALLERY
The Kardashians
Calling all HuffPost superfans!
Sign up for membership to become a founding member and help shape HuffPost's next chapter
BEFORE YOU GO