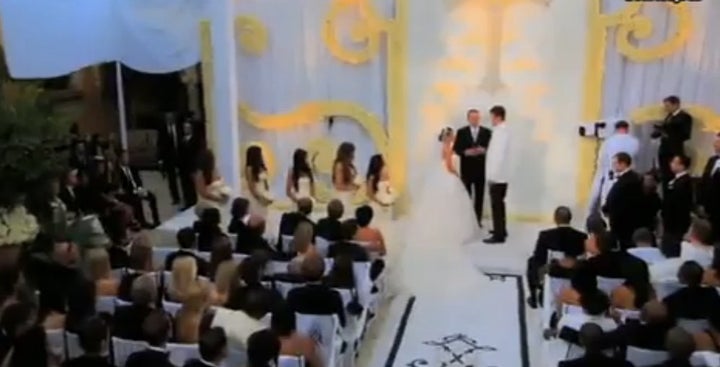 For that, we asked "Duke of Divorce" Raoul Felder to weigh in. Felder has represented dozens of celebrities throughout his decades-long career including Martin Scorsese, David Gest, Rudy Giuliani, Robin Givens, and Larry Fortensky and others.
Note that Felder is not working with Kim Kardashian or Kris Humphries and has not advised on this case.
Kim Kardashian and Kris Humphries were married for 72 days before Kim filed for divorce. Could she have filed for an annulment instead? Why didn't she?
An annulment is based on fraud... it requires corroboration, witnesses to back it up. The average person with a 60-day marriage would be talking with their lawyer about an annulment. But there is a lot of exposure involved in it and I just don't think they want that. I think in this case it would hurt them; it's easier to get divorced.
From a legal perspective, what will happen with Kim's $2 million engagement ring? Does she get to keep it or will Kris get it back?
An engagement ring is a gift of contemplation, a contemplation of marriage. If the marriage takes place it a completed gift. If it doesn't take place, the prospective husband has an argument to get the ring back. But this marriage took place. I think there is also a question of who bought the ring? She's not wearing it now, I saw in a photograph. For all we know maybe this whole thing was for show.
What about the sponsors and vendors at their wedding -- are they affected by the divorce in any way, and do they have legal grounds to sue?
Presumably, when [Kim and Kris] got married they made a commitment that it was going to be forever. Well forever was two months. If the [sponsors] came to me I would investigate it. I would think they have a shot at a lawsuit. I would find out what their real intentions were, whether he intended to be married forever, when she made the airplane reservations to go to Australia, all kinds of questions like that. I'm sure that most of the people [who gave] products, anyone from jewelers to wedding gowns, to whatever, [thought it would be] very good exposure. Now it's part of a joke, a national joke.
If it was $50 you write it off--I don't mean grandma giving a soup terrine. They gave expensive gifts. I think some of the stuff they received was in the hundreds of thousands of dollars. These are people that are giving for commercial reasons, I think. [I would need to] get a deposition to figure out what the true story is.
Kim requested the court bar Kris from requesting spousal support. Do you think they will uphold her request? Will Kris' current unemployment due to the NBA lockout be a factor in the spousal support award?
Spousal support was probably worked out in the prenuptial agreement. I would be shocked if it wasn't...It's not his fault he's unemployed. It's because of the strike that he's unemployed. If he's any kind of earner he may not get spousal support, because when he's working he's really making money and self supporting. The 800-pound gorilla in the room is that they were only married two months for all intents and purposes. What kind of spousal support can you get for two months' marriage? It's a long date, that's all it is. A 2-month date.
There is a prenuptial agreement in place that most likely protects Kim's assets prior to and during the marriage. What about profits the couple made from their wedding and during their marriage? How will it be divided?
That could be shared. If that's not covered in the prenuptial agreement, that's joint money they made. That would probably be something that would be divided. Or returned. Most people who have class return a lot of stuff.
That would be the right thing to do, but I wouldn't hold my breath.

Support HuffPost
A No-B.S. Guide To Life
Related
Popular in the Community