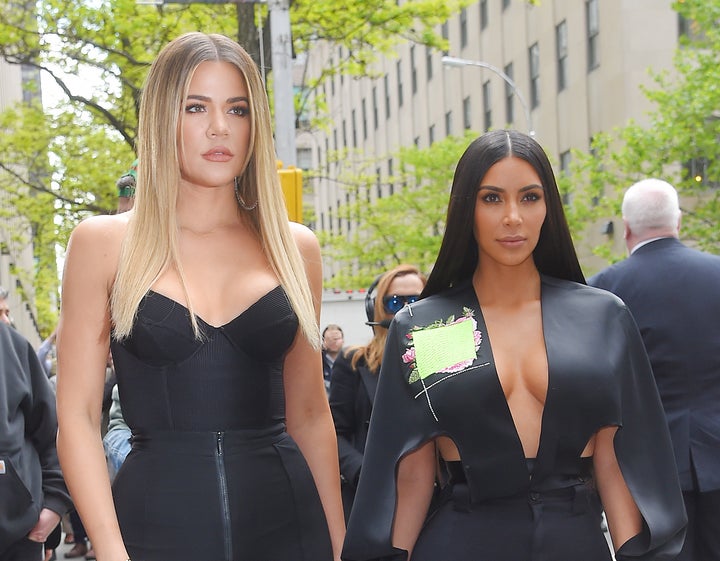 These are a few of Kim Kardashian's favorite things: receipts, being petty on social media, and riding hard for her sisters.
The reality TV star hit the trifecta at Khloe Kardashian's 34th birthday party on Wednesday night when she essentially forced her sister's boyfriend, Tristan Thompson, to unblock her on Instagram after a social media spat.
That apparently didn't sit too well with Thompson, who blocked Kardashian on Instagram ― no small thing in the Kardashian-Jenner media empire, where much of the family's drama plays out on social media.
"All right guys, what do you think? It's Khloe's birthday, should I ask this guy to unblock me?" Kim said in a Snapchat video reposted to Instagram, in which she's seen lounging next to Thompson before Khloe pops into the frame.
"For Khloe's birthday it's only right," he said. "I got you."
Kim proceeded to watch over his shoulder as Thompson took out his phone and pulled up her profile, but not without getting a little dig in at the athlete's expense.
"Wait, what's your code," she asked him before alerting Khloe.
"She knows it," Thompson somewhat sheepishly replied.
The KKW Beauty businesswoman then realized that not only did Thompson block her, but he also excommunicated via social media Khloe's two best friends, twin sisters Malika and Khadijah Haqq, who were also at the party.
Kim, of course, immediately informed them of their status, turning the camera toward them for a reaction, before Thompson tried to defend himself, claiming the two unfollowed him first.
But all is right in the world of the KarJenners because he eventually hit the unblock button on Kim's account.
"Now the question is, should I follow you again?" she joked.
Khloe and Tristan appear to be on the mend after the cheating scandal, with the Good American designer officially returning to Los Angeles with him in tow after they spent months living in Cleveland, where he plays for the Cavaliers. 
"You have no knowledge of what goes on in our household or the enormous rebuilding this takes to even coexist," she wrote. "I'm proud of my strength."
REAL LIFE. REAL NEWS. REAL VOICES.
Help us tell more of the stories that matter from voices that too often remain unheard.
BEFORE YOU GO
PHOTO GALLERY
Khloe Kardashian