They are these super comfy maternity jeans with soft, stretchy side panels in the front and they are absolutely amazing! I feel like I'm back to my old self and I'm so happy! With this being my first pregnancy I've been finding it really difficult to find clothes that are comfortable and fit me well, but these are great.
The reality star, due in July with her first baby (with beau Kanye West, just in case you've been living under a rock), is between four and five months pregnant. As a fashion editor, I've always been, erm, interested in Kardashian's style. But as a style writer who has experienced two healthy pregnancies and the body changes that are par for the course, my interest in Kim has piqued. Will she maintain her signature look -- sky-high heels, sheer, bra-baring tops and body-conscious dresses -- as her body grows and changes?
After four months of deliberation, I can tell you the answer: Yes, she will continue to dress like a Kardashian. But she's going to experience a few hurdles along the way, and I'm only too delighted to point out the missteps she's taken so far ... if only to, you know, help guide her throughout the rest of her pregnancy.

1. The first few months are tough, so being comfortable should be your first priority. There's morning sickness and exhaustion to contend with, coupled with weight gain in unexpected places. It's as if Mother Nature wants you to store fat for the baby any place you possibly can (including your heretofore toned upper arms). This all happens as you are trying to keep the pregnancy under wraps, just adding another level of difficulty to an already challenging time. This is not the time to wear body-conscious bandage dresses. Nor is it the time to try to reign in lumps and bumps with Spanx, as you're probably feeling pretty terrible as it is. An extra layer of industrial-strength Lycra is the last thing you need.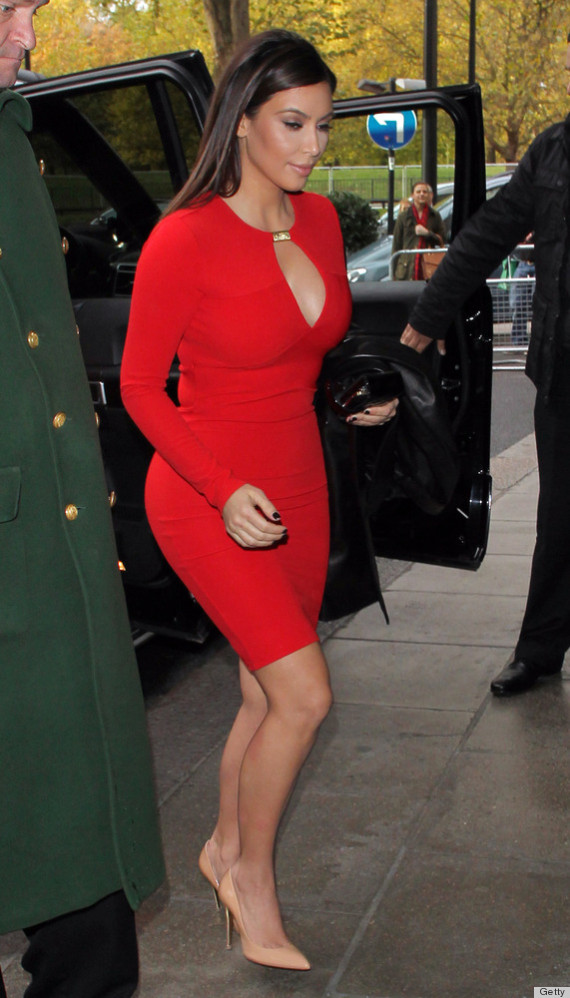 2. Your boobs will get exponentially bigger -- support them. This is a good thing, except for the fact that they hurt like hell. Like going-over-speed-bumps-is-excruciating kind of pain. This is when you start wearing two sports bras to sleep in order to minimize any movement. We have seen Kim out in keyhole dresses where support definitely wasn't the motivating factor. Take it from me, Kim: Your breasts are about to go through Hades. Take care of them now, or they'll be in your shoes in a few years.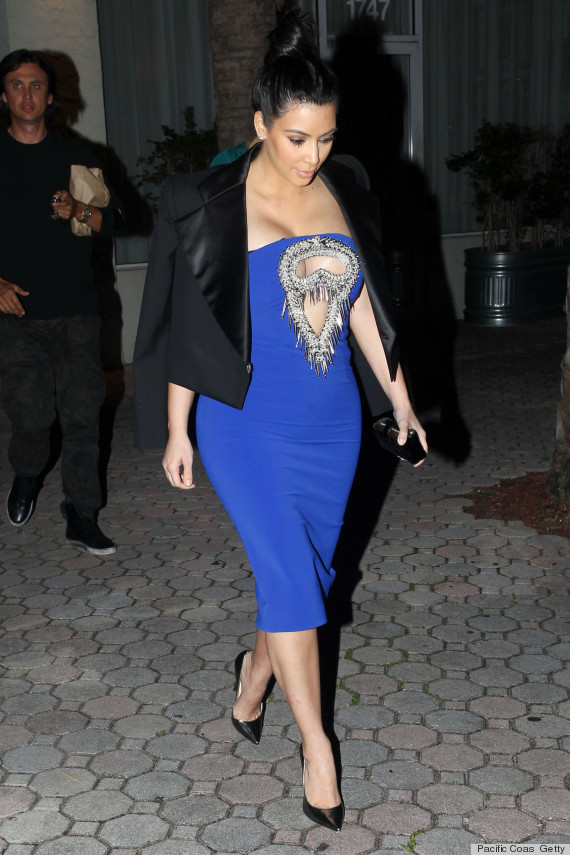 3. Actually, your whole body will get bigger, so avoid voluminous shapes. The thing with trendy, fashion-forward pieces like peplums is that they add extra material to your silhouette. I don't know about you, but the last thing I want when my butt is exploding out of my jeans is to add a few ruffles to the area. You may as well grab a giant foam finger and point it to the area in question while exclaiming, "Hey, look! I'm getting big, y'all!"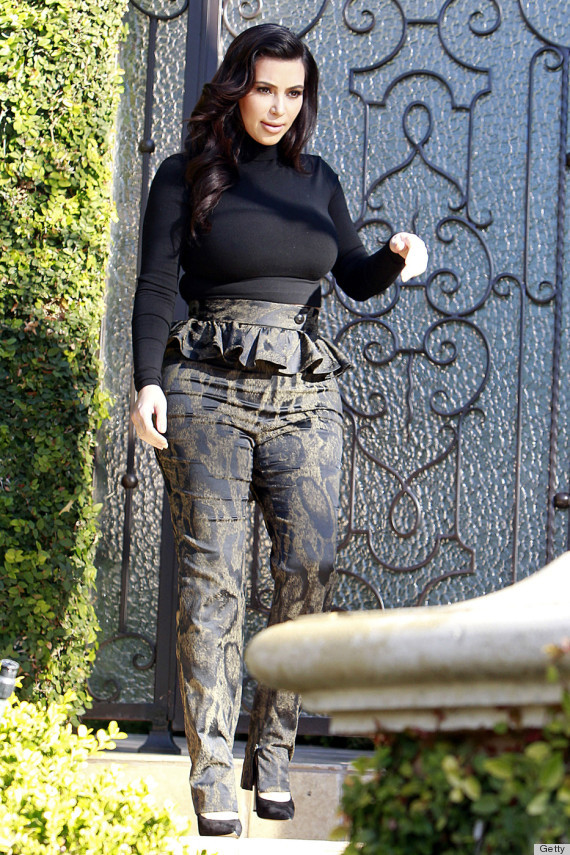 4. Emphasize the positive. I refer you back to number two. Your breasts will grow, so show them off (while supporting them). No one will look at your unbuttoned jeans if you can offer them a tasteful view of your enhanced décolletage. In the same vein, go ahead and show off your legs, because they are probably one of the few body parts that you can be sure won't change too much over the course of your pregnancy.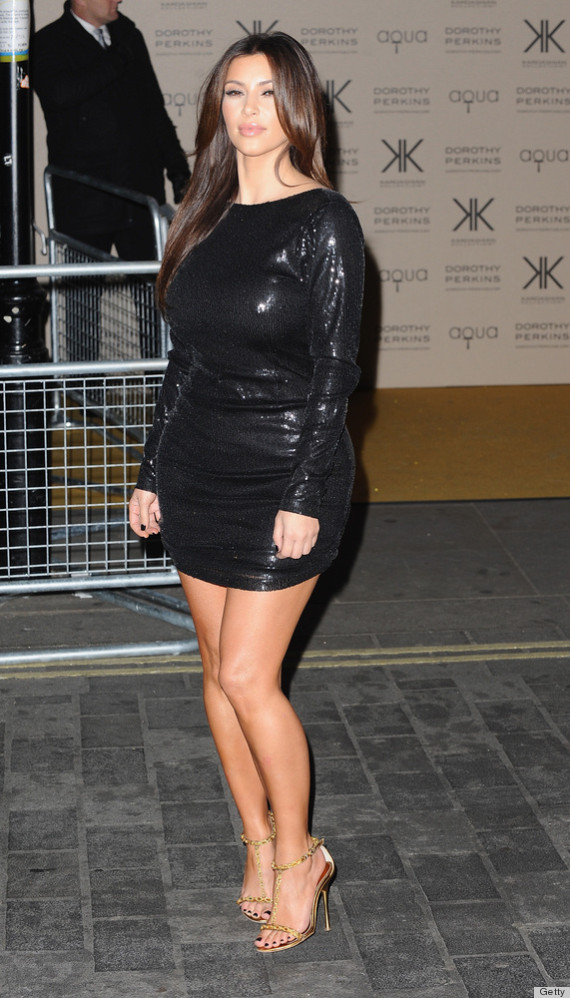 5. Let loose. Embrace a loose top to camouflage that growing belly. Kim hit the nail on the head when she wore loose silk trousers with a casual shirt, but added a sleek blazer and heels to keep her look sophisticated and tailored, while allowing room to breathe.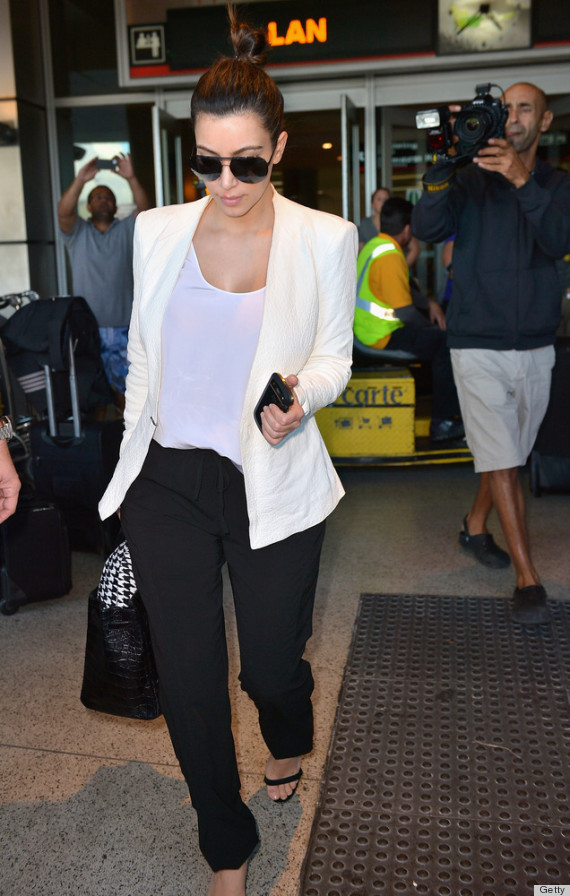 Once Kim's baby bump really starts to pop (which, for some women, doesn't happen until the sixth month of their first pregnancy), we say show it off in fitted T-shirts and body-conscious (but stretchy!) dresses. But until then, resist the urge to wear those Hervé Leger bandage dresses. Your bump will thank you.
Check out Kim's maternity style thus far.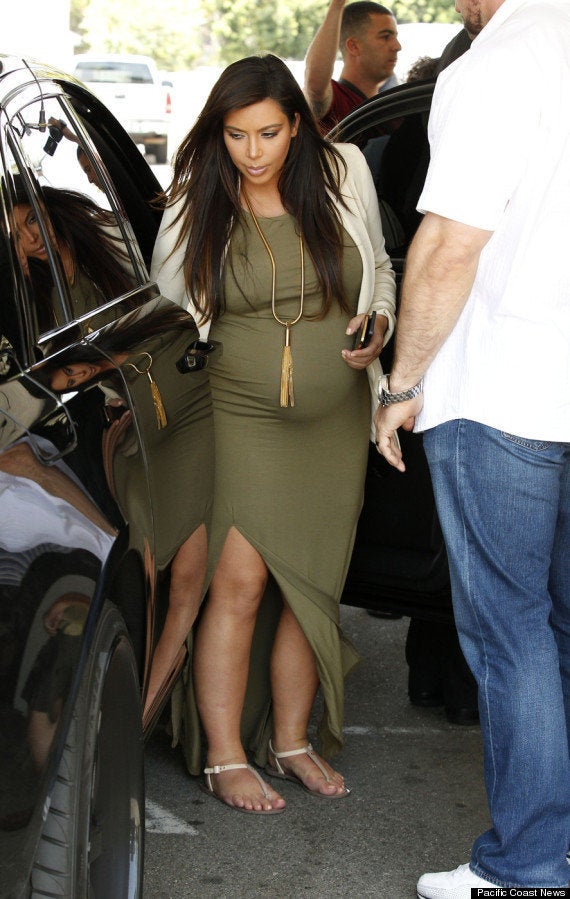 Kim Kardashian's Maternity Style
Related