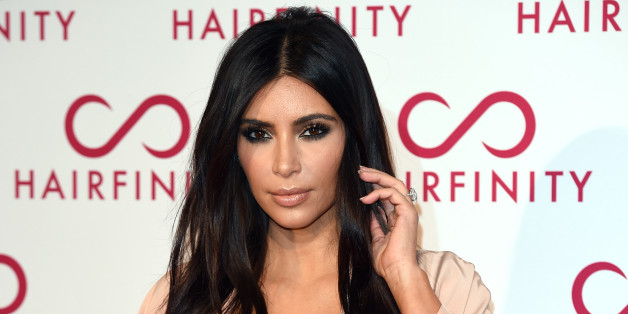 You're probably sick of Kim Kardashian right now. You were probably sick of her before she tried to break the Internet with a nude Paper magazine cover, followed by a full-frontal photo spread.
As Kardashian's naked photos circulated, some began to compare them to the first time she posed stark naked for a magazine, noting that the reality star was pretty upset with the outcome. A 2011 episode of "Kourtney and Kim Take New York" features Kardashian's tearful meltdown over nude photos for the November 2010 issue of W magazine.
Kardashian claimed she was misled by the magazine, believing the nude photos would be covered with art, but this was not the case. She cried, called it "porn" and announced that she's "never getting naked again."
So, here we are, four years later, and Kardashian is being called a hypocrite for essentially changing her mind.
Over at the Daily Beast, Marlow Stern writes that at the time of the W magazine spread, Kardashian was trying to "distance herself from her sex tape image, creating a wholesome, reality-friendly version of herself. So, when the magazine hit the shelves, she freaked out."
The idea that Kardashian has ever tried to brand herself as "wholesome" is laughable, especially when she was regularly tweeting out next to naked photos on a daily basis, and had completed a strategically posed nude shoot for Harper's Bazaar in May of that year. Kardashian's image has always focused on her sex appeal, but she's always been able to control that image.
"I feel so taken advantage of ... I've definitely learned my lesson … I'm never taking my clothes off again, even if it's for Vogue," she told her sisters amid sobs following the W magazine scandal. "I don't want people to be like, 'All she's good for is, you know, being naked.'"
It's easy to be cynical and believe that every single move Kardashian makes is choreographed down to the tears running down her cheek. But she wouldn't be the first woman taken advantage of by the entertainment industry, either. If she really was promised that artwork would cover her bare breasts, then it's no wonder she vowed not to pose nude again. It sounds like she felt violated by the entire incident.
Anyone looking to call her a hypocrite, of course, has to take into account the fact that a month after the meltdown aired, Kardashian told Us Weekly she eventually came around to loving the photos, which means she could have rethought her whole stance on posing nude. She is entitled to change her mind.
What's more, the Paper magazine shoot isn't even the first time she's been nude since the W photos were published.
In 2013, Kardashian and Kanye West got super intimate for French magazine L'Officiel Hommes, and just this past September she posed nude for British GQ, showing everything save for nipple.
And for anyone wondering if her stance on posing in the buff has officially changed since 2010, look no further than a 2013 episode of "Keeping Up with the Kardashians" in which she proudly exclaimed: "As soon as I pop this [baby] out -- as soon as I get in shape -- the first thing I want to do is Playboy or some nude shoot. I just wanna walk down the street fully naked," Kardashian told her sisters. "I'm gonna be the sexy hot mom."
There are a lot of things you can call Kim Kardashian -- hypocrite is not one of them.

REAL LIFE. REAL NEWS. REAL VOICES.
Help us tell more of the stories that matter from voices that too often remain unheard.
BEFORE YOU GO
PHOTO GALLERY
Kim Kardashian's Hottest Moments