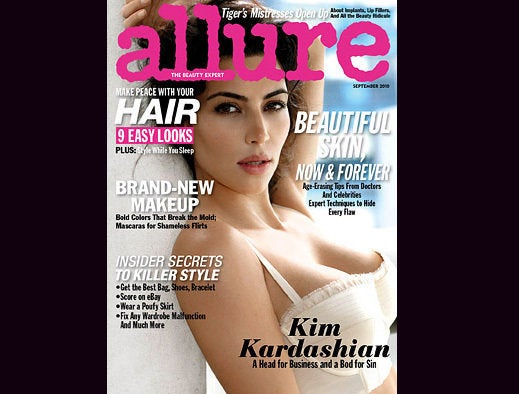 Inside she shares her beauty secrets and talks about her sex tape with Ray J, which arguably propelled her from Paris Hilton's sidekick to a boldfaced name herself.
On her sex tape: "Not my most proud moment, it was humiliating. But now let's move on. Not that I don't think it's no one's business, but I think I've done a good job with replacing negative things with positive things."

On her grooming routine: "I am Armenian, so of course I am obsessed with laser hair removal! Arms, bikini, legs, underarms...my entire body is hairless."
On her new $4 million home: "It was way above my price range, I saw it...and was like, 'This will be mine.'"
On her religious upbringing: "All the books we read before bed were, like, Bible-study books. Or little tales, like Samson and Delilah with cartoons. And my mom would have Bible study at the house with her girlfriends."

On her father, OJ lawyer Robert Kardashian: "I feel lazy when I'm not working. I learned all my business sense from my dad. He always believed in me, and I think the last thing he said to me before he passed away was, 'I know you're gonna be OK. I'm not worried about you.'"
Popular in the Community