Kim Kardashian doesn't shy away from sharing any aspect of her private life with the public.
The 38-year-old reality star showed fans a snap of her "morning psoriasis" covering her face on Sunday while she continues to battle the chronic skin condition.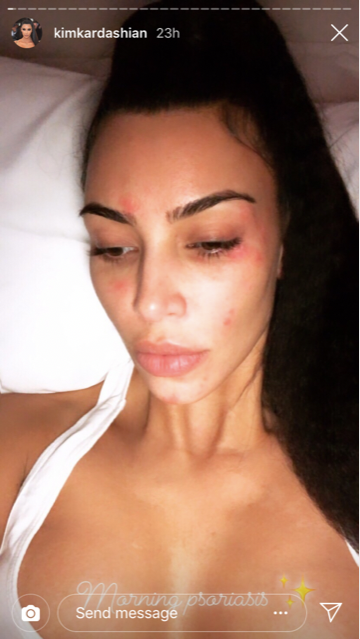 In December, Kardashian revealed that her psoriasis had gotten so extensive that she couldn't cover it.
"I think the time has come I start a medication for psoriasis. I've never seen it like this before and I can't even cover it at this point," she tweeted.
"It's taken over my body. Has anyone tried a medication for psoriasis & what kind works best? Need help ASAP!!!"
The burgeoning beauty mogul was first diagnosed with the condition on a 2011 episode of "Keeping Up with the Kardashians."
Her mother, Kris Jenner, also has psoriasis, which manifests as itchy, dry, red, flaky, thick patches of skin and can also include dandruff, nail changes and in some cases, arthritis. Psoriasis can flare up because of stress, travel, certain foods, excessive alcohol intake, dry skin and more.
Though there isn't a cure for the 2 percent of the population that suffers from the chronic disease, it's typically managed with a variety of creams, pills, skin injections and light therapy.
Kardashian once attempted to use her sister Kourtney's breast milk on "KUWTK" to treat the condition and has consulted with a variety of physicians to help manage her psoriasis.
"I'm always hoping for a cure, of course, but in the meantime, I'm learning to just accept it as part of who I am," she added.
Popular in the Community