Last Friday, the world stood still as hell froze over and a pig flew across the green sky. Kim Kardashian landed the cover of Vogue. Well, Kim Kardashian and fiance Kanye West landed the cover of Vogue.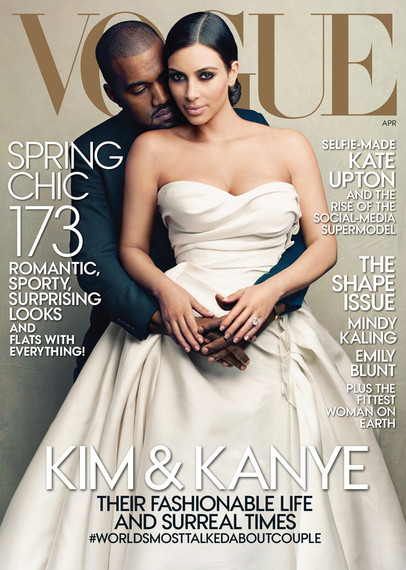 Social media went into total frenzy. Shock, disbelief and disappointment filled the timeline as Vogue readers ridiculed the mag for having both the infamously famous reality star and a hashtag on the cover. Featuring the "#worldsmosttalkedaboutcouple," the iconic glossy did a spread on Kimye's lavish and surreal lifestyle. On the April issue's cover, Mr. West wraps his arms around his wife-to-be who dons a lovely strapless Lanvin wedding gown. Adorable baby North West also makes an appearance in the editorial.
For years, Kim has expressed her desire to be accepted into the elite fashion world and many have debated whether or not she belongs in it. Much to her chagrin, she has been shaded numerous times by the fashion gods. She was allegedly banned from Anna Wintour's Met Gala back in 2012. Furthermore, it seems all of her recent fashion connections have been through way of Kanye. Now Queen Wintour is okay with Kim on the cover? Nah, something is off with that. After much speculation of Kanye pulling some serious strings to get the cover deal, the Vogue EIC stated, "As for the cover, my opinion is that it is both charming and touching, and it was, I should add, entirely our idea to do it; you may have read that Kanye begged me to put his fiancee on Vogue's cover. He did nothing of the sort." Sure thing, Anna.
Yes, Kim and Kanye are the world's most interesting couple and they surely are iconic. In fact, they will be legends whether we like them or not, but something seems a bit tabloid-y with this cover. It's the fact that it is centered on their relationship which may or may not even last. I think Kim should have held out for her own cover. Here's why:
She is a style icon in her own right: It may be hard to admit but Kim Kardashian has been the influence over many beauty and fashion trends over the years. From her early days of heavy eyeliner and nude lips to her current fresh face and glossy pout, plenty of women, even unknowingly, follow her style lead. Kim has her own fashion empire, which has been quite lucrative thus far, and she has been the muse of plenty artists and designers.
You can't ignore her: The Kardashian clan is everywhere. A force unstoppable, the reality star family is a global phenomenon. Anna Wintour once said, to be on the cover of Vogue would have to mean something. So many meaningless stars, of-the-moment wonders and one-time faces have covered the mag. Kim's fame is nearly 10 years strong and has steadily increased and become more refined.
Because legacy: Kim should have fought for her own cover for her legacy. Who knows if she'll stay with Kanye forever? With her track record, it's hard to be certain. I think Kanye and Vogue talked her into the idea of an iconic and classy family portrait. It's cute but she should have fought for her own cover. Of course the fashion world wants you now, Kim; now that you're dating a high-profile artist. I don't fan-out for Kim Kardashian and I don't think her talent goes beyond making money and mastering publicity stunts. However, by fame standards, she actually deserves the same recognition as other major celebrities.

I guarantee in forty or fifty years, young women are going to look up to Kim Kardashian, the same way young women of today look up to Marilyn Monroe who allegedly had an affair with married president John F. Kennedy and Elizabeth Taylor who had more marriages than perfume lines. It seems to be all about the packaging and the way the story is told. Thanks to the absence of TMZ back then, plenty of our most regarded superstars from the past have squeaky clean images. One day Kim's story will be:"Unknown socialite who suffered public humiliation from a leaked sex tape manages to rebuild her life, gaining immense fame and a multi-million dollar family business empire." Sounds inspiring when you put it that way right?