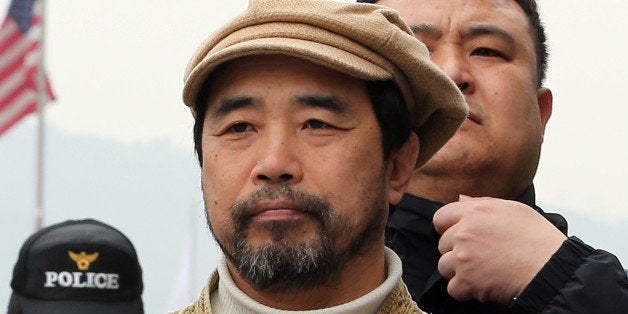 The U.S. ambassador to South Korea, Mark Lippert, was attacked with a 10-inch knife on Thursday morning. The man who carried out the slashing, Kim Ki-jong, is an anti-U.S. activist with nationalistic views.
According to The Hankyoreh, Kim wrote on Facebook:
"The "Key Resolve – Foal Eagle Military Exercises" begins today and presents severe issues. First of all, the atmosphere of South-North talks froze, even though such dialogue seemed likely in both North and South's New Year messages. It seems like the dialogue will not be feasible until late April, when the exercises will be officially over. As we face the 70th anniversary of independence and separation, an atmosphere of hope has arrived in the peninsula along with the winter. ... My organization 'Our Turf' and 48 other organizations are a part of 'Anti-War Bring Peace Citizen Action,' who gathered together on the 24th in front of the US Embassy to demand suspension of the war exercises, which will bring South-North talks and our hopes of peace…"
Kim has engaged in activism related to another issue: the Dokdo Islands, a small island group subject to a territorial dispute between South Korea and Japan. In his book "Dokdo and Us, and 2010," which came out in 2014, he wrote, "Dokdo island is the ultimate point where South and North [Korea] share a common interest; both South and North must come together for proper protection of the islands, and this would lead both sides towards the direction of unification."
A contact within the North and South Korea unification activism community said in a phone interview with the Metro News that "it is true that Kim Ki-jong has participated in unification activities for a long time, but his aggressive speech and behavior has led other activists to avoid any contact with him." The source also speculated Kim's isolation from the community in the wake of his attack on the Japanese envoy may have sparked Thursday's attack.
This piece was originally published on HuffPost Korea and was translated into English. It was adapted for a US audience.
Calling all HuffPost superfans!
Sign up for membership to become a founding member and help shape HuffPost's next chapter