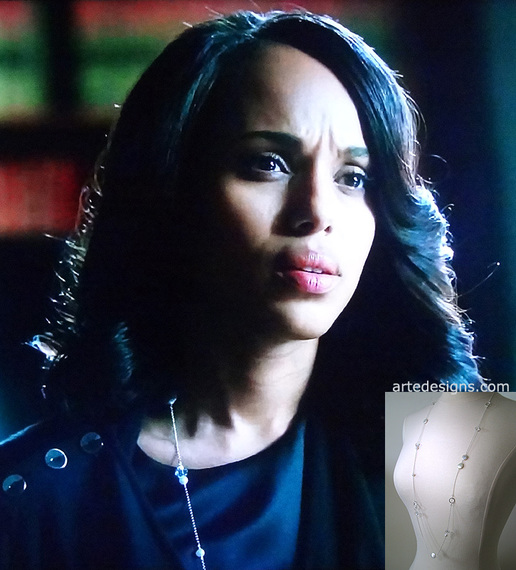 Scandal's Star Kerry Washington Wearing Kim Lee Ozawa jewelry; Photo property of Kim Lee Ozawa

Perhaps, no one is looking forward to the new television season more than jewelry designer Kim Lee Ozawa. Upon request, she handcrafts bracelets, earrings, necklaces and rings for top shows such as Desperate Housewives, Cougar Town, Grey's Anatomy, 90210, Happy Endings, Revenge, Scandal, The Crazy Ones, Agents of S.H.I.E.L.D. and Transparent. In addition, her pieces were requested for films Entourage - The Movie and Ride Along 2. When I talked with this talented designer, I noticed not only how serious she takes her craft, but also how kind and generous she is as well.
What has your work taught you?
Being your own boss requires a lot of self-discipline. No one is there to tell me to work. I don't have the threat of getting a bad review or losing my job. At the same time, I'm not working towards a raise or promotion. When you set your own schedule, it's very tempting to procrastinate. If I do that, nothing will get done. I've learned that "The harder I work, the luckier I get." (Quote from Samuel Goldwyn) I've also learned that it's important to live a balanced life. It's so easy to get caught up in work and make no time for fun. Finding that balance is always a challenge.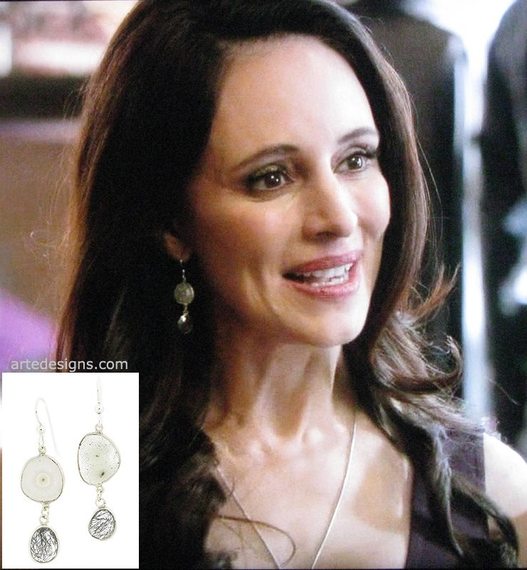 Madeline Stowe wears Kim Lee Ozawa designs in an episode of 'Revenge'

What has surprised you most about this industry?

How hard it is to find time to design. It's always a struggle, because there are a ton of other things to work on. When people hear what I do, they assume that my work must be so fun -- that all I do is design cool pieces and customers and TV shows place orders. There are so many steps required to get from designing a piece and making it, to getting people to find you. So much time is spent working on those steps, finding time to design is very difficult and is only a very small part of my work.
Who inspires you in your work?

My inspiration doesn't come from just one person, it comes from everything and everyone. My inspiration comes from what I see every day, from the gems that I buy and literally from my dreams.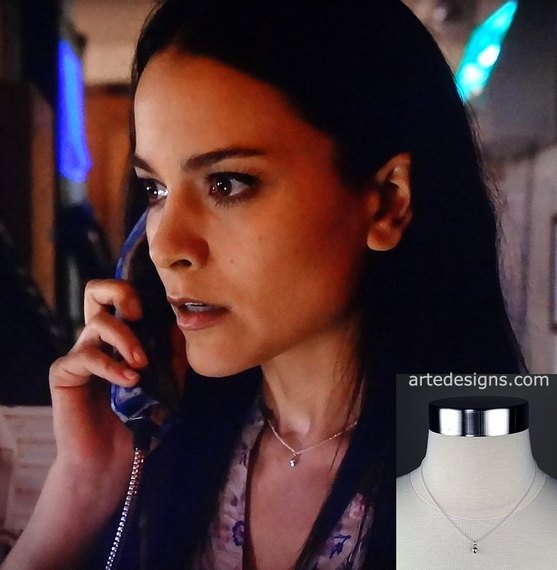 Maya Stojan wears Kim Lee Ozawa jewelry in an Agent of Shield episode; Photo Property of Kim Lee Ozawa
What do you love about living your passion?

Throughout my life, I've always needed a creative outlet. I love having the freedom to design when I'm in the mood to design. I love how challenging and flexible the work is. I love that there is always something new to learn. Nothing is ever static and there's never time for boredom.
What would people be surprised to know about you?

People are always surprised to hear that I grew up in Alaska. They want to hear all about it and can't imagine what it's like to live there.
Related