A Southern California graduate student is suing the Los Angeles Police Department after she fell out of a moving cop car and sustained critical injuries last March.
Kim Nguyen, 28, is an accounting and marketing student at Loyola Marymount University. She had gone out with friends in Los Angeles' Koreatown neighborhood and was standing on the sidewalk with two friends during the early hours of March 17. They were waiting for a designated driver to come and pick them up when LAPD officers David Shin and Jin Oh approached the group in their car and questioned them, reports the Los Angeles Times. While Shin and Oh initially decided to drive away, they circled back when they saw Nguyen running across the street.
Officers placed handcuffs on Nguyen and then put her in the back of the squad car. She told the Times that she remembers being detained for public intoxication. She also remembers hearing her friends ask where she was being taken. However, she doesn't remember anything else. Later, medical staff told Nguyen that she had fallen out of a patrol car, said attorney Arnoldo Casillas to NBC LA during a press conference.
According to Nguyen's lawsuit, officers failed to secure her with a seatbelt or lock her door properly, which led to her being ejected from the car.
Casillas was able to obtain surveillance footage of the incident, which shows the LAPD car on Olympic Boulevard approaching Grand Avenue. The video (above) shows the patrol car driving through a green light, as opposed to what the officers told first responders -- that they were accelerating from a stop when they heard the door open.
"The video shows that the statement that the police officers gave the paramedics is an unabashed, unequivocal lie," said Casillas during the press conference. The graphic footage shows Nguyen, still in handcuffs, laying on the street with her clothing bunched around her waist. Officers stand over her as her legs move back and forth on the ground.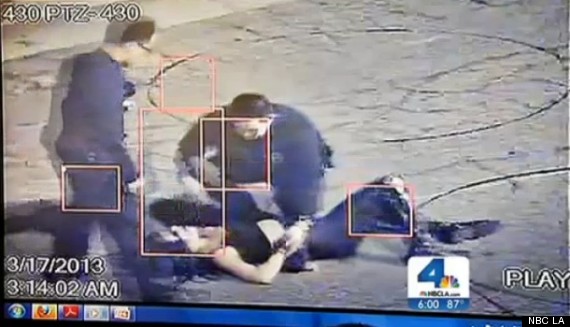 Still of the surveillance footage via NBC LA.
"People aren't supposed to fall out of patrol cars," said Casillas.
After the fall from the car, Nguyen sustained a broken jaw and brain injuries, and had to be put in a medically induced coma to heal. She may still need to have brain surgery.
The LAPD declined to comment on the lawsuit, per department policy. But LAPD Officer Sally Madera did tell the Huffington Post that detainees are generally seatbelted in the back of patrol cars, but sometimes factors like a person's weight or behavior may prevent seatbelt use. Also, depending on the model and the year of the car, doors may or may not be able to be opened from the inside, explained Madera.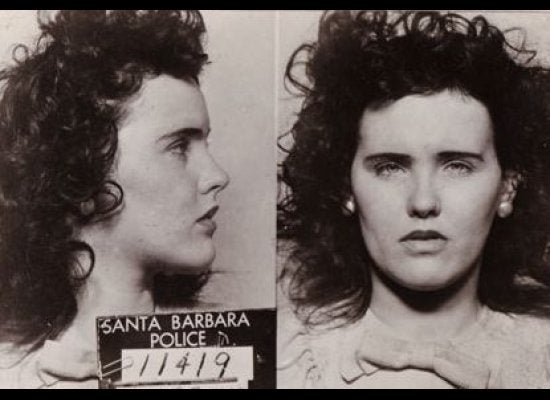 10 Major Crimes That Shocked the Nation (SLIDESHOW)
Popular in the Community