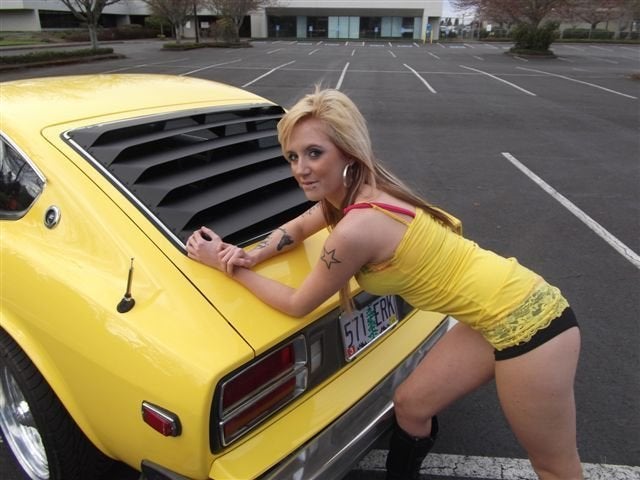 Don't worry everybody, a used car salesman isn't exploiting his daughter to sell autos; he's exploiting someone else's daughter.
Kim Ridley of Oregon created a hysteria after claiming that the sexy model in one of his ads was his child. After a coy interview with AdWeek in which he asserted that he fathered the blonde photographed in a skimpy outfit leaning on a used car, he is now confirming that he's been joking.
The situation exploded after Ridley listed a 1977 Datsun on eBay. The ad shows a provocatively dressed, sexy young woman bending over the 35-year-old jalopy.
One of the commenters at the bottom of the page asked, "Does buying the car include a free 'ride' with the porn star?"
"Nice way to talk about my daughter!!!!," Ridley wrote on Nov. 10. "But sure----------!!!! Hit the buy it now!!"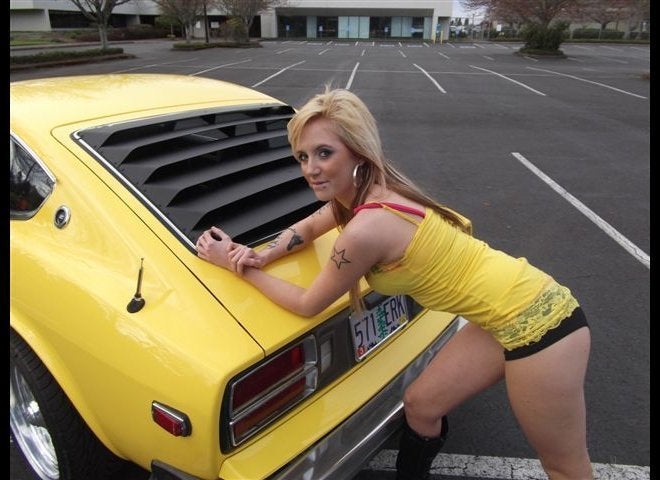 Dad Uses "Daughter" In Sexy Car Ads
Eventually, the parenting police caught wind of his off-hand remark. They took Ridley's word as gospel, even though his subsequent comment on eBay informed anyone who was paying attention that the model was a friend of the regular beauties he hires for his low-rent photo shoots on his Ridley's Rides website.
Ridley only made matters worse by telling AdWeek the model was his daughter "Lexxa."
That set off a chain reaction with other media picking up the story. Versions appeared in Gawker, the Week and CBS' Seattle affiliate.
Buzzfeed, however, fell for Ridley's false answers on eBay and posted a particularly judgmental story last week.
Most Dad's [sic] would be protective of there [sic] daughters and what kind of images of there [sic] kin is on the internet, but this father blatantly put her [sic] daughter in the most provocative poses in his ads for his used car.
But Ridley's AdWeek interview seemed questionable all along. A Facebook page that appears to be his refers to several family members, but not a daughter.
"I'm thankfull for my wonderful family, my sons Brent & Julian, daughter-in law April, grand kids Brendan & Avery, Cindi and her entire family and all our extended families," he writes in a Thanksgiving status update.
Reached by phone Wednesday, Ridley quickly hung up when asked to elaborate on the brouhaha.
"I have customers in front of me right now," he told the Huffington Post. "I'll call you back."
He didn't call back though, nor did he answer subsequent calls.
A tour of Ridley's Rides website shows he's used several young women to heighten the allure of his vehicles.
The site features bikini models draped over the hoods of cars and in other suggestive poses.
As of Thursday, Ridley had other 15 items for sale on eBay. There was an arm rest from a 1965 Chevy Impala, which he'd part with for $199, a taillight for a 1967 Oldsmobile Delta and several "vintage antique" window handles from Cadilacs of the 1930s and 1940s. No women -- not even fully clothed ladies -- spice up these listings.
Popular in the Community