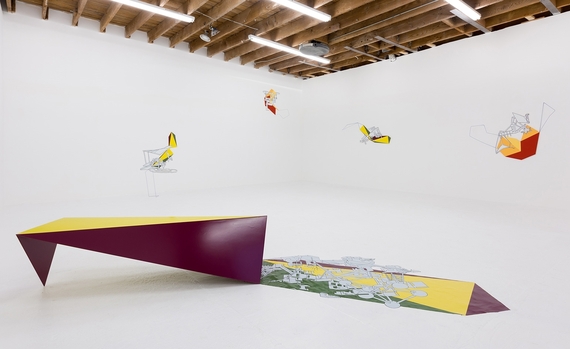 Kim Schoenstadt, New Work, 2016, Chimento Contemporary, installation view. Image courtesy of the artist and Chimento Contemporary. Photo: Ruben Diaz
Kim Schoenstadt's abiding interest in architecture skews toward the interpretive, allegorical, palimpsestically repurposed, aspirational, never-built, and even fictional edifices of the last century. What she really loves is architectural renderings, and the way the solid forms of physical space grow from the expression of pure ideas and hand-rendered largely two-dimensional methods belonging to the realm of visual art. Her mixed media wall drawings speak a hybrid language, a trans-dimensional patois of shapes that sample architectural sources across time and space, before they re-engage directly with their new, literal architectural contexts -- especially by the addition of protruding metal wires that physically connect to walls and floors, and in so doing extend and complete those core geometrical shapes and vectors, with their own contours and by the shadows they cast.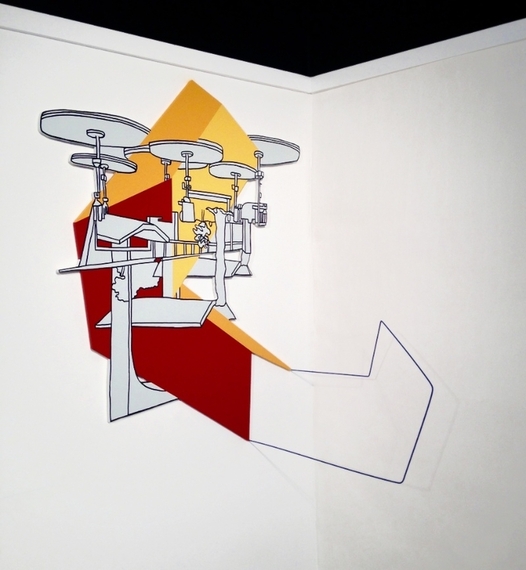 Kim Schoenstadt, Sightline Construction No. 5, acrylic paint on shaped wood panel with metal, 32 x 26 x 20 inches.
A density of detail and a richness of eccentric hues are operational in these constructions of acrylic paint, wood panel, metal shapes and wire. Their royal hodgepodge of cultural and visual DNA is sourced specifically and heavily, clustered according to formal and narrative motifs of era and function, generating fanciful new stories and giving people permission to have their own versions of the experience. All the works from the "Sightline" series start from sets of three sources. By not limiting her architectural source materials to the actual, her far-ranging investigations are thus free to be as surrealist and gravity-free as she likes, generating unsuspected meaning by juxtaposing their attributes according to unconventional logics. For example: Sightline #2 uses Fred Fisher's 1989 Gorilla Husbandry Facility at the Los Angeles Zoo, the Hall of Doom from the 1970's Super Friends cartoons, and the masterpiece of Modernist cantilevering of the 1959 Vandamm House as seen in Hitchcock's North by Northwest -- emblematic of her wry humor and particular perspective on Hollywood Modernism.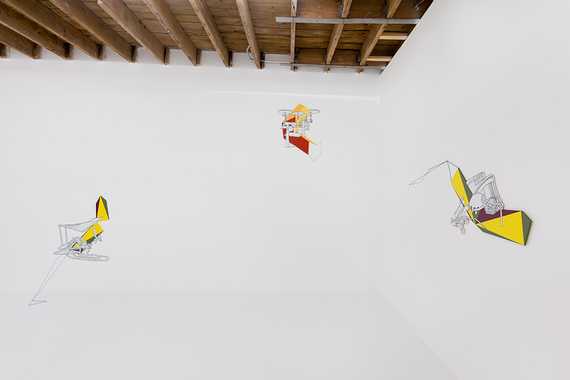 Kim Schoenstadt, New Work, 2016, Chimento Contemporary, installation view. Image courtesy of the artist and Chimento Contemporary. Photo: Ruben Diaz
Other set-ups feature the recombination of, for example, variations on public recreational spaces with diverse functions but resonant formal qualities, as in Sightline #5 which includes a public theatre in Rio by iconoclastic Modernist Oscar Niemeyer, the 1918 iteration of Germany's Kunsthalle Bern, and the 2007 Bad Aibling Spa by Behnisch Architekten, also in Germany. Sightline #13 examines the fanciful, deliberately optimistic architecture of Thom Mayne's 2009 proposal for a Children's Museum, the star-fountain adorned Hall of Justice from Super Friends, and the Philips Pavilion -- the world's first parabolic edifice, designed by Le Courbusier's office for a 1958 global exposition. Sightline #12 furthers the wall/floor boundary blurring with the production of a functional welded metal bench inspired by the Tony Smith sculpture Amaryllis (1965) seen outside the Wadsworth Atheneum where she recently showed. The bench employs the torqued planes of the wall pieces; and just as those are augmented by extensions and line-drawing, the bench is completed by the attached component of an elaborate floor drawing -- which itself offers a trio of irrationally exuberant edificial curiosities: the molecular sphere-and-post Atomium, like the Philips Pavilion designed for Expo '58 in Brussels; Habitat 67, Moshe Safdie's 1967 Escher-like modular apartment complex in Montreal; and Huddle's The Springs Restaurant, a 1957 crown jewel of Googie style by William F. Cody in where else but Palm Springs.
Calling all HuffPost superfans!
Sign up for membership to become a founding member and help shape HuffPost's next chapter