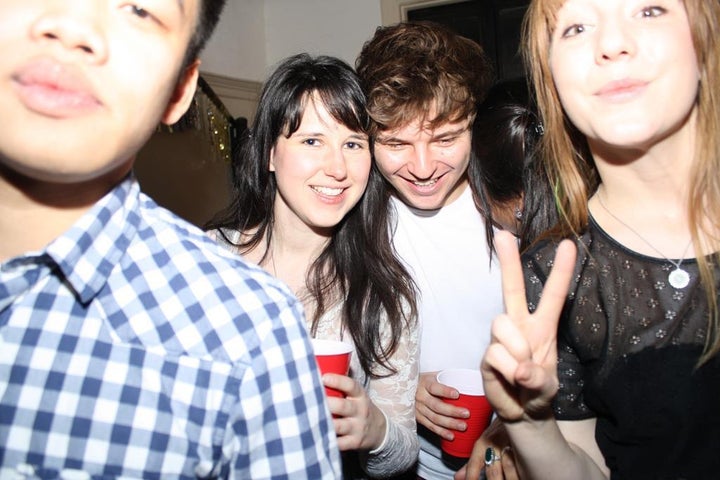 It was the fall of 2012. Several weeks into my first semester at Columbia Journalism School, a classmate threw a mixer at his apartment so everyone could get to know each other better. I was hesitant at first. As a native New Yorker, I was already comfortable with the circle of friends I had built over the course of 20-something years. I wasn't interested in meeting new people, let alone students I shared very little in common with. A sizable number of them were from elsewhere, and the proud New Yorker in me didn't want to mingle with anyone who couldn't relate to my undying passion for hip-hop or my upbringing in Manhattan's Chinatown.
I reluctantly attended the party with two classmates—both of whom eventually became very good friends of mine—with no real expectations. Kim was there. She didn't particularly stick out. She was with a clique of students I jokingly called "the Europeans." They came from Scotland, Wales, France, and other areas I couldn't put my finger on. Kim, however, made her presence known soon enough when she briefly but glowingly spoke to me about her time in Beijing. I was a bit taken aback. Here I was at this party, thinking that nobody could relate to me, but, by some weird chance, a Swedish girl who had traveled thousands of miles across the Atlantic Ocean to study journalism understood why tea and dim sum are a match made in heaven.
Kim was more than just a China enthusiast. She came across as a borderline authority on the topic. From time to time, I'd find her chatting with some of my other Chinese classmates, almost all of whom were born and raised in China (I was one of the few who were American by birth). There would be casual conversations about mutual interests and experiences in China, but, on occasion, she would speak with a confidence that one would only expect from either a Chinese person or someone who had thoroughly done his or her homework on China.
Nowhere was Kim's passion for China more apparent than in her participation in our China seminar, a class that prepared students how to report from the country. Howard French, a New York Times veteran who has reported extensively on China, taught the course. It was intimidating not because he was stern but because he spoke with such expertness. I rarely participated, mostly in fear that I would say something that could potentially revoke my Chineseness. Kim, however, was one of two individuals who dared to ask questions and offer insight on whatever subject we covered on any given day. Her voice was soft, but her knowledge spoke louder than most. I learned a day after our vigil for her that she had petitioned our professor to join the class. That's how much Kim loved China.
Towards the tail end of my second semester at Columbia, my classmates and I scrambled to find jobs and internships. I applied almost everywhere, including the Hong Kong-based South China Morning Post. Having lived in New York my entire life, I wanted a change of scenery and felt that reporting from Hong Kong would allow me to better understand and appreciate my heritage. I didn't get the internship. Kim did. Although I felt somewhat slighted, I couldn't have thought of someone who was more deserving.
Kim would go on to cover a wide range of issues for the paper, from the Chinese government's religious restrictions on Uyghurs to Ikea's entrance into the Chinese market. Her versatility in reporting on China spoke volumes about her integrity as a journalist. At a time when Western media had often been critical and one-sided in its coverage of the country, Kim sought to add another dimension to the discussion. She humanized her subjects and sources. She gave a voice to the millions of Chinese who didn't want to be identified simply as greedy opportunists. Earlier this year, for instance, she reported on New York's first queer lunar dance party in Chinatown—a taboo matter for most Chinese families—for The Guardian. It was this sort of coverage that made me admire her.
Kim was just weeks away from moving back to China before she disappeared. She had always considered it her second home. When she started interning in Hong Kong in the summer of 2013, I asked her on Facebook how she was holding up. She replied, "oh j-chanz, you know i love your people." A couple of back-and-forths later, she jokingly asked me, "And when will you visit us/your people?" In many ways, our Facebook thread confirmed who she was among her Chinese friends: an advocate, a confidante, and most importantly, a sister. She was Swedish, but many of us considered her one of our own.
Popular in the Community