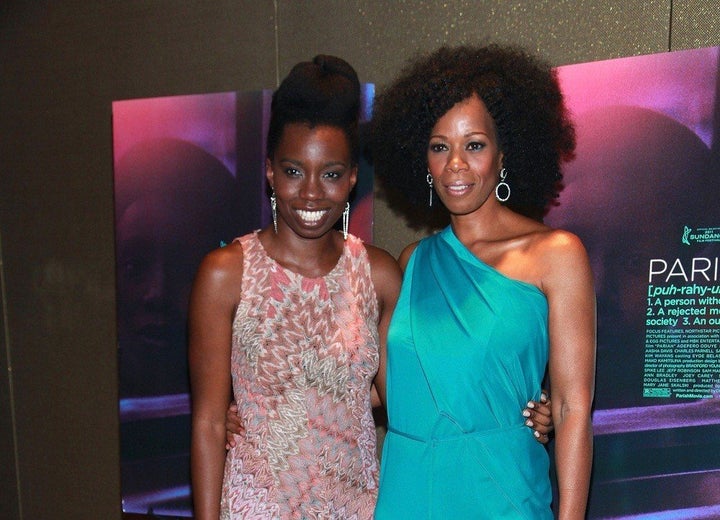 After garnering recognition during the Sundance Film Festival last year, director Dee Rees' coming-of-age drama "Pariah" is trickling out into theaters across the United States. An expansion of Rees' award-winning 2007 short film of the same title, "Pariah" follows Brooklyn teenager Alike (Adepero Oduye) as she embraces her identity as a lesbian.
Though she felt she understood generally where Alike was coming from, Oduye credits Rees with helping her prepare for the role. "When I first read the script, I immediately related to that feeling of not belonging, not feeling comfortable in the boxes that you've been placed in through conditioning, expectations, and trying to break free of all of that," she said in an interview. "Me and Dee had a lot of conversations and she recommended some books for me to read. She's really good at doing cool, creative homework assignments."
Most memorably, Oduye said, she and Pernell Walker, who plays Alike's best friend, Laura, attended both lesbian and straight parties in character. "Those things fed me really specifically about Alike's character and the world on top of what I immediately related to in the beginning," she said.
This is Oduye's feature debut. She originally auditioned to play an extra in the 2007 short film before Rees cast her in the lead. Her more established co-star, Kim Wayans, who portrays the role of Alike's mother Audrey, likewise found the script compelling and was "blown away" by the role of a conservative woman who's having a difficult time accepting the fact that her daughter is a lesbian.
"It was such a beautiful story, beautifully written. It had such a power to it and it's so relevant with all that's been going on over the last couple of years with teen suicide," Wayans said. "And the role of Audrey just broke my heart. She was just so sad, lonely and misguided, but she was always coming from a place of love. This is a woman who is trying to save her child from what she believes will be a sure destruction, and I felt that I could really do justice to the role."
Spike Lee also contributed to the film, serving as an executive producer. "He was very instrumental in helping Dee throughout the whole process," said Wayans. "I think since the time that she wrote the script he was giving her notes and really mentoring her. So we all owe a huge debt of gratitude to Spike and his contributions to helping young artists find their way."
And Oduye said she hopes artists won't be the only viewers who can find lessons in "Pariah."
"It's a great time for the film to come out, to make people a little bit more aware of the issues that's been happening for a while but many people haven't been paying attention to," she said. "Here we have this story that's really specific, but it's so universal. You take away race, you take away sexuality by identity and at the end of the day when you watch it I feel like you realize, 'Wow, we're all more similar then we are different."

"For example, my mother, she's a little bit more aware of LGBT issues because of my participation in the film," she added. "So I just hope it helps people gain a whole another level of awareness to issues that are affecting other people, particularly LGBT issues."
Calling all HuffPost superfans!
Sign up for membership to become a founding member and help shape HuffPost's next chapter