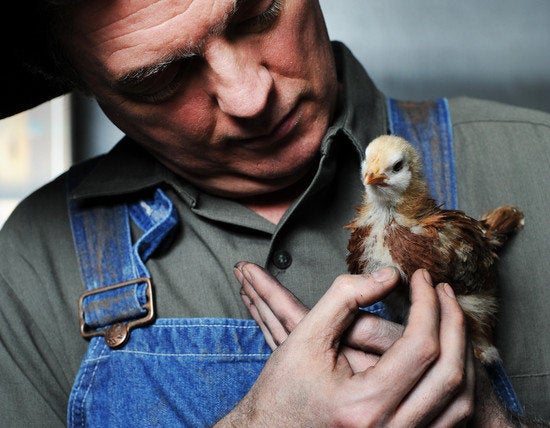 JODY CHRISTOPHERSON: Tell us about beginning your new collaboration at Arizona State University on Charles Mee's's soot and spit, a play about the outsider artist James Castle who was born profoundly deaf and was possibly autistic too?
KIM WEILD: I first read the play seven years ago and I couldn't stop thinking about it. Over the years I revisited the play intermittently. Chuck and I would talk about various projects and invariably this play would come up again. It's a complex play and I knew in order to do it, I was going to need some major support (not to mention funding). Fortuitously when Jake Pinholster called inviting me to return to ASU Herberger Institute School of Theatre and Film to direct, he asked for three plays on my dream list. I remember saying to him, "there's this play that I love, I can't stop thinking about it, it might be impossible to do but if there is one place that can handle all of its size and complexities, it is ASU." Two weeks later when I heard Jake say, "We want to make soot and spit" I was thrilled, excited and terrified and when I told Chuck, he replied, "Oh Kim, that is FANTASTIC!" Then I dove in and started asking Chuck a ton of questions about the play because frankly, I think it is one of his most difficult and "out there" plays and even though I had had a deep visceral response to it, I was baffled as to how to do it. During the course of one conversation he said that he thinks of this play as a "landscape" and I got it! I understood what he meant and suddenly many things clicked into place for me. I love working on his plays because he throws down the gauntlet. He demands everything of you as a collaborator.

Robert DeMayo as James Castle in soot and spit
JC: You have been a NY based director as well as someone who works nationally and internationally. Can you talk about theater as a storytelling medium in New York vs different regions? Do you hope to bring your current work to NYC?
KW: Good storytelling is good storytelling. You know it when you experience it. I have found some regions outside of NY are more adventurous in their taste and how they think about the development of a piece. It's a little hard to explain but I think some of it has to do with TIME. I also think it is a must for NY based artists to get away from NY. There is such a saturation of work here, which is great, but it can be anxiety producing, understanding that you can leave and come back, is very healthy and helps give you perspective....and pick up new ideas.
Y-E-S! We absolutely hope to bring soot and spit to New York and other places too.
JC: I hear the piece is very visual, also has music. Can you tell us how the music and visual elements relate to Castle's work? Is there dance? I'm really fascinated to discover how you are using music in a piece about a profoundly deaf artist.
KW: The media in this show is ASTONISHING and I am not saying that because it's my show. I am saying it because Boyd Branch is brilliant and what he has managed to do is bring Castle's artwork to life. Over his lifetime, Castle created upwards of 20,000 works of art. In his play Chuck has written in the media. What I mean is, he says, "And now a Castle drawing shows up and then another one and then another one until the sides of the ice house are covered and from here until the end, the media never goes away."
I will be the first to tell you that I am cautious and skeptical of media. I think it can be too seductive and can undermine the integrity of a production, undermine the actors and actually undermine what I value so much about the theatre-the actors' voices and bodies telling stories in Time and Space but this media, this media, I can't imagine this piece without this media.
Yes, there is dance. Because this was built at ASU which has a strong dance department I was asked to work with one of their choreographers, Katie Chilton and I said yes. She's done a lovely job, however there is one dance, the hula, which I put together drawing from an exercise I gave to the cast. It's a gesture dance, each of the gestures comes from their characters in the play and each gesture shows up in the play before we get to the dance-it's about accumulation and repetition. Much of what I have done with this play is through investigating repetition and silence...and yes, there is music. There is a five piece band that plays bluegrass music, shape note music and something I don't know how to define other than to say, every time I hear this particular song which Chuck's stage direction for is "...and sings a lament" I am cracked open with joy and the pain of being human.

JC: You are also working with a chorus of performers with Down Syndrome? Can you tell us about this choice?
KW: It's Chuck. He has a stage direction: "and now a chorus of performers with Down Syndrome appear and sing..."
For me, this chorus is about ability, otherness, the outsider, vulnerability, joy and the desire for connection, for communication. I was worried that after being cast, some of the parents would be upset with what we were asking the performers to do even though I gave all of them and the guardians a copy of the play to read so they could decide whether or not they wanted to allow the actors to audition in the first place. None of them turned us down, they all auditioned. I will also say working with Davina, Rick, Jonathan and Taylor has been life changing. Not to sound corny but we are all filled with so much love for them and they have taught everyone about what it means to truly be in the moment on stage -- they have taught us a great deal.
JC: You have worked on Broadway and Internationally can you tell me about the decision to also run WeildWorks, your indie theater company and develop work over time? (Would you call it Indie?)
KW: Yes, I would call it Indie. I'm actively investigating a different model for this company and what it means to be a Creative/Artistic Director who also wants to produce other artists as well as collaborate with scientists and engineers who are designing and developing software/products that can be applied to make the work accessible for/to all but not in the standard ways. I want to push the art form from all aspects. I think a lot about Tennessee Williams essay on plasticity. It's a bit of a tricky balance but I am incredibly excited about it.
JC: I love the appearance of a small chicken in recent photos of you. What is its name and when did you become friends?
KW: Well, that small chicken isn't so small anymore. Her name is Mimi and she is a star! Chuck has a chicken in some of his plays and he's never had a live one...until now. Ron Thacker the TD went out and purchased six hatchlings and we have hand raised them, teaching them to walk with us, sit watching rehearsal, ride shoulders etc. Mimi emerged as the calmest. We did get in to a little bit of a sticky wicket because I imprinted on her so in rehearsals when we were working her scenes I had to stay out of her sight line otherwise she would fly over to me and want to roost on me....everyone should be so lucky.
JC: Theater is an opportunity to create worlds. What world do you hope to be creating and offering up to your audience?
KW: An experience of the world of the outsider and certainly the world of James Castle. We have endeavored to make the invisible visible.
The World Premiere of Soot and Spit by Charles Mee plays through Sunday, April 14, with performances at 7:30 p.m. Friday and Saturday, April 5-6, a matinee at 2 p.m. Sundays, April 7 and 14, and 7:30 p.m. Thursday-Saturday, April 11-13. ASL Interpreted performances: Friday April 12 - 7:30pm, Saturday April 13 - 7:30pm
To arrange tickets please call (480) 965-5337. Price $8-$16

KIM WEILD is a Manhattan-based theater director who specializes in new plays, re-imagined classics and devised work. She describes her work as ensemble-based and deeply collaborative. In 2010, Weild founded WeildWorks with the inaugural production of Mee's Fetes de la Nuit, which went on to be nominated for a Drama Desk Award and seven New York Innovative Theatre Awards, including Outstanding Director. Weild is the recipient of a Kennedy Center Directing Fellowship, a Park Avenue Armory Artist residency, a Shubert Fellowship and other noted awards and honors. Her next production will be Harold Pinter's A Kind of Alaska for New York Live Arts/Live Ideas inaugural festival celebrating "The Worlds of Oliver Sacks." opening April 20th and curated by Bill T. Jones and Lawrence Weschler. She is also currently developing a Deaf opera for Senses Askew and collaborating on projects with artists based in Paris, Istanbul and Berlin.
Calling all HuffPost superfans!
Sign up for membership to become a founding member and help shape HuffPost's next chapter