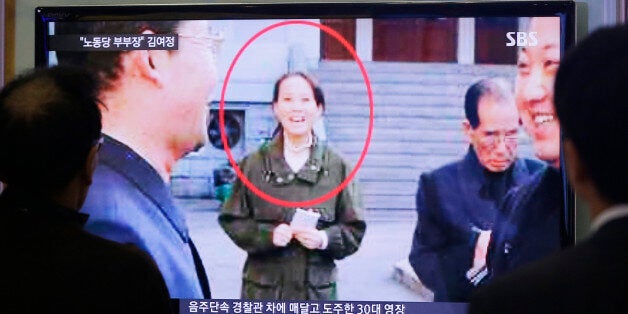 Kim Jong Un's younger sister, already a power player in North Korea, has reportedly married the son of a senior aide to the supreme leader.
Kim Yo Jong wed Choe Song in late 2014, South Korea's Yonhap news agency wrote Friday, citing two unnamed sources.
The news agency spotted Kim apparently wearing a wedding ring in official photos from Jan. 1, when she accompanied her brother on a visit to a North Korean orphanage, and a "reliable source in China" confirmed her new marital status to the agency. An official at South Korea's Unification Ministry told Reuters that the report could not be confirmed.
Kim, who is in her late 20s, wields considerable influence as the deputy director of the ruling party's propaganda unit. She is believed to be close to her brother and has become increasingly visible in North Korea's official media.
Choe, reportedly in his early 30s, is the son of powerful party official Choe Ryong Hae. The elder Choe has held several top positions under Kim Jong Un and previously under his father, Kim Jong Il, and Choe's family has long ties with the ruling dynasty, according to the research site North Korea Leadership Watch.
Despite rumors that he was caught up in Kim Jong Un's purge of senior officials in 2014, Choe Ryong Hae continues to play a prominent diplomatic role. He took part in a rare delegation to South Korea in 2014 and met Russian President Vladimir Putin in Moscow as Kim's official envoy. It was not immediately clear whether his son Choe Song also works for the regime.
The reported marriage may help both families consolidate their power after the turbulence of last year, when Kim had several top officials executed. Agence France Presse notes that the union already appears to have helped Choe Ryong Hae "secure his position within Kim's inner circle." Bloomberg writes that the marriage "would add to signs the Kim family is tightening its grip on power in North Korea."
The notoriously secretive rulers of North Korea are unlikely to elaborate on the wedding tale anytime soon. However, the reported union has caught the attention of U.S. intelligence analysts try to decipher the repressive regime's power dynamics, according to The Christian Science Monitor.
"If you're looking for where this third generation is going, you now have a new key power couple who will shape the direction of North Korea," Patrick Cronin, senior director of the Asia-Pacific Security Program at the Center for a New American Security, told the newspaper.
Related
Popular in the Community