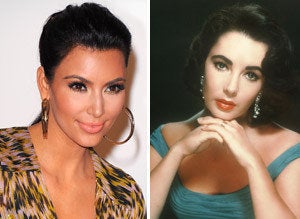 While the Kardashian-Humphries reign may be at its end, there's a bit of bright news for Kim: She's one step closer to her idol, Elizabeth Taylor.
The sultry reality star was the last person who interviewed the late screen legend, which appeared in the February issue of Harper's Bazaar. And, with an opening like, "You are my idol. But I'm six husbands and some big jewels behind. What should I do?" it got us wondering, is Kim's ultimate goal to become the new violet-eyed vixen?
Taylor also had a very short marriage. Though, Taylor's lasted a little longer than 72 days.
They both got married very young. Kardashian first wed at 19. Taylor was 18.
Kardashian is now getting her film career underway. She has joined the cast of Tyler Perry's next film, "The Marriage Counselor."
Kardashian also likes jewelry. Her engagement ring was valued at $2 million. She has also launched her own jewelry line.
Kardashian has her own blinged-out perfume. Except hers is named "Love" not "White Diamonds."
But it seems, for both these ladies, diamonds trump love any day.
Support HuffPost
The Stakes Have Never Been Higher
Popular in the Community