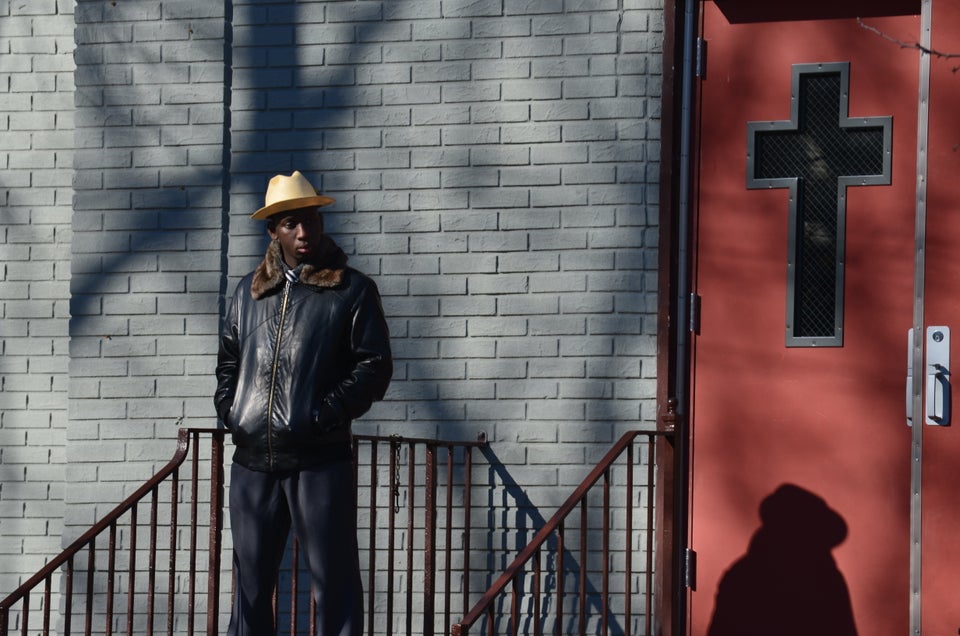 Kimani Gray's Funeral
NEW YORK -- On Saturday, inside the mahogany wood and white stone sanctuary at St. Catherine of Genoa Catholic Church, no one spoke openly about the New York Police Department's impact on the church's East Flatbush neighborhood in Brooklyn.
No one mentioned the controversial tactic, formally called "stop-question-and-frisk," and its possible impact on police community relations in the neighborhood.
No one talked about what it has done to alter the lives of the nearly 5 million people -- the overwhelming majority of whom are black or Latino -- citywide who have been stopped and frisked.
No one had to.

At the church's altar, Kimani Gray, a 16-year-old known by the nickname "Kiki" whose favorite subject in school was English because he "loved the power of words," lay silent and still inside a coffin, beneath a bone and gold embroidered pall.
To the right of the casket, sat Gray's parents, family and friends, as well as the emergency medical crew called when Gray's mother fainted and nearly fell to the church floor. Later, one of Gray's brothers had to be restrained inside the sanctuary when he said loudly that an unidentified man should not have been there because the man did not know who Kiki was.

Gray's eulogy reminded those inside the sanctuary that in the days leading up to his death Gray, a self-described writer, was busy working on a dramatic piece. On weekdays, he traveled more than an hour each way to his Manhattan high school. His affection for Chinese food, the television show "Supernatural," and the music of teenage rapper Chief Keef were so well known that their mention Saturday moved most of the nearly 200 people gathered inside St. Catherine's to laugh.

Two weeks after Gray's shooting death, exactly what happened remains the subject of an NYPD internal investigation. Police say that when plain-clothes officers jumped out of a car, and ordered Gray and a group of teenagers on their way to a Sweet 16 party to stop for questioning, Gray pointed a weapon at the officers. Police fired, killing Gray. Witnesses say that Gray was unarmed, and attempting to adjust his baggy pants and possibly flee when he was shot. An autopsy found that some of the seven bullets that pierced Gray entered the back of his body.
The March 9 shooting seems to have drawn new national attention to a collection of police tactics used nationwide, including stop and frisk, and random traffic stops to initiate vehicle searches or warrant checks. Proponents insist the tactics are proactive policing tools that help identify criminals and stop crime before it occurs. Opponents insist they provide legal cover for racial profiling and abuses of authority that turn minority neighborhoods into police states.

Gray's death also ignited a series of clashes with police that New York Police Commissioner Ray Kelly has said were prematurely and inaccurately reported as riots. The confrontations led to a series of arrests and a make-shift sidewalk memorial for Gray near the spot where he was shot.
Neither Kelly nor New York City Mayor Michael Bloomberg, a proponent of stop and frisk, attended the funeral.

On Saturday, the NYPD stationed police cruisers with flashing lights along streets near St. Catherine's. At least 35 police officers stood behind stacks of portable metal barricades at the church or were aboard scooters scattered between the church and the site of the shooting less than a mile away.

For Jose LaSalle, an activist who is among a small group keeping vigil at the spot where Gray was shot, the service made him think of his own teenage son.

In 2011, when LaSalle's son was 15, he was stopped and frisked in East Harlem. A radio recording of one of the officers involved is expected to be introduced into evidence this month in a federal case evaluating the constitutionality of stop and frisk, said LaSalle. The boy was too afraid to testify, his father said, but the recording captured one of the officers who frisked him calling the boy "a mutt."

"A mutt, like a mixed breed dog," said LaSalle. "He said that like Spanish people, you know because of our mixed heritage, are not even full human beings. That's what boys like my son, parents like me face if we are lucky. My son is alive."
Popular in the Community