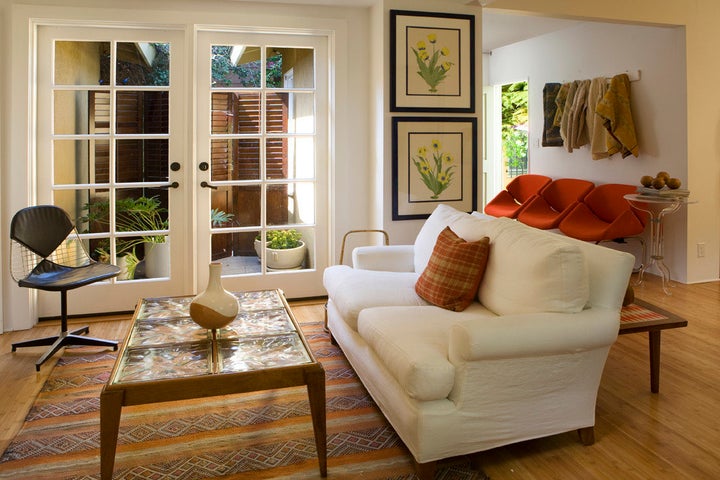 I am back among the living and all I can say is thank the F-ing stars for girl friends. I love men, but the truth is the men may come and go and it's the girls who always pull you through. Except in the movie Rust and Bone, which I highly recommend, and whoa did he ever pull her through. Bear in mind, he's a Belgian movie star and she is Marion Cotillard, one of the most beautiful -- and sexy -- actresses.
But getting back to girl friends, a subject I feel very blessed to be able to write about, they are, in the spirit of the season, the greatest gifts of all.
I have also been blessed with many a stylin' and stylish friend. I love stylish women and have all my life. I can remember the color blue of the cocktail dress my mother wore to my brother's christening party when I was 10. Hearing the tinkling sound of charms in movement on a gold bracelet, I am back at my grandfather's apartment on Park Avenue, fascinated by my mother's younger sisters in their red lipstick and Tiffany charm bracelets. When I catch the slightest whiff of Shalimar, I still think of my Aunt Claire, the fun one, the one my father dubbed a "live wire."
Even though I've previously referred to myself as being "no spring chicken" (several times in this very space, I believe!) I'm only in the wee stages of the old age category, and even though, yes, I have been reporting on the dying, have no fear, I've many many, many live wires to report on.
One hell of a live wire is Kimba Hills, a gal who is making a career out of embracing change. While -- forgive the generalization -- many of us run from change, cringe under the covers trying to avoid change and stay stuck at all costs to not confront change. The transplanted southern belle, Dame of L.A. and owner of Rumba (which sells mid-century furniture and art), Kimba Hills is the denizen of change and she does it with beauty, glamour and a sense of freedom and ease.
Kimba's son with artist Laddie Dill, Jackson, was heading into middle school when she started thinking of her re-entry into the job market. The idea of returning to movie casting was tempting, but her passions ran more towards art, furniture and home at that point, and the idea of combining them all into a new hybrid, a gallery/furniture store, excited her. With retailing in her blood, -- her mother, the most fabulous woman on any side of the Mason Dixon, owned an upscale boutique in Tennessee for years -- an artist's eye, and her innate Southern charm, Kimba launched Rumba in 2004 and has kept it running through the little thick and the lot of thin, which is no easy task. The pretty blonde from Tennessee (the way she says it is very cute, more "tin" than "ten") had to do much more than having a great eye and working her tush off. Thankfully, she is also clever and resourceful.
Her store, a treat for the eye in every direction, has a small cottage attached to it. Kimba decided to lease out her house, conveniently located around the corner, down a few blocks from the shop, with property and pool, and move into the little "space" in the back. Kimba dubbed it "the annex," gave renters the keys to her house and proceeded to make the 1,200-square-foot space a home for herself and her then-16-year-old son.
We had a Sunday lunch, my husband and I, shortly after the move, and Kimba was here talking about moving into "the back of the store." Upon leaving, she hugged me and said she'd have us over for dinner soon. My response, in my true lack of impulse control was, "You have to have people to dinner," thinking, "Now that's really Southern hospitality!"
Later that night, I actually said to my husband, "God bless Kimbie, she's having dinner parties in the annex... oh... only Kimba can make that cool."
Skip to the aforementioned dinner party at the annex, where I had to bend down and scoop my jaw off the floor because the place was (and is) so fabulous. This was no dark and dingy box in the back that backed into an alley like I had pictured. (Saved by museum art and amazing rugs perhaps.) No, no, no. This was old Palm Beach, Nantucket, Bridgehampton -- all of it at its best and least pretentious, and totally fun and whimsical. This annex was a dream come true! A kitchen, two bedrooms, two bathrooms and several other rooms that can and do become whatever Kimba wants them to be. There is an open back porch that Kimba has turned into the icing on the cake. And here is the deal... everything in the annex is for sale, and each room is constantly changing since Kimba moved in and decided that she could live that way. Jackson wrote his college essay for Bard on what it felt like to live in a showroom, not knowing if he'd come home to the same bed or a new one. The good news is that whatever was gone was replaced by something better -- not to mention the early life lessons in non-attachment!
When people enter the annex, the reaction is usually the same. Jamie Lee Curtis summed it up with, "I want to move in," which is often the common response. The wheels start turning and you can almost see people doing the math in their heads.
"Hmmm I could get X and a few O's for the house, and who needs that entire house anyway, It's too..." And, of course, anyone can live like that, especially if Kimba decorates it. Part of Kimba's original idea was to be able to showcase furniture designers and fine artists and to help her clients learn about both. Besides hosting the most fun and well-attended art openings, (the current show is Mary Ann Dill and Rita Stern Milch, and is terrific. I am currently obsessed with Mary Ann Dill's Zebra prints!) Rumba has expanded into decorating and manufacturing. This is a natural and organic progression of Kimba's taste, talent and, yep, that Southern charm again. Clients love her, upholsterers love her and, knowing Kimba, I'm sure she has the guys who make her furniture shaking their heads, but eating out of her hands.
After a recent trip back East to shop at the Brimfield Flea Market, Kimba was talking excitedly about her newest finds. She loved this and this and this so much; I finally asked if it was hard to part with any of the things she loved so much.
"No," she said without a thought.
"I only miss people; I'm never attached to things," she added after a moment. Our Southern Belle comes by that wisdom honestly. Kimba bravely set out to create her vision after battling breast cancer. Her mother, the retail maven, was by her side when she opened Rumba and encouraged her through the early days. Sadly, her mother, mentor and most cherished fan, lost her own long battle with cancer two years ago.
Sylvia, or Bun Bun, as her mother was called in the best social circles throughout the South, was the mother all of her friend wanted. Warm, beautiful, sophisticated, fun and down to earth, Bun Bun made everyone feel important and that she was delighted to be in their company. She was a woman comfortable in her own skin, in her own mind, and being around her made one feel almost the same way. After she died, landscape architect, Nancy Goslee Power, hosted a party for all of Kimba's L.A. friends who knew her mother. Drinking champagne, we toasted and told Bun Bun tales. I remember thinking that if either of my two daughters can round up a couple of cronies when I go, and if they sit around, drinking cokes in the bottles and can come up with just one or two nice things to say about me, I will have achieved something in life!
Kimba's mother had the joy of watching her daughter dance Rumba into what it is today; a can't-miss inspiration, and the go-to place for finding amazing mid-century furniture and interesting new art. Of course, it's her daughter's keen eye, brave spirit and Tinassee charm that keeps Rumba on its feet!
Rumba, 1740 Ocean Park Blvd. #C, Santa Monica Ca. 90405 phone # 310.963.2805, rumba@rumbastyle.com, www.rumbastyle.com