Los Angeles-based artist Kimberly Brooks' latest exhibition "Thread and Bone" takes place in the first floor of the Cooper Design Space, a massive 11-story building filled with fashion showrooms and designer offices. Brooks' work addresses the intersection of fashion and art via painted corsets and steel petticoats, Baroque editorials and pixelated memories.
As the show's title suggests, the work on view departs from traditional understandings of fashion (and art, for that matter) as ornamental or purely opulent. Rather, the exhibition posits the possibility that thread, like bone, is something primal, essential, even intrinsic. That, in the grand scheme of things, clothes last longer than bodies, and perhaps for a reason.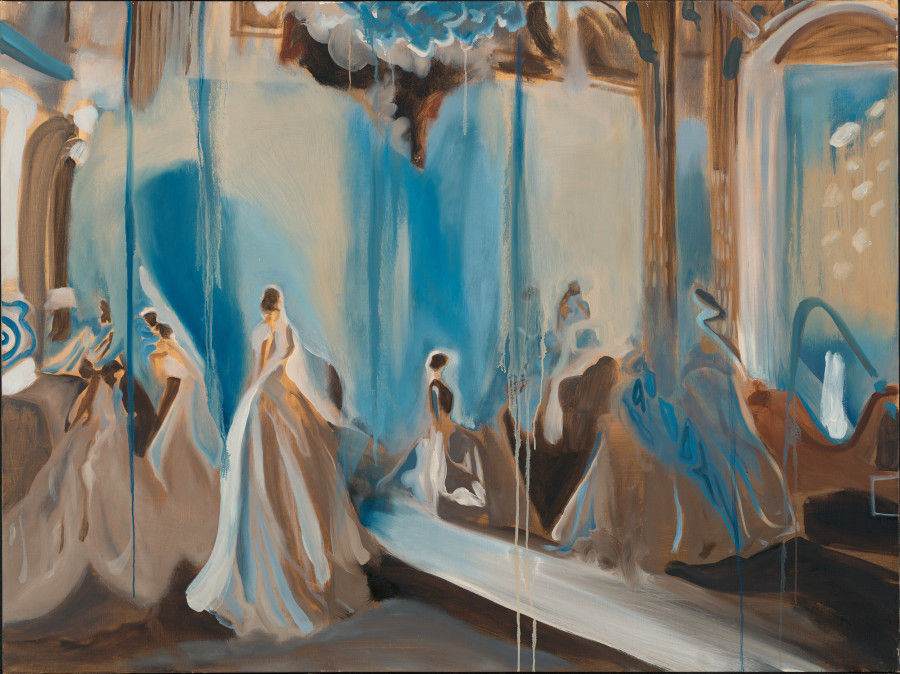 The fictitious historical renderings summon sumptuous visions of banquets, galas and high teas, all while decked out in the most plush of ball gowns. Paint is presented as the most indulgent of fabrics, defying gravity and endowed with infinite room to ripple. Every once and a while, however, pigment drips down the canvas in a wild, watery streak, reminiscent at once of frayed fabric, or perhaps spilling blood viewed through translucent skin. Despite the pale palette and delicate subject matter, the works leave a somewhat sinister aftertaste.
Pale, faceless subjects fade into their surroundings skin-first, like ghostly beings whose garments outlive their flesh. In the piece "I Was There and It Was Divine," the billowing dresses fuse inextricably with the architecture and natural surroundings, as if made of the same stuff -- yes, perhaps it's paint. The environment, both the space and the garb, seems to be eating its inhabitants alive, or at least eclipsing them in making a lasting impression.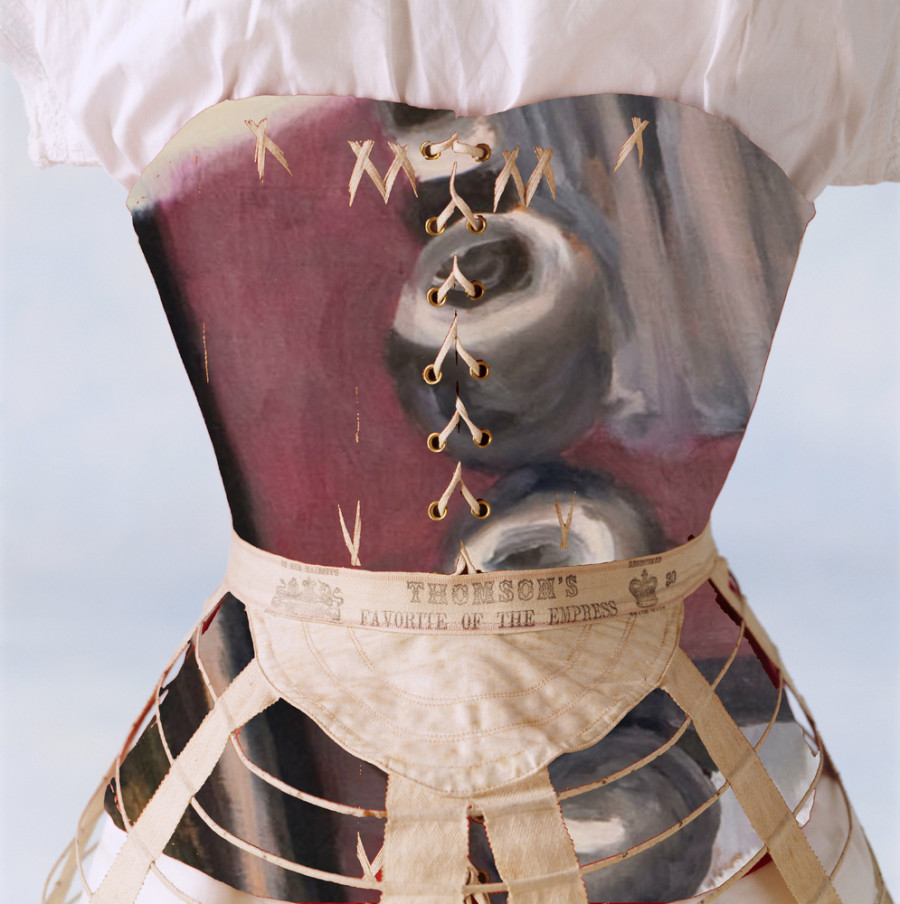 The show also features a massive steel structure hanging overhead, depicting a skeletal undergarment with legs poking out. The unorthodox chandelier transforms what's flowing into something inflexible, ironclad. The gauzy garment has never looked so rigid -- its contours are spider-like, almost robotic. In the collages too, we see underwear as exoskeleton, as armor, as the alternate attire of a superhero in hiding.
For anyone who has ever felt more "naked" in a wig than without. For anyone who has ever felt like Wonder Woman in a corset. For that matter, for anyone who has ever felt imprisoned by a corset. For anyone who has ever remembered someone by their style, not their face. For anyone whose relationship with the clothes they wear is more complex than comfort or even personal style. Check out "Thread and Bone," a joint production by the Do Art Foundation and Sage Projects, which runs until April 30, 2015 at the Gateway Gallery of Cooper Design Space in Los Angeles. See a preview below and for more of Brooks' work, check out our earlier interview with her here.
REAL LIFE. REAL NEWS. REAL VOICES.
Help us tell more of the stories that matter from voices that too often remain unheard.
BEFORE YOU GO
PHOTO GALLERY
Rosson Crow