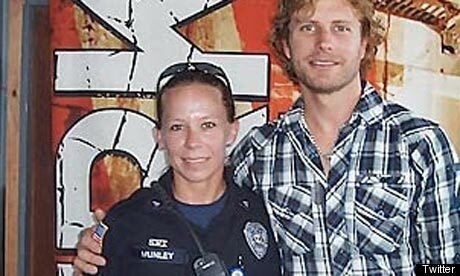 Kimberly Munley, the civilian police officer who confronted and shot the Fort Hood gunman, is being hailed as a hero today.
The base's top commander, Lieutenant General Bob Cone, credited her with stopping the shooting rampage that killed 13 people despite being wounded herself.
Cone added that Munley, who is 34, and her partner responded within three minutes of reported gunfire on Thursday afternoon. Munley had been directing traffic moments before she confronted the gunman, reports the New York Daily News.
Base officials lauded an officer, Kimberly Munley, who shot the gunman and was wounded herself.

"She happened to encounter the gunman. In an exchange of gunfire, she was wounded but managed to wound him four times," Cone said. "It was an amazing and aggressive performance by this police officer."
Munley was only a few feet from crazed Army psychiatrist Maj. Nidal Malik Hasan when she opened fire.

Wounded in the exchange of gunfire, Munley was reported in stable condition at a local hospital.

The hero cop spent Thursday night phoning fellow officers to let them know she was fine and to find out about casualties in the attack - the deadliest ever on a military base in the U.S., Cone said.
Sgt. Andrew Hagerman, a Fort Hood military policeman, escorted in a police car the first ambulance on scene. That ambulance would transport Kimberly Munley, the first officer to respond who shot the suspect, Maj. Malik Hasan.

Munley was shot, too, and Hagerman said it was in the upper leg and thigh region. He didn't know how many times Munley was shot, he said today.
CNN adds that a bio blurb on Twitter for Kim Munley of Killeen, Texas, which is near Fort Hood, has a particular resonance:
"I live a good life ... a hard one, but I go to sleep peacefully @ night knowing that I may have made a difference in someone's life."
UPDATE: CNN talked to friends and neighbors of Munley, who is the mother of a 3-year-old girl. Respected for keeping her neighborhood safe, she once stopped burglars:
The police officer who ended the Fort Hood massacre by shooting the suspect was known as the enforcer on her street, a "tough woman" who patrolled her neighborhood and once stopped burglars at her house.

"If you come in, I'm going to shoot," Kimberly Munley told the would-be intruders last year.
More dramatic details about Munley, the 5'2" SWAT team member whose husband is a soldier at Fort Bragg, and her encounter with gunman Nidal Malik Hasan, courtesy of the Killeen Daily Herald:
Chuck Mevley told the Herald that they began receiving 911 calls at 1:23 p.m. Thursday and four minutes later Munley, who was in the immediate vicinity, was upon the suspect.

She saw the injured, scared people and when she rounded a corner in between two buildings, Mevley said, Munley fired twice at Maj. Nidal Malik Hasan and he charged towards her.

Munley and Hasan fired at each other at the same time, Mevley said. Munley was hit in the leg, wrist and torso. "She did what she was trained to do," Mevley said, adding that Munley is an exceptional individual.
Mevley, Fort Hood's director of emergency services, says that Munley took shots in the left leg and knee area -- which she called "minor scratches" -- and still needs surgery to remove bullets from her right side.