Prosecutors say a Michigan woman's actions after delivering her baby at work constitute murder.
Kimberly Pappas, 25, initially told police that she'd miscarried and put her baby boy's body in a bag. But medical examiners have determined that the boy died of asphyxiation.
In court on April 24, Pappas' attorneys entered not guilty pleas to charges of felony murder, premeditated murder and first-degree child abuse. If convicted, she could face a maximum penalty of life imprisonment without the possibility of parole, under Michigan law.
Pappas showed little emotion as she was arraigned via streaming video from jail last week. Raymond Cassar, one of her attorneys, said he believes her demeanor was indicative of mental health issues. Pappas has been in therapy since the incident, according to WXYZ.
"You could see her on the video screen. It was pretty flat. There's issues. There's serious issues there," Cassar said Friday in an interview with ABC affiliate WXYZ outside court. "I don't think she understands what's going on."
In court, Pappas' attorneys asked for the woman to be released, saying she needed the support of her family members at home. But the presiding judge denied bond, keeping Pappas in jail.
The details of the case are graphic.
Prosecutors allege Pappas, a temporary employee at CEVA Logistics in Redford Township, gave birth in the bathroom at work March 31. They say Pappas then put the baby in a plastic bag, which she placed inside her desk drawer before continuing to work.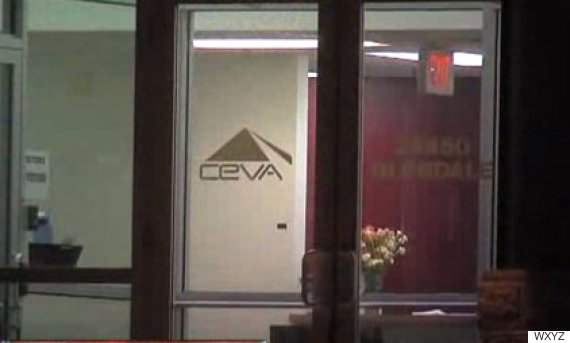 Pappas, a temporary employee, delivered her baby alone in a restroom at CEVA Logistics in Redford Township.
"She said no one helped her with the delivery; she did it on her own," Detective Sgt. Kevin Crittenden of the Redford Township Police told The Detroit News. "An employee was in the room with her for a short time and said she didn't notice anything unusual."
Co-workers discovered blood in the restroom and called 911, WXYZ reports. Responders tried to revive the newborn.
"The baby was still warm when rescue personnel found him," Crittenden told CBS affiliate WTVR. But by then it was too late. The boy was pronounced dead at an area hospital shortly before noon.
Although Pappas at first told police that she'd miscarried, she later admitted that she'd felt the baby moving right up to when she delivered him, according to The Detroit News. The full-term infant lived approximately 30 minutes before he died of asphyxiation, a Wayne County Medical Examiner's Office report said.
"This has been a tragedy for everybody involved; the baby, baby's family and the rescue people," Crittenden said, according to The Detroit News.
The tragedy could have been averted: Under Michigan's Safe Haven law, newborns up to three days old can be left with a staff member at any hospital, fire station, police station or with any emergency service provider on duty.
Police told WXYZ that the investigation is ongoing.
Calling all HuffPost superfans!
Sign up for membership to become a founding member and help shape HuffPost's next chapter
BEFORE YOU GO
PHOTO GALLERY
Dangerous Days