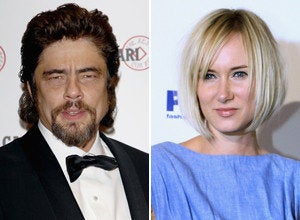 Benicio del Toro is the father of Kimberly Stewart's child, the two confirmed in a statement to Life & Style Magazine. Del Toro and Stewart are not a couple, but he is supportive, the statement said.
Stewart, an actress, model and fashion designer, has had a number of Hollywood boyfriends; she was engaged at one point to "Laguna Beach" star Talan Torriero. She is the daughter of rocker Rod Stewart, who just recently had another child of his own.
The press release from Life & Style follows:
Life & Style can confirm exclusively that Kimberly Stewart, the daughter of rocker Rod Stewart, is pregnant with actor Benicio del Toro's baby, a rep for Benicio confirms.

"Kimberly is pregnant. Benicio is the father and is very supportive," Benicio's rep, Robin Baum, tells Life & Style exclusively. "Although they are not a couple, they are looking forward to the arrival of the baby."

Benicio, 44, is best known for winning an Academy Award for his role in Traffic in 2001. Kimberly was most recently linked to actors Jude Law and Rhys Ifans, and in 2005 Kimberly was engaged to then-Laguna Beach star Talan Torriero, who was seven years younger than her.
Popular in the Community