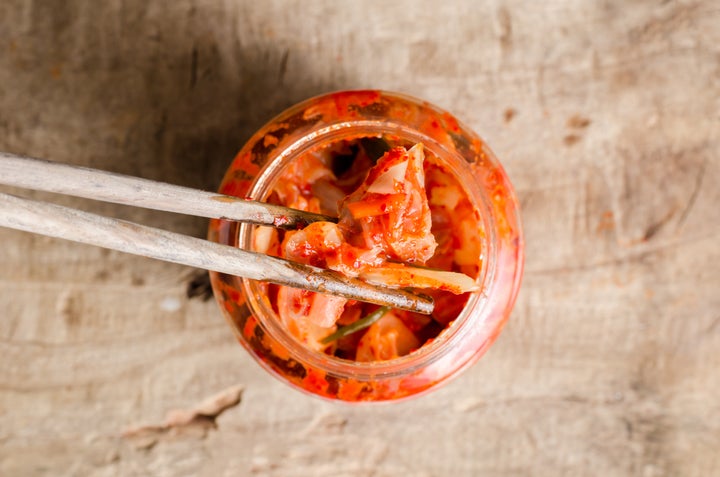 Kimchi might be loaded with vegetables, but it is usually not a vegetarian-friendly product. If you've got a good nose, you can figure that out just by opening a jar of kimchi. But if your olfactory senses are lacking, you may not have noticed that kimchi is made with some salty elements of the sea. We're talking salted shrimp, anchovy sauce and fish sauce, to name a few.
The recently published cookbook Cook Korean! explains that seafood adds a deep, briny flavor. Raw squid, baby octopus and sardines are the best flavor enhancers. Saeujeot (tiny salted, fermented shrimp) and fish sauce are often used, too. The fermented seafood adds glutamic acid, which is what gives our mouth that umami sensation.
A look at a couple of the most reputable kimchi brands reveals the store-bought type is often packed with seafood.
Ingredients: napa cabbage, yellow onion, green onion, salt, red chile pepper flakes, fresh ginger, fresh peeled garlic, organic sugar, beef bone broth, salted shrimp, fish sauce (anchovies, salt).
Ingredients: napa cabbage, beef stock (water, beef), red pepper flakes, pears and/or apples, scallions, garlic, salted shrimp (shrimp, salt) cane sugar, anchovy sauce (anchovies, salt) sea salt, ginger.
With that said, vegan kimchi is possible to make and can also be pretty good. Not only do the above two companies offer vegan options, but you can make your own, too.
With seasonings like tamari, coconut sugar, pineapple juice, ginger, garlic, onion and chili flakes, you can have a whole lot of umami with none of the fermented seafood. Get the recipe for Minimalist Baker's easy vegan kimchi.