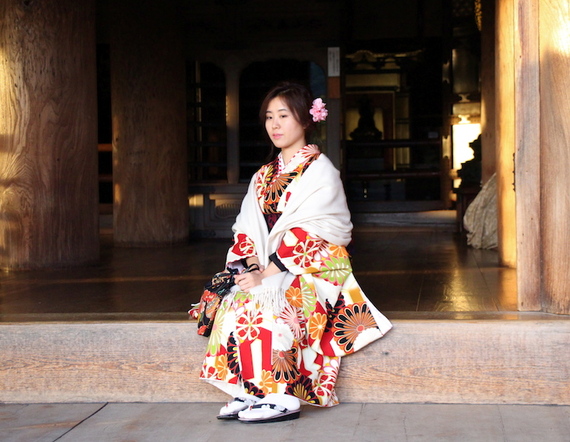 This visitor from Asia at Kiyomizu Temple is perfect turned out in silk and brocade. Photo by Gail Nakada.
The streets, temples and shrines of magnificent Kyoto are once again full of kimono-clad beauties and dashing men in traditional wear and it's all thanks to tourists.
A few entrepreneurial Japanese came up with the idea that visitors - both foreign and Japanese - might enjoy dressing in elegant kimonos while touring the famous sites of this ancient city for frame-worthy photo-ops. The idea of Kimono CosPlay (costume play) took off like wildfire.
Some of the biggest customers of Kimono CosPlay are visitors from Asia, especially Korea and China. Japanese young women have enthusiastically embraced the trend as well since most have only a rudimentary knowledge of the complexities of kimono dressing. Europeans, Americans, and every nationality in between are giving kimono a try.
Don't think of this as a silly masquerade. People aren't running around the city dressed as geisha, samurai or - god forbid - ninja. The shops turn out their customers in kimono exactly as the Japanese wear them.
No one has a higher service esthetic than the Japanese. The dressers are hyper aware this is the traditional costume of their country and they must do it proud no matter who wears it. Every knot and bow and tuck are perfectly placed.
One reason Kimono CosPlay shops have such an excellent choice of styles and colors is that so many used kimono, obi, and kimono accessories have become available at rock-bottom prices through second-hand stores.
The percentage of Japanese women wearing kimono has fallen dramatically. Beyond special festival days and celebrations, it is increasingly rare to see women mincing along in these beautiful creations. And actually, who can blame them? Women's kimonos are tight and constricting compared to modern clothes and real split-toed wedge sandals are nothing like flip-flops.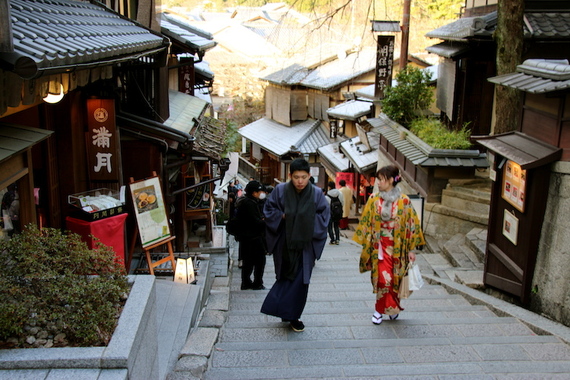 Thanks to tourists, these ancient streets are once again full of people in kimono. Photo by Gail Nakada.
Men, of course, have it much easier. Their kimono are extremely comfortable, simply wrapped and tied with an obi sash low around the hips for that masculine swagger. Some shops also offer the wide, split-legged formal Hakama, as seen in many a samurai movie, to wear over the kimono.
Kiyomizu Temple, Fushimi Inari Shrine and Yasaka Jinja Shrine are must-see spots for groups in kimono. The three famous hill walks - Kiyomizu Zaka, Ni-Nen-Zaka and Ne-Ne-no Michi - lined with classical Japanese stores and restaurants are places to see and be seen.
Prices start for as little as 3000 yen and go up to around 10,000 for a package including hair and make-up. Kimonos can be rented for a few hours or a full day. Many shops have websites, but you can also find them along the famous Gion shopping street and around the foot of Kiyomizu Temple hill.
The trend is a win-win for Kyoto. Visitors wearing kimono love snapping pictures of themselves at famous locations; other visitors love taking photos of people in kimono at these places; and the Japanese love the fact the streets of Kyoto are once again full of men and women in kimono.
To get you started, here are a couple of bi-lingual websites to check out: Kyokomachi, Rental Kimono Rose.
To search for yourself, try: kimono rental Kyoto