Throughout the ninth season of "RuPaul's Drag Race," Huffington Post Queer Voices will interview each departing queen on the Saturday following the air date of their elimination episode. Check HuffPost Queer Voices weekly to read about these queens' reflections on their time on the show, as well as their legacies as queer artists and performers. Check out last week's interview with Jaymes Mansfield.
We're now three episodes into what is shaping up to be one of the best seasons of "RuPaul's Drag Race" yet.
This week's episode saw the departure of season nine's second queen, Kimora Blac of Las Vegas, Nevada. Blac sent Jaymes Mansfield packing last week, and this week she lost her lip-sync battle to Brooklyn's Aja.
Blac only had a short time to define herself while on the show, but she certainly painted a picture of who she is as an artist. In this interview with The Huffington Post, Blac talks about how she has grown and changed from the experience, what she wants to do with the platform and why she loves Kim Kardashian so much.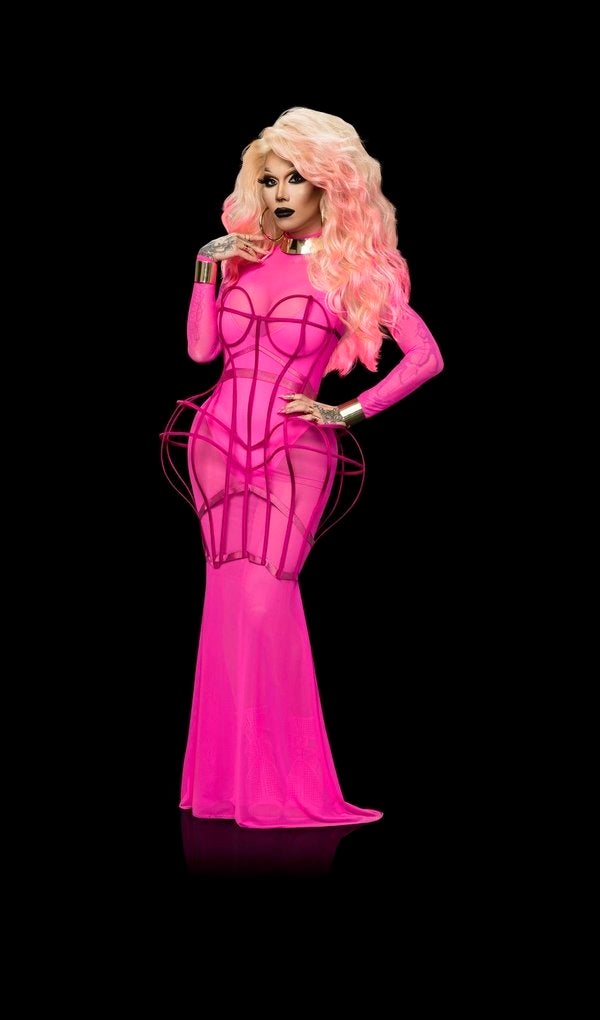 Hey Kimora. Do you feel like you grew or changed at all during your time on "Drag Race"? What is the biggest thing that you feel like you learned?
Well, you know, I got three episodes. It happened almost a year ago and I have grown so much from it because even the way I look, the way I dress, the way I carry myself, my costumes and things have grown so much over the months. So it's only the beginning. What I got from the show was I just became my biggest critic and seeing myself, I see so much improvement that I want to do and things that I want to take the Kimora brand to. So it's been a learning process. I mean, it's a competition and I went in there with a motive and one of my biggest goals was not to go home early and I got my wish.
How do you feel about how the show was editing and how you came across? Do you feel like who you are as an artist was authentically portrayed on the show?
I'm not blaming the edit, I'm not mad at the edit. I do truly think what they portrayed me as wasn't the full Kimora because honestly the Kimora that I built was ― she's always going to look bitchy and crazy and fashion and makeup but in person she's probably the most humble queen on that show. Every place I've traveled to, the number comment that I get is, "you are like the sweetest girl I've ever met." So, I kind of agree a little bit but at the end of the day, it's drag ― who's not bitchy?
What do you wanna do with the platform that "Drag Race" has given you?
I have a lot of big projects coming up but I'm openminded. I want to do music, I want to do makeup ― my passion is makeup so hopefully my own line one day for drag queens who have problems finding the best makeup to do drag. Things like that ― anything I can do to help the drag culture I'm on board with because I love drag and I support it and helping little, young drag queens grow up and become the ultimate drag queen is my goal. So yes to everything!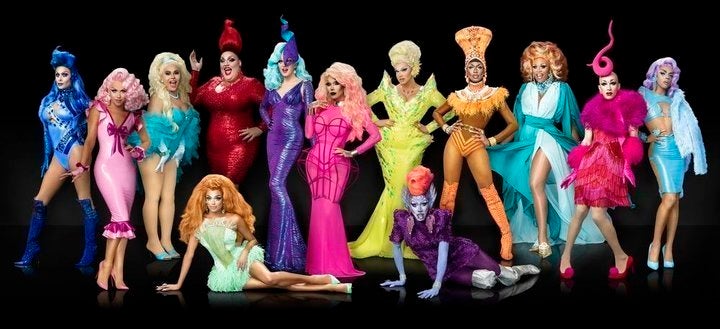 Do you see any important political implications with "Drag Race" being on such a mainstream network at this specific moment in time?
I am so proud of the show being on VH1 because I think it's a step forward. But I think the show and the community and the drag queens need to be open-minded with more critiques and more judgement. It's going to be cool to see where this goes because now we're on every single person's television ― I mean I don't even have Logo and I'm a strong viewer of the show! So now I'm able to watch it as I desire, so I think there's going to be a lot of pros and cons but at the end of the day we're moving forward.
Is there a particular queen that you would like to see on a future season of "Drag Race"? 
I grew up with this queen back in the day, she goes by Melissa Befierce in L.A. We did drag together for the first time when we were like 15 years old. And she's such a hard worker and still dedicated to this day ― I'm not sure if she's trying to pursue the show but if she is I hope she gets on.
Out of everyone left in the competition, who are you rooting for?
I have such a strong bond with Trinity. I would love to see Trinity take it because she's been in pageantry and drag her whole life and someone with that dedication and open-mindedness to other different types of drag, not just performing at a nightclub, I feel like she deserves the throne because this is a dedicated woman. She's versatile, she sews, she's polished ― and I just want to see a pageant girl take it! It's not like protecting girls that perform in nightclubs but just celebrating that drag is drag!
What do you want people to understand about who Kimora Blac is?
My biggest goal [and the thing] I want people to know about me is you can be hot, you can be sexy, you can love drag ― this and that ― but at the same time you can always be about good vibes. And the people that judge me before they meet me, I feel bad for you... because it's just not ok!
I look up to Kim Kardashian like crazy because every time you hear the name "Kim Kardashian," there's always a reaction ― whether it's negative or positive. And I kind of want to have that title because we shouldn't judge anybody ― especially homosexuals. Why are we judging each other on what we do and what is what? We should be the first ones to accept each other for who we are. And that's one of the things I want to stand up for because you really can't live that way ― you're not going to go far.
RuPaul's Drag Race" airs on Friday nights at 8 PM ET/PT on VH1. Check out "Untucked" below. Missed last week's interview with Jaymes Mansfield? Head here.
This interview has been lightly condensed for clarity and length.
REAL LIFE. REAL NEWS. REAL VOICES.
Help us tell more of the stories that matter from voices that too often remain unheard.
BEFORE YOU GO
PHOTO GALLERY
Celebrity News & Photos: 2017