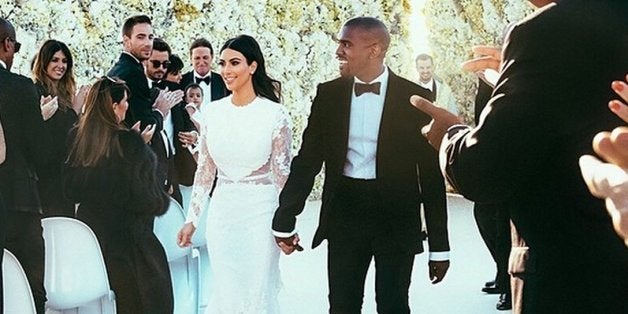 The biggest decorative element of the wedding was a giant gold box, 49 feet (15 meters) tall, which contained the bathrooms. It was situated right next to the dinner tables at the reception with a bar in front of it. According to one Italian, "Their toilet was the star of the show." The Italians named it the Torre di Bagni Oro (translation: the Gold Toilet Tower).
What kind of hosts would they be if they didn't provide restroom facilities, duh?
The dinner table was a long marble table. Instead of place cards, they had a team of Italian stonemasons engrave the name of each guest into the marble of the tabletop in front of the individual place settings. The job was finished the night before. Unfortunately, the wedding planners had spelled some people's names wrong. And then, so many people brought entourages, the seating was a disaster. The only people who sat at their own seats were Kim and Kanye.
Yes, the marble table featured guests' names engraved into the table, but until we see evidence that the wedding planners dared to mess up enough to misspell someone's name, we simply aren't buying this. Both Kim and Kanye are anal-retentive, type A, perfectionists. You better believe that if a guest's name was misspelled, someone would be missing a limb. Wedding planner Sharon Sacks currently appears to have all her limbs attached to her body.
As for the guests: Will Smith's son Jaden wore a white Batman costume and ran around like a chicken with its head cut off from 8:30 p.m. until 10:25 p.m., batting glasses off tables whenever he came to an empty seat, smashing them on the ground. Vogue Italia's editor in chief, Franca Sozzani, was getting irritated because he kept coming up behind her and throwing his cape over her head.
Eh, you know what? Based on these photos, we're inclined to believe it.
Andrea Bocelli sang during Kim's processional. The blind opera legend had been asked as a guest, but the wedding planners hadn't provided a seat for him. He said he'd be happy with a glass of water, and was told after his performance, "Thank you, but it's time for you to get in your car and go home." Bye-bye to one of the greatest living Italian vocalists of all time.
There is no way an oversight like this would have ever happened. Again, this wasn't Sacks' first rodeo, and there's no way in hell anyone told Andrea Bocelli to leave. The Huffington Post has reached out to Bocelli's rep for comment, because sorry, we don't believe you.
Calling all HuffPost superfans!
Sign up for membership to become a founding member and help shape HuffPost's next chapter
BEFORE YOU GO
PHOTO GALLERY
Celebrity News & Photos