Stacy Fields and her stepfather, Ed Augustine, are calling it a lawsuit worth almost a half-million dollars that they are hoping will save other pets from being killed by cops.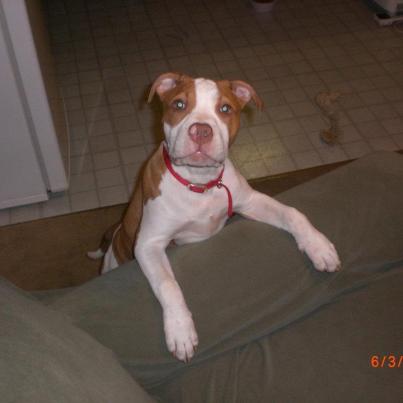 On the morning of Jan. 1, 2013, police chased a domestic assault suspect into Augustine's fenced yard. Fields, who works as a bartender, was asleep at her nearby house. Kincaid was her dog originally, a birthday present from her brother, but he had been staying with Augustine.
While the suspect hid in Augustine's basement stairwell, Kincaid -- who could push open the backdoor and go into the yard "whenever he wanted," Fields told The Huffington Post -- went out onto the porch and started barking.
In papers filed in the Circuit Court of Maryland for Baltimore City at the end of August, Augustine said that he followed his dog onto the back porch and found that in "spite of the unusual stimuli around him, Kincaid's hair remained unruffled and his teeth concealed by his relaxed face." As one officer was arresting the suspect, the suit alleges, Augustine was in the process of securing Kincaid's harness and asking the second officer not to shoot.
In their suit -- filed against the state of Maryland, the mayor and City Council of Baltimore, the Baltimore Police Department and two as-yet-unidentified police officers -- Fields and Augustine are asking for $450,000, plus attorneys fees. They are also asking the court to order Baltimore police to stop "routinely shooting and killing family pets without cause or provocation" and to institute training and education programs for handling pets and a monitoring and reporting system for pet-related incidents.
How common is it for police to shoot family pets? Randall Lockwood, the ASPCA's senior vice president of forensic sciences and anti-cruelty projects, said that it's nearly impossible to obtain exact figures, but that firearm discharge records show "roughly 50 percent of the time a police officer discharges a weapon it's at a dog" and that about "two-thirds of the dogs shot by police are pit bulls."
In one infamous 2010 case from Missouri, an officer shot and killed a dog that had been subdued and held on a catch-pole. In another, an officer shot D.C. resident Marietta Robinson's 13-year-old dog, Wrinkles, after Robinson had confined the dog to her bathroom.

Last year police officers chasing two suspects in Lake Charles, Louisiana, shot a dog named Monkey that barked at them. In Henrico, Va., last July, police officers went to the home of a homicide victim to notify the family of the slaying. When the family dog ran toward them, the officers shot and killed it. In Danville four years ago, a police officer shot and killed a 12-pound miniature dachshund. For growling at him.
"Jurors love dogs," she said, adding that she encourages those whose pets have been shot by police to "lawyer up and sue."
VanKavage and Lockwood both see the public outrage that accompanies these cases, and the attendant media attention, as leading toward stronger laws and other protective steps.
"People get very upset, and rightly so," said VanKavage. "There are 78 million dogs in the United States. You're more apt to run into a dog than a terrorist. And yet our police departments uniformly fail to train their officers how to respond appropriately in these situations."
Fields' lawyer, Richard Berger, told HuffPost that his clients understand they face an uphill battle. "They're not really in this for the money per se," he said. "They want to see those police officers trained."
The defendants in the case have not yet responded to the suit and did not immediately answer HuffPost's request for comment.
Fields also wants "some legislation that when they do shoot another dog, there's consequences," she said. "Get suspended for a while, at the least. That's the whole point of this: to make them accountable."
Not long after Kincaid was killed, Fields said, the man whom police had chased into Augustine's yard came by the house to apologize. Her stepfather has a new dog. This one isn't allowed outside alone.
Popular in the Community