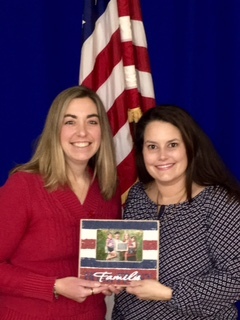 Colleen Cekovsky, National Guard Spouse, and Joy Goulette, winner of Blue Star Families 2016 Neighbor Award. Photo courtesy of Blue Star Families.

Joy Goulette was just trying to be a good neighbor when her friend Colleen Cekovsky's husband, Chris, who serves in the National Guard, left for a six month deployment to Afghanistan. A daughter of a former U.S. Marine, Joy wanted to show her support for Colleen while Chris was away. So Joy asked people from school and the Girls Scouts to pitch in, telling them that it didn't have to be fancy, it could be a meal or not a meal, but it had to include a note that let Colleen know that they were thinking about her and were there for her.
Colleen, a mom of two, was both surprised and humbled by the network which she affectionately dubbed "Dinner Angels" that Joy had assembled to ease the burden of the busy military mom while her husband was off in harm's way.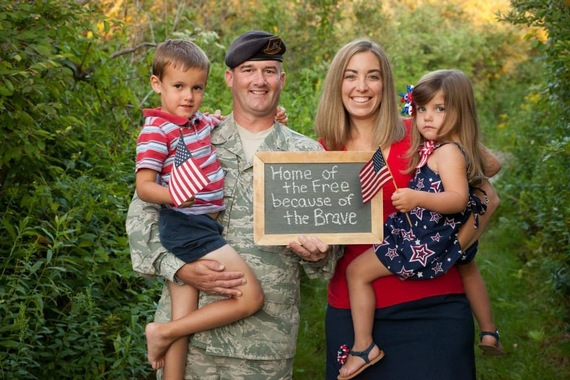 Cekovsky family. Photo courtesy of Colleen Cekovsky.
But Joy had no idea how much Colleen truly appreciated that act of kindness until Colleen revealed to Joy that she had submitted Joy's name for the Blue Star Families Neighbor award. "She told me that she had submitted our names to Blue Star Families when we were one of the top five finalists. For me it was a very small thing that I did for her. But it really meant a lot to Colleen because she really did feel secluded while her husband was gone," said Goulette.
The Blue Star Families Neighbor award is one of the many ways the nonprofit, comprised of military spouses, is working to close the divide between the military and civilian community. It's the group's way of thanking members of the nonmilitary community for their friendship and support.
"We want to thank real people whose actions aren't an example of extreme heroics, but rather anyone can see themselves doing to help a member of the military community," said Blue Star Families CEO, Kathy Roth-Douquet.
That simplicity really speaks to the heart of Blue Star Families mission and the hope that people across the country will be inspired to be a good neighbor to military families in their communities.
According to Blue Star Families annual 2015 military lifestyle survey, "41% of veterans cite disconnect between the military and civilians and 92% of military family members feel that the general public does not truly understand or appreciate the sacrifices they make."
Colleen wrote on her nominating form that Joy wanted to make Colleen's life easier during a tough deployment, but Joy will never know how much it truly meant to her. Those notes of support and encouragement are what got her through her husband's deployment.
Today the two ladies fondly joke about all the lasagnas Colleen received, but Colleen is quick to point out that as a busy mom on the go, she appreciated every single one of them.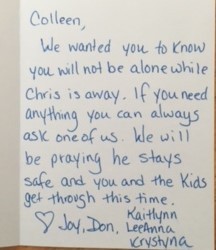 Photo of Joy Goulette's note to National Guard Spouse Colleen Cekovsky, courtesy of Colleen Cekovsky.
On April 7, 2016, Joy will be honored at the Blue Star Families Neighbor celebration in D.C. as a local community hero for the small thing that meant a big deal to a military spouse. Both Colleen and Joy will be visiting the U.S. capital, courtesy of Blue Star Families, taking in the sights, and then enjoying an evening of food prepared by both celebrity and military chefs while listening to the tunes of Sister Sledge.
REAL LIFE. REAL NEWS. REAL VOICES.
Help us tell more of the stories that matter from voices that too often remain unheard.