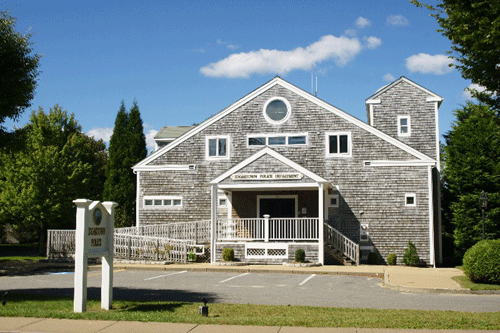 Edgartown Police Department (Unattributed)
I live on Martha's Vineyard. The Vineyard's reputation is that of an exclusive enclave for the rich and famous. Presidents vacation here. To the community that lives here it is a profound experience of contradictions. Great beauty that sometimes witnesses homelessness and hunger, amongst a host of problems. In other words, we are not immune from the world's misfortunes.
To Islanders who were born and raised here and often have family going back centuries, I am a "wash-ashore." Islanders sometime fear that us aliens will bring our mainland culture with us and pollute the Martha's Vineyard way of life. In the end, however, if one chooses to live here year round and endure the isolation and sometimes-frigid winters, we are all islanders.

I love my home. I lived here close to 40 years ago and then five years after arriving, I chose to leave to resume my theatre career. I returned 30 years later, after having helped raise a child in the interim. The first time I moved here, the year round population was 10,000. Today it is more than 16,000. In the summer, it balloons to more than 100,000. It does seem more difficult economically than 40 years ago. But then at my age many things seem more difficult.
The extraordinary beauty of this island has always enchanted me. I call it one big Japanese garden. The island is alive with a myriad of landscapes. There are marshlands, beaches, woods, seascapes, hills and farmland. Wherever you go, each part of the island merges with the total, thus breathing living poetry. No matter your station in life, it seems that just about everyone is in awe, inspired by the terrain of the Vineyard. People work hard here. It is normal, practically de rigeur to have at least two jobs and many have three. In addition, there is a large population of families. Often both parents are working two jobs. They raise their children by magic, fueled by strong will. They are not alone and that is the true core of living here. People help each other. It is common, not considered unusual. There are many acts of kindness each day, often under the public radar, but more and more acknowledged on the Vineyard Facebook page, Islanders Talk.

The other night, while trying to make room for cars to get in and out of a friend's driveway, I pulled to the side of the road only to get stuck in a ditch of snow. It was pitch black and I was not aware of how deep the snow was on the passenger side. Try as I may I could not extricate myself from that situation. I suffer from chronic illnesses, all of which are exacerbated by stress, so I try to live a consciously calm life. Nevertheless, it was dark, icy and I was becoming more and more concerned about my chances of getting home that evening. I called AAA and they told me that they were not servicing much of the East coast(!) that evening because of the weather. When I tried to tell the operator that it was only raining as I spoke to her, she said it didn't matter. "The East coast" was her mantra repeated ad infinitum to every plea emitting from my heart.
Finally, I got off the phone and called the local police department. I was in Edgartown, one of 5 towns on the island. Within minutes Officer Jeffrey Trudel arrived and he immediately tried to push me out of the ditch. As massive as he was, he could not. He asked how he could help. I told him that if he had some kind of chain or rope his SUV could pull me out of the ditch as I had a hitch on the back of my car. He got into his car, got the rope, attached it to my car and pulled me out of the ditch. It all happened within seconds. I thanked him profusely and drove home to warmth and comfort, praying my thanks for being helped. This is a place where the police truly serve and protect, no matter your station in life or your ethnicity. Even us wash-ashores. As I was pulling out onto the road, I once again thanked Officer Trudel and he smiled and said you're welcome. He must have felt my soul opening to wave hello to a hero on a frigid night.
I live on Martha's Vineyard. In the summer we share this island with the 1 percent and we do so gladly. I live in a community where people care about each other. Friend and stranger alike. It is an extraordinary feeling. Each day I thank whatever higher power there is for allowing me to be part of such a beautiful fabric. I am blessed. Grace found me when I wasn't looking.
REAL LIFE. REAL NEWS. REAL VOICES.
Help us tell more of the stories that matter from voices that too often remain unheard.