 Cara Paiuk knew that she and her husband would have to hand over a lot of information about their son when they began the process of enrolling him in public kindergarten in West Hartford, Connecticut next fall -- basics about who he is, where he lives and whether he has had any health issues.
But she was stunned when she looked over the questions posed in a five-page form given out at a pre-matriculation session and saw the following: Type of birth: Vaginal [or] Cesarean.
I ripped the form out from under [my husband's] pen. Why he was answering this question? Come to think of it, why was anyone answering it? The "baby" who had resulted from that birth was 5 years old and well over any possible ramifications of it I could imagine.

I thought it was obvious that this question was absurdly inappropriate, and said so.

Over the next several weeks, Paiuk attempted to press the school system on why such a personal and seemingly unrelated question was being routinely asked of parents. Though she is very willing to discuss how she delivered her baby -- via C-section, for the record -- it seemed wholly inappropriate in the context of her son's kindergarten application.
"To me, it's akin to asking, 'Did you breastfeed?'" she told The Huffington Post. "That's information a doctor might require. But school administrators?"
Paiuk was eventually referred to the head nurse as well as the school district's medical advisor. Their explanation, as best she could gather, was that the form was attempting to gauge whether there had been any events during childbirth that could have implications for a child's development.
"My assumption is that they're trying to gather information about whether there was birth trauma, which, by the way, can happen any way you deliver your child," Paiuk told The Huffington Post. "So at the very least, they should reword the question to say, 'Is there any birth trauma we should be aware of?'"
In a phone call with The Huffington Post, Nancy DePalma, assistant superintendent for curriculum, instruction and assessment with the West Hartford Public Schools, echoed the sentiment.
"I imagine that whatever they were digging for when they initially included that question is, 'Was there some kind of incident that would lead us to think there was some kind of trauma?'" she said, adding that the form has been around for "a long while."
DePalma acknowledged, however, that how women deliver their babies does not necessarily have any meaningful implications when it comes to predicting developmental delays, and said the school system is now looking to modify and improve the form. She expects a new version will be available for parents beginning the kindergarten enrollment process next spring.
For her part, Paiuk doesn't think the question suggests that grade school applications in her area have become especially invasive or sinister, though the kindergarten enrollment process in certain areas of the country is notoriously cutthroat.
"Honestly, I think someone [probably] copied something from a medical form or intake form at the pediatrician's office," she said. "But our culture changes, and we change... and in general, I think all forms need to have regular review be updated."
Her primary takeaway from the experience?
Parents need to pay close attention to the type of information they're providing when the take on the mountain of forms that inevitably accompanies school registration.
"I've spoken with quite a few parents and they've said, 'They asked you what?' And I say, 'I think you actually filled out the same form.' And they say, 'What?! I filled that out?'" Paiuk laughed.
"We've become so conditioned to filling out so many forms that we've become immune to them," she continued. "We don't look at the questions and say, 'Do they really need this information from us?'"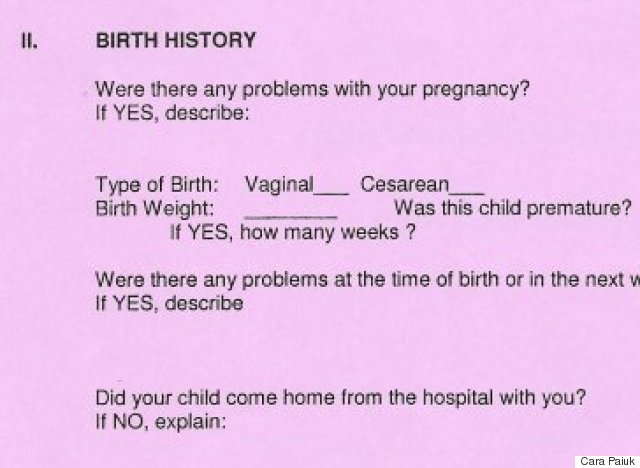 Paiuk provided a copy of the form she said she was asked to fill out.
Related
Before You Go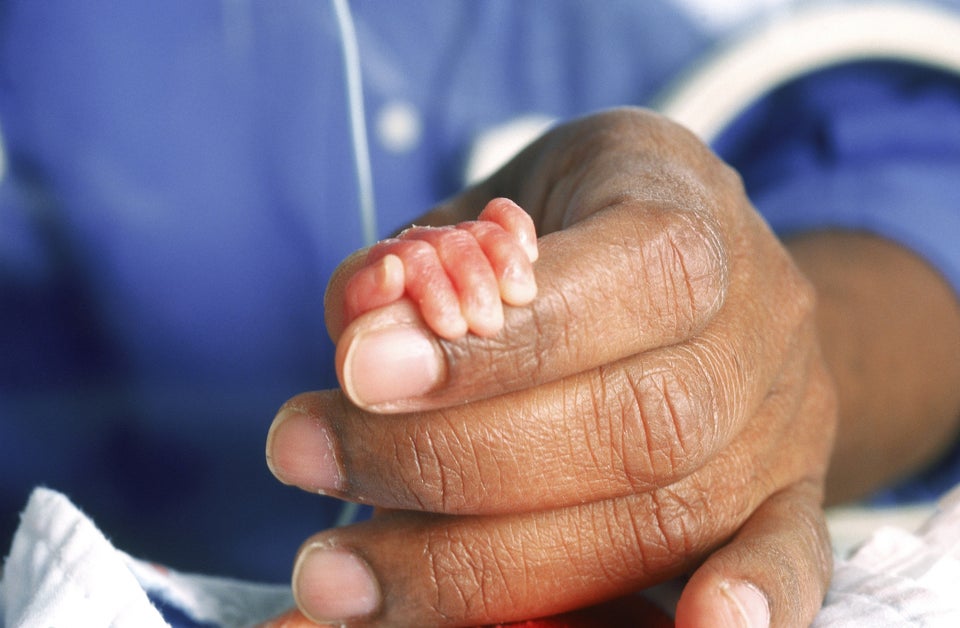 10 Health Findings From 2014 Every Parent Should Know