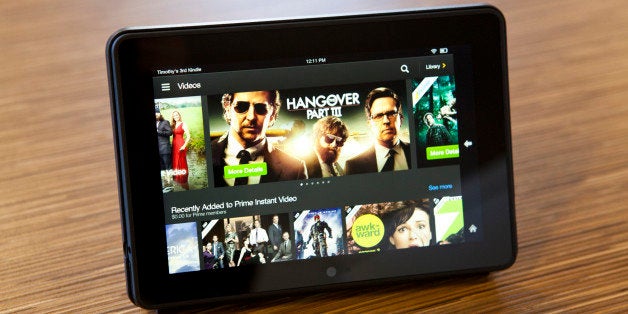 Martha Stewart could have used a Mayday button.
Frustrated with a lack of response from Apple, Stewart complained to her nearly 3 million Twitter followers. "I am still waiting for an apple rep to come pick up my IPad. No action yey [sic]," she wrote, before sending seven more tweets about her broken tablet.
Stewart may not have taken to Twitter had she cracked the screen on the new Amazon tablet. Last week, Amazon unveiled its latest Kindle lineup, which includes the Kindle Fire HDX. The tablets come in both 7-inch and 8.9-inch models, and start at $229 and $379, respectively. They come with a feature that Amazon hopes will draw the Martha Stewarts of the world to its camp: the Mayday button, which connects anyone with a problem at any time directly to a customer service rep. And it's free.
When pressed, the Mayday button connects you via live video to a so-called "Amazon Tech Advisor" -- headset-clad and ready to answer questions or walk you through issues you may be having with your tablet. Although a box appears with video showing the Kindle expert, Amazon was quick to point out in a new ad that the person can only hear you -- he or she can't actually see you. The one-way video is designed to make people more comfortable with the feature and also rule out any Chat Roulette-like shenanigans that could lead to inappropriate exchanges. (Amazon also has a disclaimer that the Mayday sessions may be recorded.)
The tech support person can see your screen, draw blue and yellow arrows and circles on it to show you what to do, and even control it. These presumably very, very patient and cheerful folks are available 24 hours a day, 365 days a year, and Amazon says that most calls will be answered within 15 seconds.
I've used Mayday seven times since receiving a review model of the Kindle Fire HDX, and I was very impressed. Six of the seven times, my call was answered within 15 seconds. The one time I did have to wait, it was only slightly longer. Two times I called, I couldn't hear the person on the other end, but that was because I was wearing headphones that don't have a microphone on them. Amazon said that's a bug it's working to fix.
I decided to test out Mayday by asking the customer representative to walk me through setting up my email. We actually couldn't get my HuffPost email set up -- he suggested that I reach out to our own IT department for that -- but he got my personal Gmail up and running in minutes.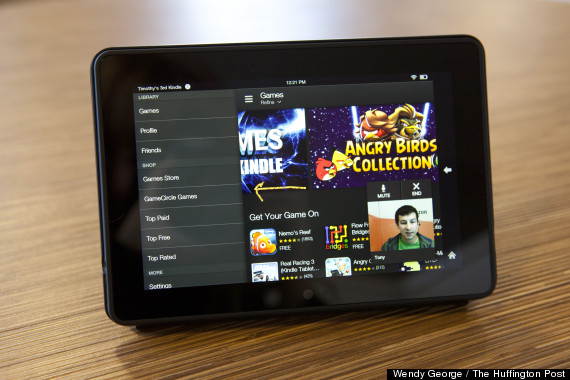 An Amazon Tech Advisor demonstrates drawing an arrow on the screen of a Kindle Fire HDX.
He circled icons, drew arrows to buttons and scrolled up and down, explaining to me the whole time what he was doing, and prompting me to enter my information. It was almost seamless -- there was no lag in either the video or in what he was doing on my tablet's screen. The only glitch was that at the end of the Mayday call, the video froze and I lost my connection to him. But it's unclear if that was a problem on Amazon's end or due to my own Wi-Fi network.
The first person I thought of when I heard about the Mayday feature was my mom. She recently bought an iPad and called me to ask how to download movies to her tablet to prepare for a long airplane ride. I tried to walk her through it over the phone, but was totally unsuccessful. My little brother was actually able to help, so she didn't have to go to the Apple store. But if Apple had a Mayday-like button, she could have been walked through it in minutes, and would have probably paid Apple to download movies from iTunes.
In the increasingly competitive tablet wars, Amazon may have successfully differentiated itself from the other tablets -- namely those from the big players like Apple, Samsung and Asus (the manufacturer of Google's new Nexus 7) with the Mayday button. First-time tablet buyers who may not consider themselves to be tech-savvy and who may be intimidated by new technology could gravitate toward an Amazon tablet rather than a Samsung or Apple one -- not only because of the price, but also because of the knowledge that they can get help when they need it.
And once they have that Kindle, they can start buying books, movies and things from Amazon -- which, of course, is the whole point of Kindle.
Mayday is not without its shortcomings. Aside from it freezing, and not working with headphones, there is the issue of privacy -- do you really want a stranger having that kind of access to your tablet?
Amazon tries to assuage these concerns -- namely, Mayday representatives seeing sensitive information like passwords as customers are typing -- by noting that the customer service agent can pause screen sharing. Although my representative paused screen sharing, I think he still may have seen my email password because I didn't have the "hide password" box checked.
You can also turn off Mayday, but Bezos told The Verge that doing so would be "disabling the greatest feature we've ever made."
Apple and Samsung still dominate tablet sales. According to figures from IDC, the technology research firm, Apple accounted for over 50 percent of the tablets shipped in the U.S. in the second quarter of this year, while Samsung shipped 18.5 percent and Asus shipped around 5 percent. Amazon trails the bigger manufacturers, shipping only 4.6 percent. But with their low prices, and the Mayday feature, the new Kindle Fire HDX be the product that gets that number up.
The 7-inch Kindle Fire HDX with Wi-Fi starts at $229 and will be released on Oct. 18, while the 4G LTE version starts at $329 and will be released November 14. The 8.9-inch Kindle Fire HDX with Wi-Fi starts at $379 and will be released on Nov. 7, while the 4G LTE version starts at $479.
Calling all HuffPost superfans!
Sign up for membership to become a founding member and help shape HuffPost's next chapter
BEFORE YOU GO
PHOTO GALLERY
Amazon Kindle Fire HDX