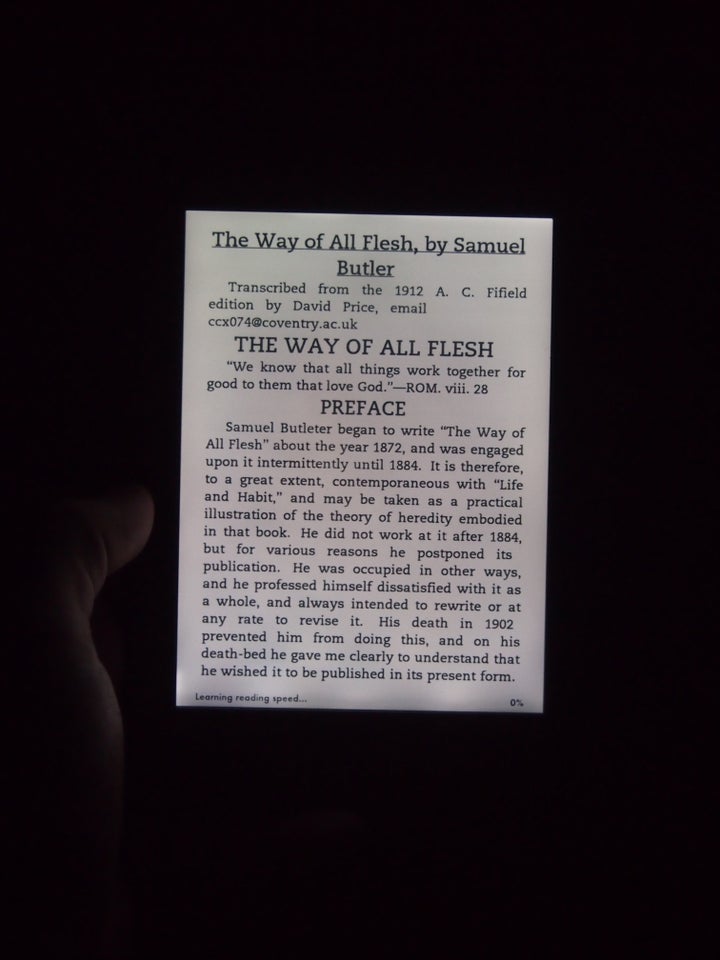 With its new Kindle, the suitably named Paperwhite, Amazon has joined Barnes & Noble and Kobo in releasing a reader with a screen that can glow in the dark. Good thing, too: If you are in the market for an e-reader like the Kindle or Nook, and you can afford it, there's really no compelling reason to buy one that doesn't have a screen that lights up.
A luminescent e-reader screen is one of those new technologies, like HDTV or the bidet, that spoils you so badly, and so thoroughly changes your preferences and expectations, you won't want to go back to a device without it once you've tried.
Electronic ink, or E-ink, readers have always offered the best and most natural electronic reading experience. Though tablets like the Kindle Fire and iPad allow you to surf the web, check email, and listen to music, reading on them in the sunshine is nigh-impossible, and staring at an LCD screen for too long at night can be a real pain in the eyes. Not so on a Kindle or Nook, both of which satisfactorily replicate the look of ink on paper and can be stared at for hours and hours, or for however long it takes to finish the latest Fifty Shades book.
The big problem with these E-ink screens has always been that you needed a lamp, or clumsy clip-on light, to see the screen in the dark (where most Fifty Shades reading is done, I am told). The light-up E-Ink screen -- pioneered by Sony and perfected by Barnes & Noble in the Nook Simple Touch with GlowLight (catchy name!) -- solved this problem by making the screen illuminate when you needed it to (i.e. on a dark plane, or at night in bed) and allowing you to turn the lights down when it's bright (at the beach, or in a tanning bed).
And so here comes the Kindle Paperwhite, which adds a completely necessary -- nay, essential! -- illuminating e-reader to the Kindle family. It's thin; it's lightweight; it fits naturally in one hand, so that you can easily hold the Kindle with one hand while beating eggs with the other; and, yes, the screen can light up, on a brightness scale from 1 to 24, depending on the darkness of your surroundings.
Now, let's not tiptoe around what must be a glaring issue for some: The Kindle Paperwhite is essentially just Amazon's version of a Barnes & Noble product. The Nook with GlowLight was released back in April to much fanfare and adulation; Amazon's own glowing tablet reader, on first glance, feels like a response or a me-too, rather than a pure invention. If the tablet market were a comments section, Barnes & Noble would have shouted "FIRST!!!" five months ago.
It is with good reason, though, that Amazon has also put out an e-reader with an illuminative screen: It really, really had to. Why buy an e-reader that you couldn't use in the dark when you could buy one that you could? I do so much of my own reading in bed at night, on airplanes or in the depths of caves. Traveling with a lamp can be frustrating, and I'd hate to disturb my seatmate and/or the bats by turning on the overhead light. Better that the screen could just illuminate itself.
Amazon's lack of a luminescent e-reader put it at a real disadvantage; late or not, Bezos and co. were wise to release one.
About that screen: It's terrific. Amazon has said that the Paperwhite's screen is better than that on the Nook, and they're right. The illumination feature, which Amazon detailed in a video here, works well and spreads the light evenly over most of the screen; it replicates paper much more naturally than does the Nook with GlowLight, where light creeps in from the edges. As on the Nook, you can scroll your finger up and down on the screen to select your brightness level. (I'm about a 7 in the daytime and 21 at night, if any like-minded ladies want to chat about it later.)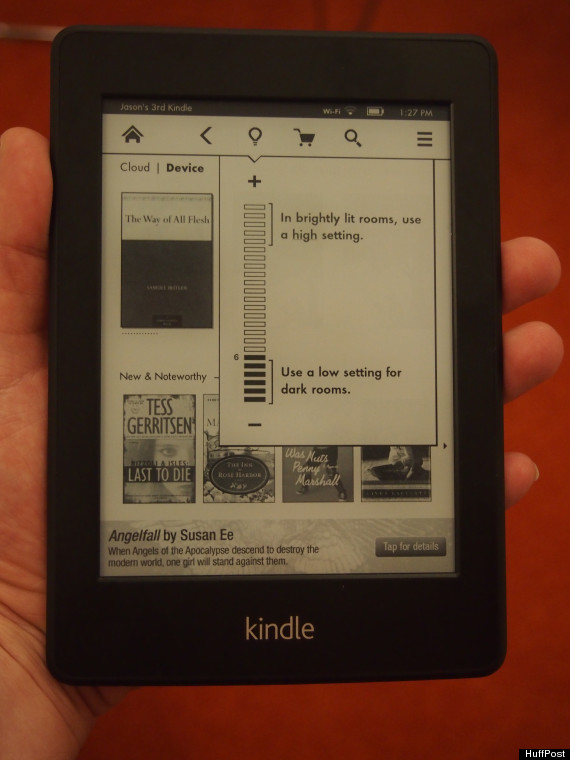 The most noteworthy aspect of the Kindle Paperwhite is not the new light; nor is it the fact that the name "Paperwhite" is so close to the word "paperweight," which is certainly not the reputation a company wants its gadget to establish. Rather, it's the fact that Amazon has completely done away with all external buttons, save the power button. There are no page-turners, no up-and-down scroll, and no keyboard: It's all touchscreen, all the time.
It took me a little while to get used to not having at least a home button, and it will probably take any new Kindle Paperwhite owner at least a few days to get used to the total absence of buttons and lack of obvious controls on the touchscreen. This can be confounding. When you are reading a book, for example, the text fills the screen. If you want to get back to the homescreen, you have to touch the top of the screen, which brings up a menu that contains the home button (unless you touch the top of the screen too far to the right, which flips the page). Ditto for highlighting a word to save it, share it, highlight it or look up the definition: It works well most of the time, but occasionally you accidentally turn the page.
Though inconvenient, it's a concession I'm willing to make for the light.
The Nook Simple Touch with GlowLight has certain advantages over the Paperwhite. It's lighter (6.9 ounces versus 7.5 ounces) and it has an SD card slot for extra storage. Navigation is far easier on the Nook, with its home button and handsomely designed homepage.
In the end, though, people buy e-readers to read for long periods of time, and the Paperwhite features a better, crisper screen than does the Nook. While Barnes & Noble may have been first with a lit E-Ink reader, Amazon has improved on the prototype model in the most important place: the display. While I've given both glowing (ha!) reviews and can heartily recommend either, the edge here belongs to Amazon, on the strength of the screen alone.
The Paperwhite comes in two models (or, really, four): A Wi-Fi only version costs $119, and you can take off the "special offers" that appear on the lock screen and at the bottom of your homescreen for $20; a 3G version, which allows you to download books wherever you are -- and not just where you have an Internet connection -- costs $179 (plus $20 to take off those ads). I don't find the "ads" all that obtrusive: If it were my money, I'd save my $20 and buy a wall charger. The Paperwhite, like all Amazon tablets, comes with a power cord that you can charge by plugging into your computer; a wall charger is a little extra.
Below, check out a few more photos of the Kindle Paperwhite in action: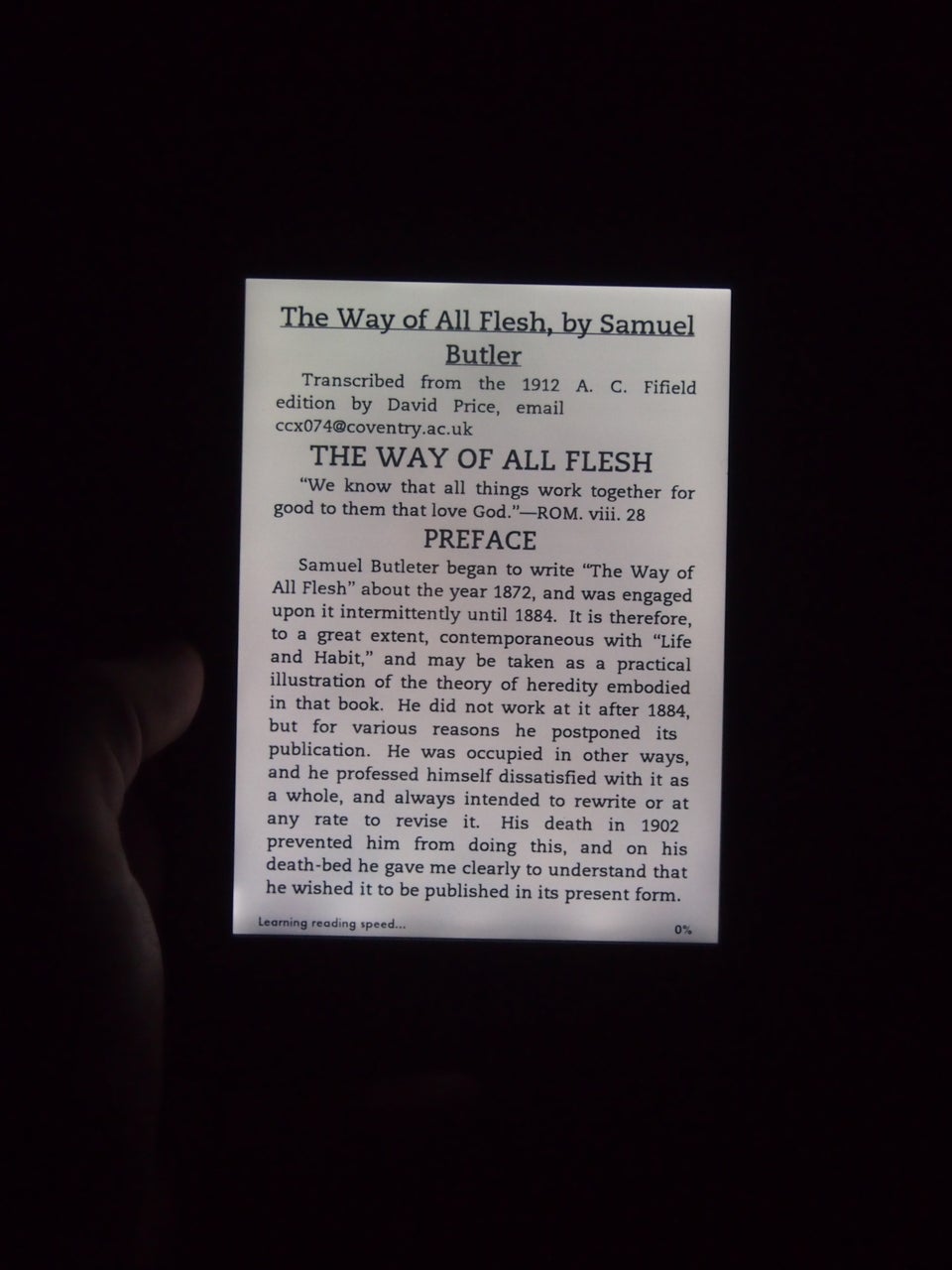 The Kindle Paperwhite, by Amazon
Take a look at how the Kindle Paperwhite compares to the Nook Glowlight (below):
Popular in the Community