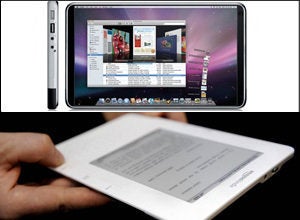 Amazon has announced that it is planning to launch its equivalent of an app store for the Kindle, allowing programmers to develop "active content" for the device (Amazon has avoided using the word "app" to describe this new content, as the Wall Street Journal notes). The "active content" will include an interactive Zagat guide, which is already in development by software company Handmark, the New York Times reports.
The move follows Wednesday's announcement that Amazon will also be raising its royalty rates for authors who publish through Amazon's self-publishing program. The hefty 70% royalty will apply to every eBook priced below $10.
Amazon's action seems to be aimed at amping up the appeal of the Kindle in anticipation of next week's expected unveiling of Apple's new tablet computer. Apple's mysterious new product has been widely rumored to be a major competitor for current eReaders, offering far more features and, likely, a much sleeker design than any other eBook-reading device. Rumors that the Apple tablet will feature eReader capabilities were supported by the Wall Street Journal's report early this week that HarperCollins and other publishers have been in negotiations with Apple "to make electronic books available for the introduction of a new tablet device."
The New York Times contends that publishers are "playing the tech titans against each other," hoping to temper Amazon's low ($9.99) eBook pricing by forming alliances with Apple, though "they may be rushing from the clutches of one tenacious chief executive, Jeffrey P. Bezos, into the arms of another, Steven P. Jobs, whose obstinacy over pricing has given the music industry similar paroxysms of anxiety."
It is unclear, however, whether these new Kindle developments will actually help Amazon to compete against Apple. As the Washington Post points out, the limitations of Kindle's black and white e-ink screen make the idea of apps for the device somewhat less appealing than the potential offerings of the Apple tablet. Erick Schonfeld for the Post writes:
Given the choice between developing beautiful, touchscreen, GPS-enabled, gyroscopic apps for an Apple Tablet and dorky E-Ink apps for the Kindle, developers are going to go with the Tablet first, is my bet.
Will the improvements to the Kindle make it the iPhone of eReaders? Or does it not stand a chance against Apple's new device? Let us know what you think.
Popular in the Community