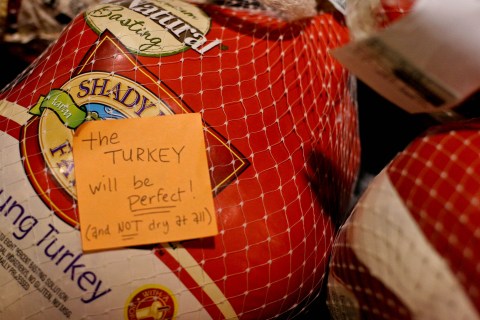 I looked at my old blog archives. "Do you know I've been 'tired and overwhelmed' in the November posts for like 6 YEARS?!" I told my husband. "I'm sorry, that must have been exhausting for YOU."
But can we help it really? The holiday season is beginning, it is equal parts overwhelming and wonderful. I have dear memories of cooking many a Thanksgiving turkey with my sisters and mom (we always named the bird) and at the same time being so very fried, me, not the turkey.
We have so many expectations around the holidays and lots of family goodness and dysfunction, and a hell of a lot of work. We want it to be special and meaningful (dare I say, magical?) and I can't even imagine how the retail folk feel at the end. I wondered if there was a kindness mission in the middle of all that somewhere, for everyone.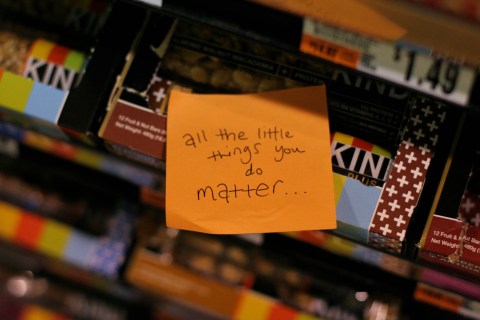 So my three year old and I went into our local grocery store and post-it/kindness bombed it. I left messages with all the things I could imagine that mothers, friends, stock boys/girls and the last minute Melvins may need to hear or know. We thought you may like to join us.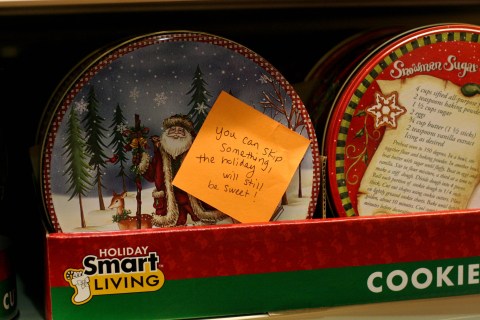 It's pretty simple, here goes:
1. Grab a pad of post-its.
2. Write encouraging messages to harried mothers, tired checkout guys and strung out foodies, any kind message will do.
I am grateful for all you do.
You can skip something, the holiday will still be sweet.
Your mashed potatoes are the best I've ever had, thanks for making them every year.
All the little things you do matter.
It's only one meal with your crazy family, you can do it.
Your turkey will be FANTASTIC! ( and not dry at all)
3. Take the pad to your local grocery store and stealthily leave them all over the store- extra points for phone pics. Tell us what city and store has been kindness bombed in the comments and we'll mark it off the list.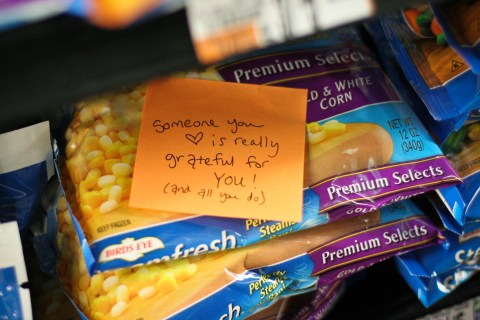 I can't wait to see your holiday kindness in the midst of love, the early shopping craziness and a mean green bean supreme! We may need kindness more than ever.