I am inspired by Grace LaFountain, a 10 year-old girl from Utica, New York, who with her mother, Susan, baked and collected more than 500 baked goods and sold every last one to raise money for charity.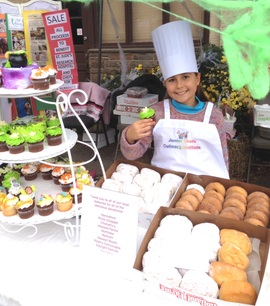 I am inspired by the ladies of the National Philoptochos Society, who held literacy awareness events at their chapters across the country, and encouraged children to spread kindness.

I am inspired by 10 year-old Dean Katsoris (yes, my son!) who made over 300 rainbow loom bracelets, sold them for one dollar apiece and raised $313, which he donated to the charity Friends of Animal Rescue.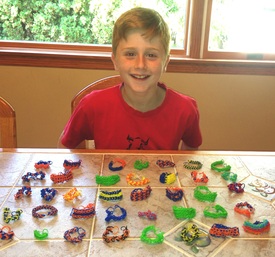 These are just some of the things that were done as part of our "Make A Difference with Loukoumi" project last October. Over 20,000 kids at schools and youth organizations nationwide participated by reading the book, Loukoumi's Good Deeds, or listening to the CD narrated by Jennifer Aniston, and then going out on national Make A Difference Day and pledging to do good deeds. Proceeds from the Loukoumi books also benefit St. Jude Children's Research Hospital.
This program is just a small part of National Make A Difference Day sponsored every October by USA Weekend, Newman's Own, Points of Light and Gannett. Over 3 million Americans participate by making a difference in various projects across the country.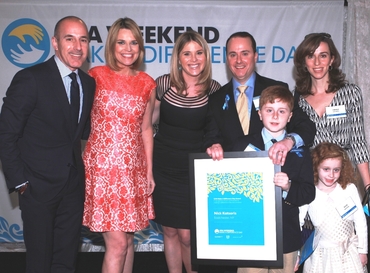 This week the "Make A Difference with Loukoumi" project was presented with a National Make A Difference Day Award. Today Show hosts Matt Lauer and Savannah Guthrie, Grammy winner Jon Bon Jovi and 13 other individuals and organizations also received honors as Jenna Bush Hager, special correspondent for Today, presented the awards. To say I was humbled and grateful to receive this award is an understatement, but above all, I was inspired by the good deeds done by everyone in that room.
Newman's Own presented the honorees with a $10,000 donation to the charity of our choice -- ours for St. Jude Children's Research Hospital.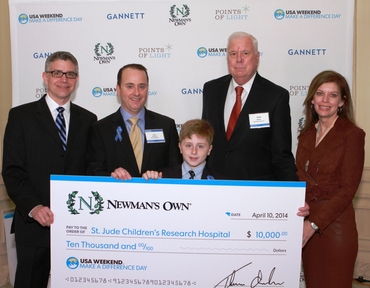 Newman's Own's philosophy is based on doing good: 100 percent of the company's proceeds go to charity and since Paul Newman founded the company 30 years ago, $400 million has been given to charity. What a perfect example and what a memorable day!
After the awards luncheon, I was inspired to teach children to do more. It is one thing to endeavor to make a difference in the lives of children, but when you rally children to make a difference in the lives of other children, it is doubly rewarding.
Our children are growing up in a world of entitlement, a world where things, oftentimes material things anyway, come too easily. They often get lost in the world of ipods, music videos, and video games. It is incumbent upon us as parents, educators and citizens to encourage our children to put their electronics aside once in a while and teach them to make a difference in the lives of others --others less fortunate than us, others that need a little bit of encouragement and support, or even simply others that may just need a smile put on their faces.
I was recently invited by Principal Theresa Cherry to speak with the students at the Anne Hutchinson School in Eastchester, NY and I discussed with them the work that I have done with St. Jude Children's Research Hospital. I told them a story, as I often do, about my St. Jude moment -- the moment when I realized that I wanted to do more.
It happened in October 2009, ironically the week of National Make A Difference Day. I visited the Hospital for the first time, and did a book reading for the patients. In the sea of all these precious children was a one-year old girl named Alivia with the most adorable daisy headband -- it looked like a flower was growing out of her head. I spent some time with Alivia and her lovely family, we took a photo and I gave her the only Loukoumi stuffed animal that I had with me.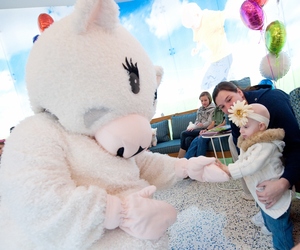 The picture we took that day hung in my office for two years. I looked at it often and always wondered what ever happened to little Alivia. Two years later, in November 2011, on a Thursday evening around midnight, I realized that I hadn't checked my facebook account for a couple of days. When I did, I noticed that the photo with Alivia from my visit to St. Jude was posted on my page by her grandmother, who wrote to tell me that little Alivia was in the hospital. She had a tumor in her eye and underwent a procedure called radioactive plaque implant surgery to shrink the tumor.
Thankfully, the surgery was successful, but I couldn't help but wonder why she was reaching out to me. She continued to write that over the last two years since we met, because of the tumor, there was a possibility that Alivia could lose her vision and that it was very important to Alivia's family that Alivia read as many books as possible so if she did go blind she would always remember the pictures. And then she wrote that not a night went by since we met two years ago when Alivia didn't ask to have one of my Loukoumi books read to her.
It was now 10 minutes after midnight early Friday morning and there I was at my computer with tears in my eyes. This was my St. Jude moment - my make a difference moment. Some might say that I made a difference in Alivia's life, but it was actually Alivia that made a difference in mine. Alivia inspired me to continue to write books, to spread the messages of good deeds, and continue to recruit kids to help other kids.
Last fall, on their own accord, Alivia's family decided to purchase Loukoumi books and donate them to their school.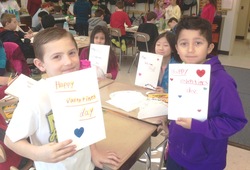 When I told this story at the Anne Hutchinson School, the teachers and students in turn wanted to also do something for St. Jude and several classes made cards for the patients and collected donations for this wonderful organization.
Kindness IS contagious! Let's teach this to our children so that when they grow up, they can teach other kids to make a difference too.
Related
Popular in the Community