"Kindness Is Everything" is an empowering brand of signs that promote tolerance, inclusion and diversity. The signs feature the message "In This House, We Believe: Black Lives Matter, Women's Rights are Human Rights, No Human is Illegal, Science is Real, Love is Love And Kindness is Everything."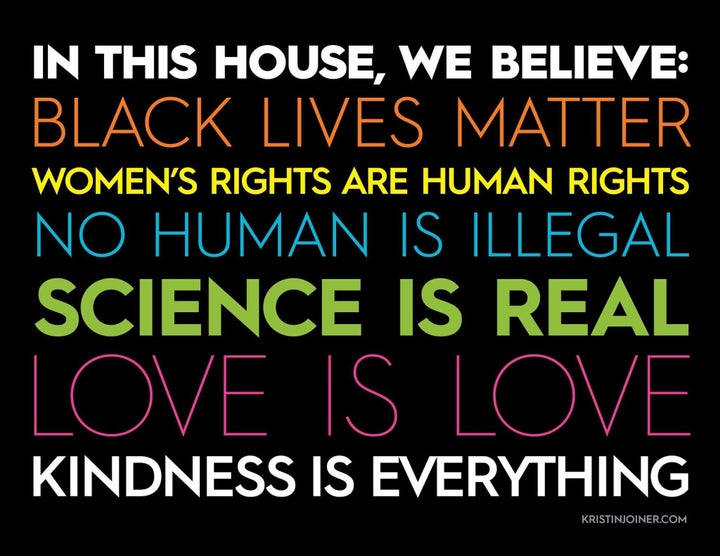 Kindness Is Everything co-founder Jennifer Rosen-Heinz told The Huffington Post that the idea for the initiative came shortly after the 2016 presidential election. "A friend of mine saw a picture of a handwritten sign somewhere in Madison," said the Wisconsin-based mom. "She took a picture of it and put it on my Facebook timeline, saying, 'You should make signs like this!' The wording was exactly the wording you see on the signs now."
Rosen-Heinz works for a women's magazine and has contacts with local artists and graphic designers, so she reached out to see if anyone would be interested in designing an image to share on social media. Her friend and former colleague, Kristin Joiner of 622 Press, immediately volunteered.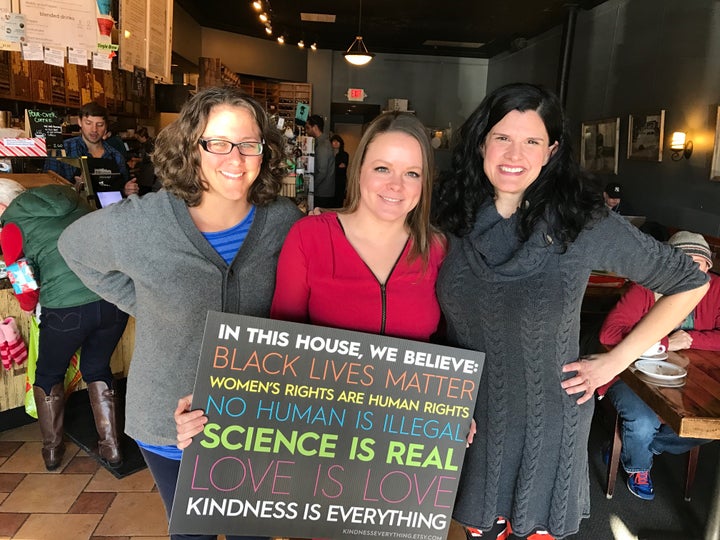 Another friend and fellow mom, Becca Schwartz, offered to help turn the graphic into physical signs and sell them for an affordable price to help spread the message of kindness.
"Since the words weren't originally mine, I wanted to make sure that people knew we were not personally profiting from the sale of the image," Rosen-Heinz said. "However, I did see the possible power of using it as a way to get donations for an organization that would help the people and movements affected by the statements." They chose the ACLU, which was a "no-brainer."
Rosen-Heinz, Joiner and Schwartz shared the image on their social media profiles and posted it on the popular Facebook group, Pantsuit Nation, where it quickly went viral.
Through the social media attention, they found Kristin Garvey, the mom-of-two who made the original handwritten sign in Madison. "We immediately reached out to her, told her of our intentions, and have asked her at every step of the way to give her blessing to the project," Rosen-Heinz said.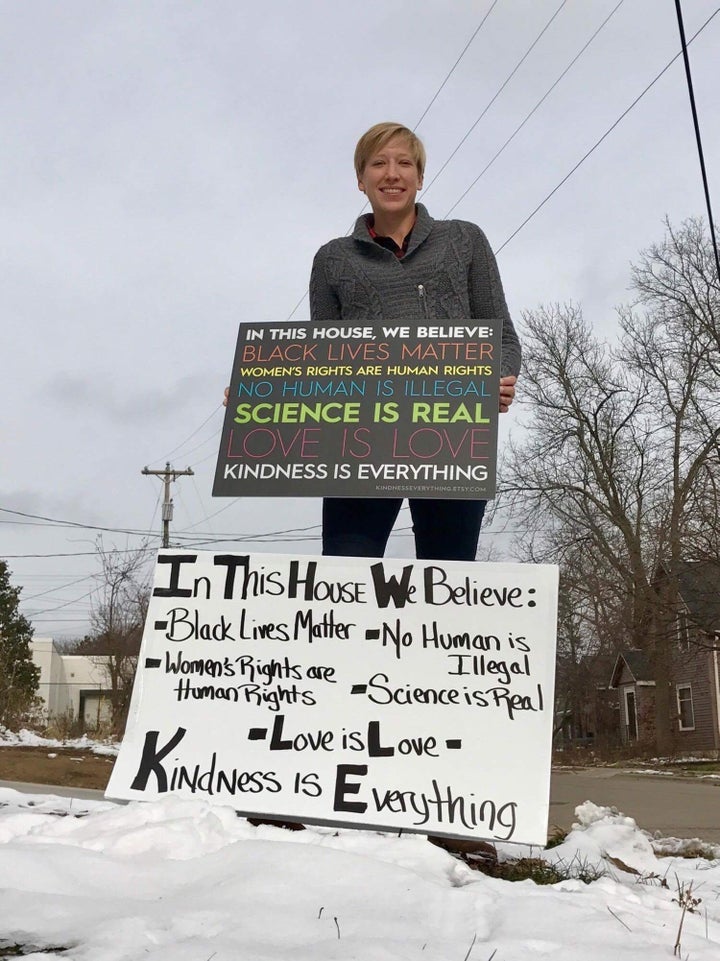 After the sign went viral, they were flooded with requests. Due to their personal and professional obligations, the women were only able to provide signs for people in the upper Midwest region, thanks to volunteers who drove to Madison to retrieve and distribute them. They eventually sold 600 signs.
"The response was so immense, we felt we had to do something more than just offer them in Madison," Rosen-Heinz explained. Another friend and mom, Ellisha Caplan, set up and managed an Etsy store, where people from anywhere could download the high-resolution digital image and make signs in their areas. Each download cost $5, and all proceeds went to the ACLU.
"Our only caveat was that no one could profit personally from the image," Rosen-Heinz said. "If they did large orders or batches, we asked that they use our model and sell the signs at cost, plus a mark-up which would go entirely to the ACLU or to help marginalized populations."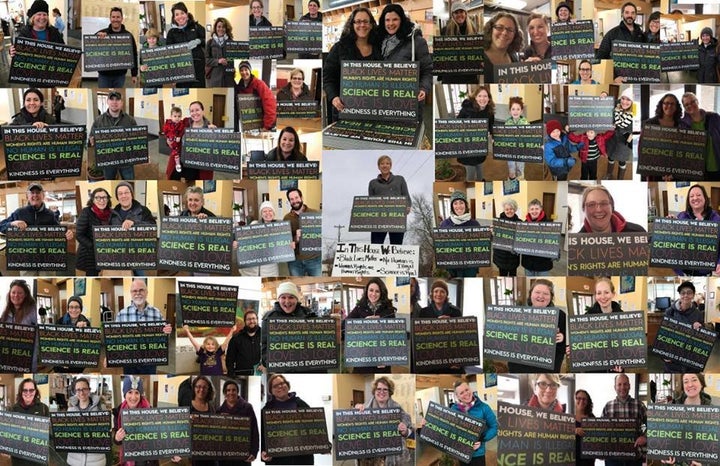 Between mid-November and mid-January, the Etsy shop raised over $7,000 for the ACLU. "We know that around the country, many groups have duplicated our effort," Rosen-Heinz said. "A family in northern California has raised over $2,000 for the ACLU through sales of the sign, and are using it as a way to teach their children about discrimination, and about our social responsibilities to help protect marginalized people."
Smaller groups across the country sold hundreds more in cities like Austin, Orlando, Michigan and San Francisco.
After all spending six weeks answering inquiries, keeping track of and fulfilling orders and special requests, and producing, storing, and distributing the 600 signs, it became clear to the creators that they could not keep up. They decided to gift the image to a small nonprofit organization that would benefit from the influx of money and have a staff to run the online store.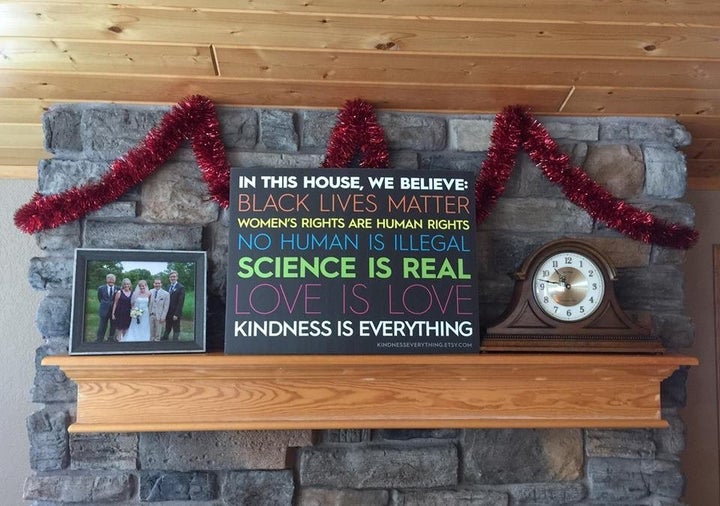 They chose the Wisconsin Alliance for Women's Health. "Their Executive Director, Sara Finger, has been at the forefront of advocating for women's health in Wisconsin," Rosen-Heinz told HuffPost. "Sara has been working for years to fight on a state level to protect Wisconsin women, as we have seen more and more decimation of budgets which were meant to help support women's health, including reproductive health and choice."
WAWH created a CafePress shop where they sell Kindness Is Everything yard signs, coffee mugs, door mats, shower curtains and more. Since then, the message has taken off in an even bigger way.
Famous people like singer-songwriter Eric Hutchinson and author Glennon Doyle Melton have posted photos of the sign. People carried it at the Women's March on Washington, as well as satellite marches in cities like Chicago, Atlanta, New York, Los Angeles, Detroit, and more. Rosen-Heinz said the sign has also been spotted abroad in Australia, Puerto Rico, Austria and the U.K.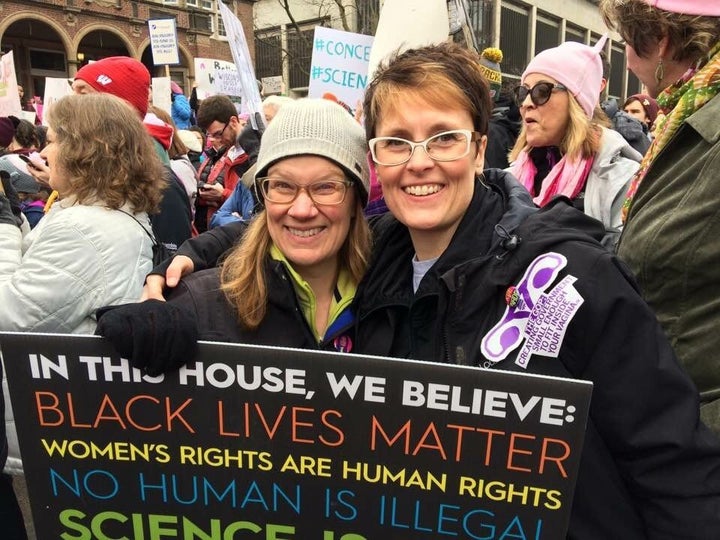 Religious organizations like Fountain Street Church in Grand Rapids, Michigan offered the sign to congregants. The D.C.-based nonprofit, Joseph's House, made a large banner version of the sign to display during the presidential inauguration.
"We have reports of towns in New Jersey where the signs are in almost every other yard," Rosen-Heinz said. "We have had similar reports from other areas."
"I hope people get a feeling of acknowledgement out of seeing the signs," the mom explained. "I hope that they know that whoever they are, they matter."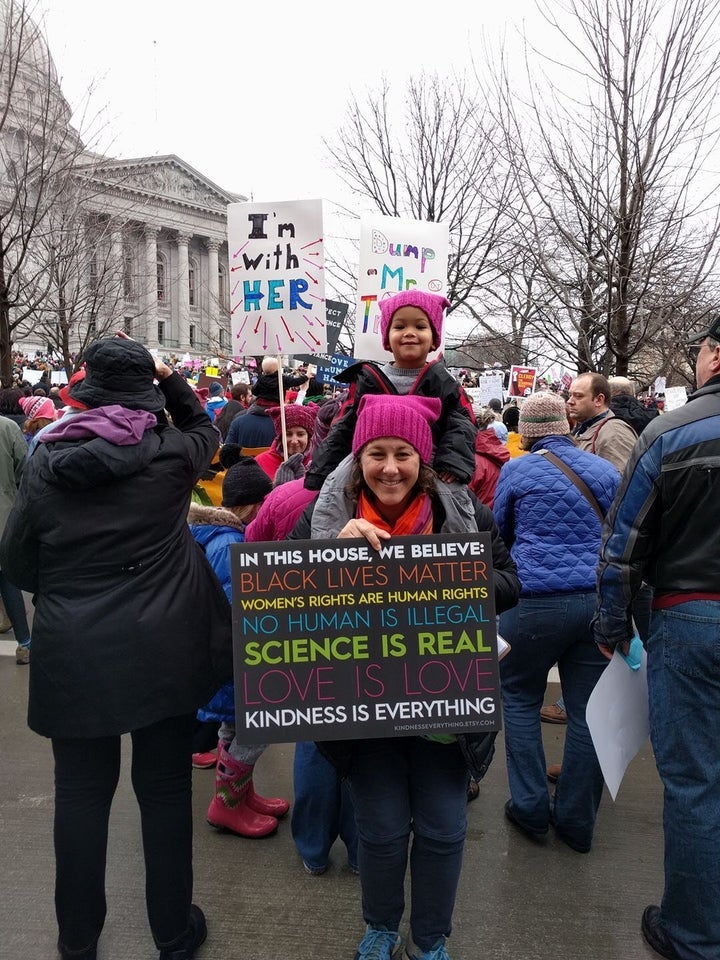 After releasing the image, the creators received countless requests for different messages to add to the sign ― including phrases like "freedom of religion," "regardless of disabilities" and "protectors of water."
"While we would love to make a sign that had EVERY possibility on there, that would have to be a mighty big sign," Rosen-Heinz said. "What is powerful about this sign is that it says just enough that people think 'AND' ―, they fill in the blank. They think about the ways that people are privileged or marginalized based on identity. I like to think that we should all go around with a curious mind that is looking to include a different perspective. That, in the end, is what empathy, and ultimately, what being human is all about."
The women behind the sign have been amazed by how far it's reached. "For me, especially in the beginning, every time I saw a new sign pop up somewhere, I would immediately get weepy," Rosen-Heinz said. "Even though now I am more used to it, it's still a thrill to drive around an unfamiliar corner and see one of the signs sticking out of the snow."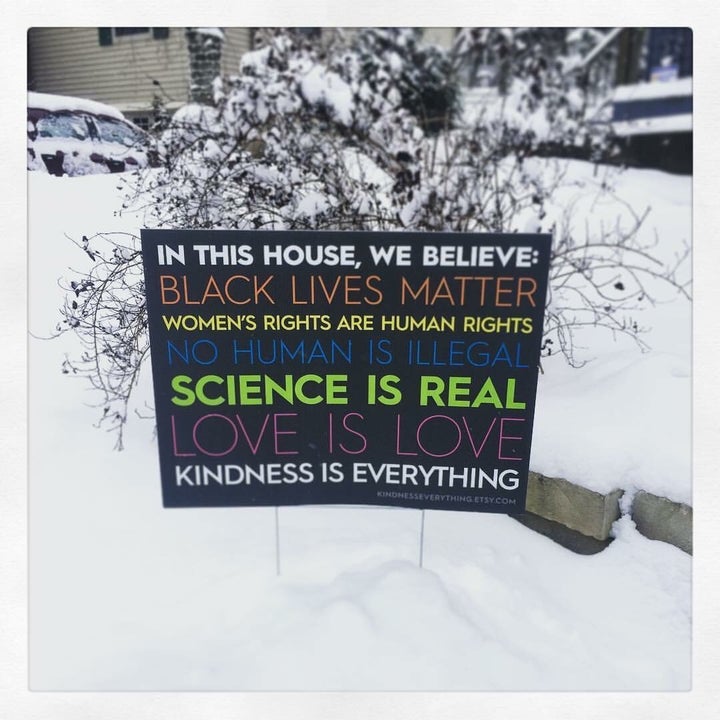 The mom hopes the story behind the sign inspires others, especially given that four of the five main actors are mothers with very busy home lives. "It's a great reminder, hopefully, to lots of people who may feel overwhelmed right now about what to do," she explained. "Most of us don't have time to be full-time activists, but we'd like to help in some way. The beauty of the project is that none of us did everything. And we made decisions at every turn to try to make things finite and manageable for our own lives, while at the same time trying to honor the resonance we've created."
Rosen-Heinz is proud to hear from people who have started conversations and even friendships after seeing others with the sign. "We've heard stories of dog walkers who try to tailor their routes to see the most kindness signs possible," she said. "We've heard of people dropping little gifts and notes at the homes of those with the signs. In Michigan, one woman left a sweet note and a pound of coffee!"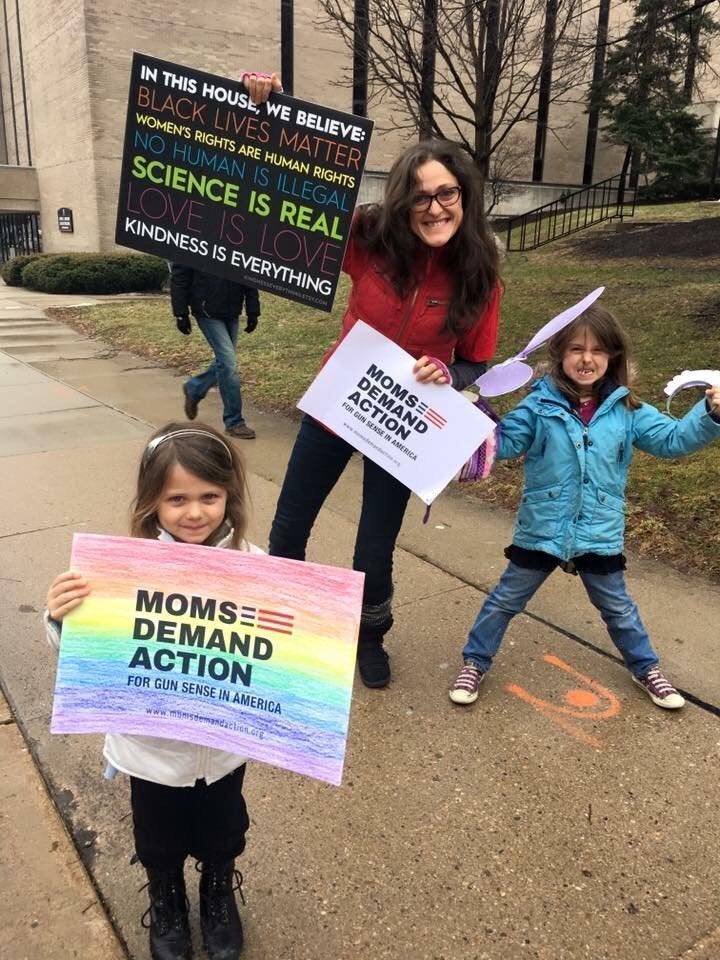 Unfortunately, it hasn't all been pure bliss, though the good has far outweighed the bad. In January, they learned about a woman in Kenosha, Wisconsin whose sign was defaced with a derogatory term and her car tires slashed.
"Knowing that it has happened makes me even more confident that kindness does matter," Rosen-Heinz said. "And that I, my family, my community, and this amazing tribe of kindness warriors throughout the world will be even more energized and emboldened to stand up for our common humanity."
Rosen-Heinz believes the signs are ultimately hopeful. "They are an affirmation," she said.
"I know many of us feel uncomfortable right now, and many are disillusioned," she explained. "As a parent, I feel that burden much stronger, even, I think, because of my kids. It is one thing to deal with intolerance myself. But I think most of us really feel like we want to leave our kids a world that is more accepting, more tolerant," she added.
"Putting this sign up for me, personally, is not only a statement to anyone who drives by my house," Rosen-Heinz continued. "It's a sign to the people INSIDE my house. It's a sign to my kids. This is how we operate in the world― by valuing people, not by devaluing them."
Related