Changing ourselves changes the world. In 2013, I began giving away money, every day of the year, to startup social change projects. Since then, thirty others have joined me in the practice of daily giving. In 2014, we will make 365 seed grants to extraordinary individuals who are launching and leading inspiring social change efforts around the world. We welcome you to join us with as little as $1 a day. Here are the extraordinary people and projects that our daily givers supported this week.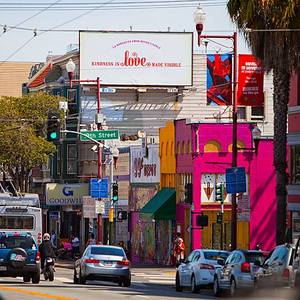 Inspiration By the People: For the People. California-based artist Robert Bengtson has a vision to use creativity to make the world more loving and beautiful. He's making this real across San Francisco and beyond through his latest project, Inspiration Campaign. "The Inspiration Campaign invites individuals to come together and collectively transform media into a source of inspiration," Robert said. "We are people-powered: people submit messages, people vote on the content to turn into media, and people chip-in to buy the ad spaces." By creating an example of the power individuals have when they come together, the Inspiration Campaign seeks to to create a new kind of media. They have already created 25 billboards and nine buses banners. Their newest billboard, Kindness is Love Made Visible, was just revealed at 19th and Mission Street in San Francisco last week.
Telling the Story of Sexual Violence.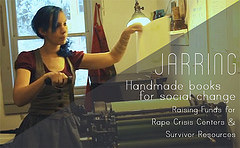 Artist and bookmaker, Mirabelle Jones, is helping the survivors of rape share their stories through letter-press printed, hand-bound books filled with art, texture and their personal narratives. "My own assault which occurred in my first year of graduate school, was a pivotal event in my development as an artist and as a human being," Mirabelle said. "By connecting with other survivors, I realized that this experience was a larger societal issue that needed to be explored and discussed, that supporting a community of silence was allowing rape culture to persist, and that my skills as an artist and a book maker could be employed to break the walls of silence shrouding this issue." Called JARRING, the set of three books will be sold to special collections libraries, so they can be freely accessed, and a copy will also be given to rape crisis centers as a therapeutic aid. Mirabelle also plans a book tour to promote discourse on sexual assault and art.
Giving Women a Blueprint for Success in Georgia. Veronica Harris is committed to assisting young women in transition in Georgia. Wanting to give young women the necessary education and tools for success, Veronica began the Spirit & Wellness program. The Spirit & Wellness program guides participants through five weeks of classes on spiritual and nutritional health, as well as entrepreneurial skills and budgeting. By teaching the women to craft their own bath, body and cleaning products, as well as market and sell them at local fairs and markets, Veronica will help give these women a second chance at life. Veronica believes "healing is in the earth and we must learn to nurture what the creator has given us and use it for wellness." She has been nurturing this community for over twenty years, and dreams of women having the complete skillset for long-term success.
Animal Advocacy and Vegan Youth in Washington DC.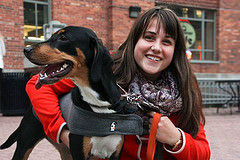 George Washington University student Marissa Price is educating her fellow students and community about animal cruelty with the brand-new group, GW Animal Advocates. Marisa explains, "GW Animal Advocates seeks to provide educational outreach as well as organize advocacy-based initiatives to relieve the plight of animals and work across sectors to reduce and eradicate cruelty to all living creatures." Marisa is one of the winners of the "Student of the Month" contest through the Vegetarian and Vegan Youth Network and received her Pollination Project grant as part of the award.
Eating Fresh Cherry Tomatoes in Texas. As a master gardener, horticultural therapist and founder of The People/Plant Connection, Susan Stanfield has been bringing her love of gardening to her San Angelo, Texas community through classes at local recreation centers for years. Now, The People/Plant Connection is planting their own 3 acre garden. One of the special features will be called The Children's Adventure Garden, after Susan saw how children responded to her gardening classes. "I was amazed how many children hadn't been exposed to the natural word of plants and wildlife," she said. "They learned about horticulture, butterflies and hummingbirds. They tasted vegetables and fruit. One little girl had never tasted a fresh cherry tomato. My passion is fed every time we teach someone something new about gardening that gets them excited about being outdoors and making a difference in their lives."
Supporting the Guardians of the Ecuadorean Amazon.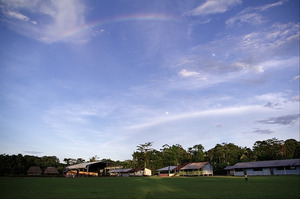 Ivonne Yanez has witnessed the damaging effects of deforestation to the Kichwa communities along the Napo River in Ecuador. These communities are constantly threatened by the ever-expanding oil industry in the region and as a result, their livelihoods are also threatened. Ivonne aims to educate and organize the local communities with climate change workshops. By bringing together the people who not only depend on the forests for their survival, but who are guardians of the Amazonian forest, Ivonne hopes to strengthen the communities' livelihoods and well-being.
Middle School Art Club in Georgia. Mandy Russo teaches middle school at a Title I school in Cairo, GA. The school did not have money for art classes for its students, so Mandy decided to fill that need by forming the Washington Middle School Art Club. "Art is a form of expression that is needed for Middle School students," Mandy said. "My students receive art instruction in elementary school and then they have the choice again in high school, but nothing in those tough in-between years. I am looking to give my club members an additional outlet to release whatever it is they need to get out." When Mandy started the club, she had enough supplies for 30 students. However, 150 students signed up and she didn't turn anyone away. The students have a monthly art competition, with the winners' work framed and displayed at the local library. Each student also receives their own watercolor set to bring home.
Congratulations to our grantees this week for their outstanding work to bring justice, peace, health and compassion to their communities. These are just a few examples of what a little seed money can do when put in the hands of someone with a vision and a plan to change the world.
Related
Popular in the Community