On a recent trip to Portland, Oregon, I found more than just insanely delicious almond brittle with salted ganache ice cream from Salt & Straw.
Two notable displays occurred around food, as one might expect from a city that gave us Pok Pok (more on that later), while the other came after a bit of a hiking... debacle.
As us journos say, trends come in threes, so clearly it's hip to be kind in Portland.
The Kindness Incident 1
On my first full day, I took a hot yoga class in the NorthWest district near where I was staying. I made the mistake of not having coffee or a nosh before practice. I should've known this would be a Major Fail as I hadn't practiced in over a week, nor do I usually get my 'dog on in heated rooms. Needless to say, I struggled immensely through the postures and ended up with the world's worst headache for nearly four hours after. Of course, I didn't let this stop me from proceeding to carry on with my day, and I guzzled water before hopping on the streetcar for nourishment at Tasty 'n' Alder, a downtown restaurant that had come highly recommended. I sat at the bar and started talking to the bartender, who himself was from NYC. He moved to Portland last February and never looked back.
My headache persisted, thanks in part to the dizzying array of menu options. From a frittata with butternut squash, to the "Tasso Hash" with onion sour cream and over easy egg and the Bim Bop bacon and eggs--I was going to need reinforcement. Thankfully, the bartender not only applauded my decision to go with the half portion radicchio salad with bacon "lardons" and "six minute eggs," along with a half portion of potatoes bravas, but he offered me IBUProfen after he saw me struggling to keep my keppie up.
But wait, it gets even kinder.
When the guy next to me finished his radicchio salad (hence my decision to order it) out came his Bim Bop...and my food envy. We began talking, and next thing I knew he was scooping a plateful of the stir fry onto a dish for me! Soon enough, my temples eased, the tension over my eyes disappeared and the only thing left...was kindness.
The Kindness Incident 2
That night, I decided to head SouthEast for dinner at Pok Pok, the Portland Thai joint from chef Andy Ricker that became a nationwide phenomenon with pop-ups in LA and a standalone in NYC. Unfortunately, the latter is so far out of the way in Brooklyn that it's practically in the East River, with wait times equivalent to what teenagers might endure to meet the Biebs. And so I went straight to the source, assuming, as is usually the case at popular places, there's always room for one. (There was.) In fact, it's another reason I love to travel solo: Rarely is the bar full, and you can almost always get that last movie/theater/concert ticket--and even find a seat in the center row!
On the other hand, dining solo produces a different sort of predicament: the inability to taste lots of things without busting the bank--and one's pants.
Following the afternoon's good fortune, I certainly didn't expect to find myself in a similar situation...
I decided against ordering Pok Pok's speciality--the crispy, fish sauce-and-sugar dipped chicken wings--and instead ordered one of their "One Plate" meals featuring two other popular items: the papaya salad and the half-roasted game hen. Two for the price of one, plus it had the perk of not being as fatty? Sign me up!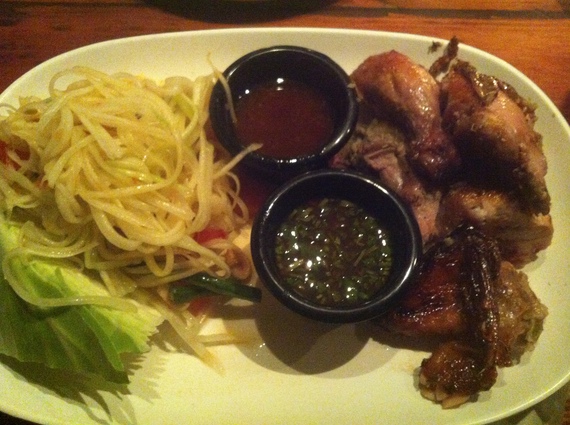 Not three minutes after I placed my order, the special wings arrived in front of the group to my right, and lo, thence came the food envy.
Luckily, my chosen meal was quite delicious, and as I made my way through the citrus saturated salad with peanuts and papaya, a ball of sticky rice that I joyfully ate with my hands as if I were back in Bangkok, and my own hen slathered in lemongrass, another girl sat down to my left. She was alone, visiting from Australia, and also overwhelmed by the "family style" menu. She then proceeded to have the same conversation with the waiter I had just half-hour earlier:
Her: "If I order the special wings, will I be able to order anything else?"
Him: "Probably not..."
And so, I piped in: "I'll share them with you!"
I was near full, but gosh how I wanted to try one of those sugary-sweet wings!
As Aussies do, she happily obliged, however by the time they arrived I really was too stuffed to actually dig in. Plus, now I felt a bit sheepish. Of course, she kept insisting as we had now become bar buddies, and so I chowed down to the bone until the only thing left...was kindness.
The Kindness Incident 3
On my last day in town, I decided to do a hike through the city's 5,000-acre Forest Park. My AirBnB host recommended the moderate trail to Pittock Mansion, which began just a few blocks from the apartment.
I found some info online and it said it was 5-miles, though I wasn't clear if that was one-way or return. Still, it was in the middle of a metropolis, it couldn't be that hard! (Could it?) So I set out at around 10a.m. with a bottle of water, my phone, and my ID and some money, figuring I'd probably be back around noon--just in time for a proper final meal at a nearby hotspot. (I know. You'd think I'd have learned my lesson about eating before exercising, but no. I had a coffee, felt fine and wanted to save myself.)
The walk to the park itself was lovely. The trees all over Portland were at their peak in terms of foliage and every one was more vibrant than the next, with sidewalks covered in leaves big and small, orange and red. Among them were a very diverse display of urban residences--from chic, contemporary-looking condos to Victorian houses with porches. Oh, Portland. You stay "weird," eclectic and awesome.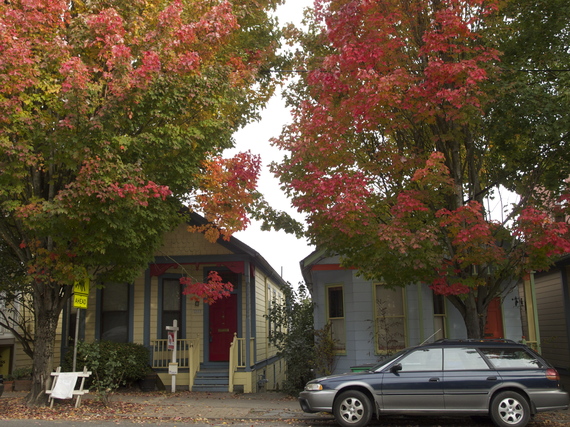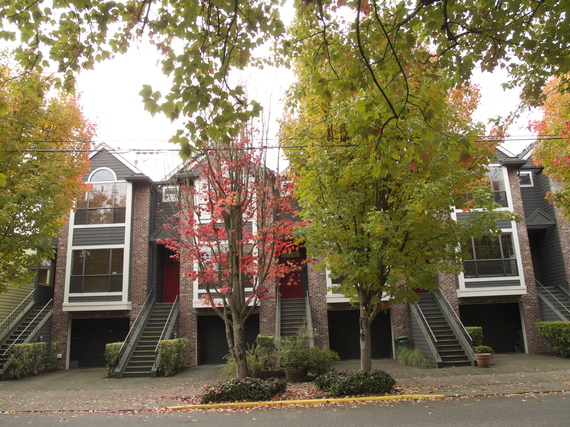 Once I entered the park, I tried to get my bearings so I knew where I began and where I was going.
I had remembered reading something about crossing a road and a Stone House, but mostly I knew to just follow the "Wilderness Trail." (What I didn't realize was that this WIlderness Trail is mighty long and goes off in several directions.)
Still, I breathed in the insanely fresh air and enjoyed the sounds and sights of the woods: the bubbling brook to my right, the vocal birds in the trees, the glowing green moss dripping from the trunks of decades-old trees.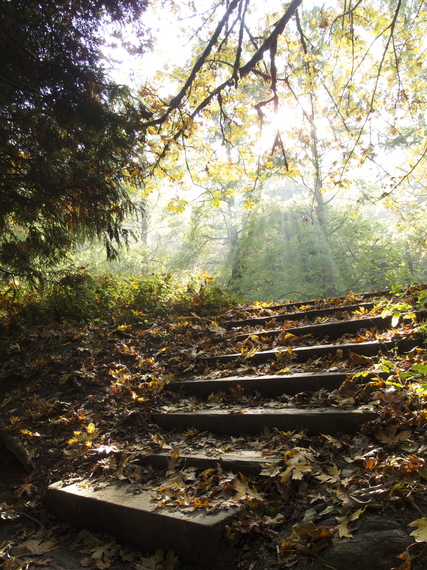 I took each step with a thankful smile until...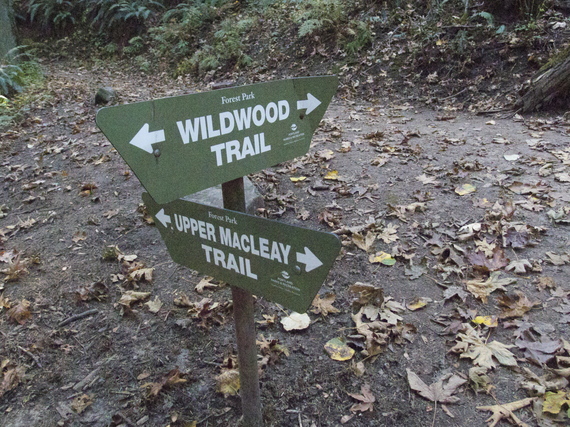 Is that sign pointed up or slightly left? Am I supposed to go straight at the Stone House? But wait, it says Wilderness Trail up this way...

I felt like Robert Frost: "Two roads diverged..."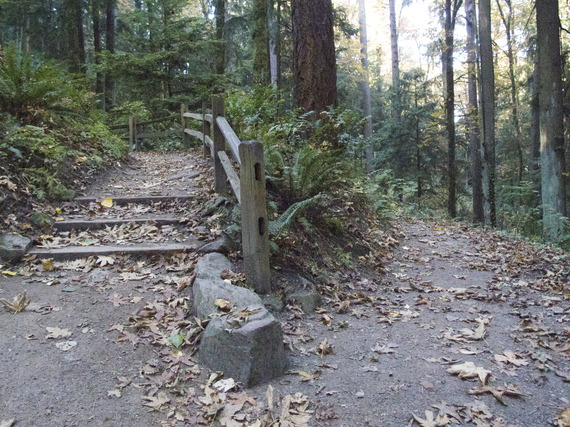 In this case, I did not want to take the one less traveled, lest I end up like that dude Aron Ralston that James Franco played in 27 Hours.
So I went right. Which, as is usually the case with me, was wrong. Of course, I didn't learn this until I had hiked about 20 minutes where I found a plaque with a map of where I was...and the Pittock Mansion wasn't.
I turned around, laughed to myself, and carried on, returning to where the path diverged at the Stone House in no time.
How much further could it be? I wondered.
Well, to be cliché: It was a hike. A beautiful, uphill, quad-burning-off-that-sugary-chicken-wing hike.
I refused to turn around and kept going until I got to the top where I saw the whole city of Portland and Mt. Hood peeking out amongst the clouds.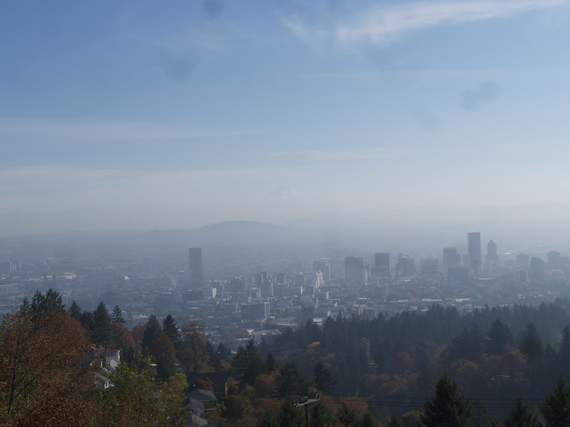 At this point, it was 12:17. I needed to leave for the airport at 3, and still had to shower and desperately needed to eat.
And so I Google Mapped other return options, thinking I could get the bus or walk a shorter route through the streets. I went with the latter after talking to a lovely Portlandian who reassured me that Burnside Ave. (the city's main drag) was just at the bottom of the hill.
A very long, winding, no-shoulder hill.
So on it I walked...and walked...until I reached Burnside to have cars whiz past me at 40mph. Apparently this "main city drag" turns into a highway above town.
Great, I think. I survived a narrow, woodsy, no-one-would-hear-me-if-I-fell hike, and yet now I'm in danger of getting socked by a car on a busy two-lane road!
I couldn't decide what was safer: walking against traffic or with it.
Finally, I saw what looked like a bus stop and began Googling when the next one might arrive, all the while looking up and jumping back with each fast-passing car.
Across the street, on a road coming down onto Burnside, a car stopped. A man opened his door and waved me over.
"Do you need a ride? he yelled.
I only thought he might be a serial killer for, like, 2.3 seconds. But then I quickly realized he was just an old man with a friendly face, grey hair, and a droopy left eye that seemed to say, "I am nice, you seem lost and in need of assistance, let me help you." So I carefully crossed the road and hopped in.
Lyle, a born and bred Oregonian, drove me back to where I started, which really wasn't all that far away, but did continue along that deathtifying road for another mile or so. We spoke for most of the ride, him telling me about his wife and his time working at the University; my telling him about my travels and being from New York City. By the time we reached my block, it wasn't clear who appreciated the ride more and the only thing left...was kindness.