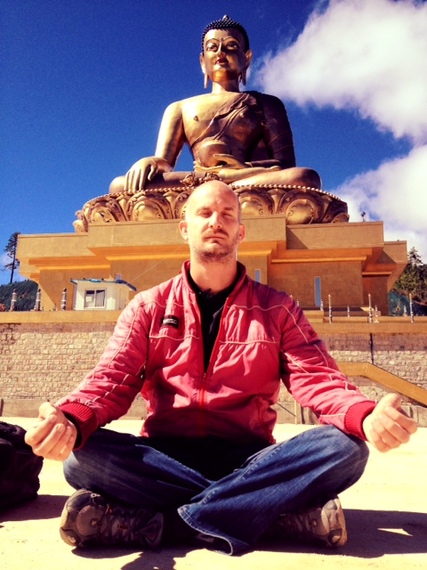 "It is not how much we have, but how much we enjoy, that makes happiness"
Charles Spurgeon

Circumnavigating the Globe from Los Angeles on a vintage yellow motorbike is not for the faint of heart (Some may say it's only for madmen...). My journey had brought me to Incredible India and I was thrilled to be there. India had been good to me but now it was time to ride to the only Buddhist kingdom in the world. Bhutan.
What I found so fascinating about Bhutan was that they have created 'Gross National Happiness' which means they determine the success of the country based on the happiness in their souls as opposed to the amounts of money in their pockets. I was totally taken in by this magical kingdom. When they tell you that it's the Land of Happiness they are telling the unbridled truth. It's quite astonishing how beautiful the people are. And by beautiful I am not referring to the external. I am referring to the internal worlds of the Bhutanese. They are joyous. They are hopeful. They are peaceful. They are truly happy...
I can say without a shadow of a doubt that my time in Bhutan was the Pinnacle of my trip so far. The joy was infectious. There is a joix de vivre in Bhutan that I have not experienced anywhere else on my travels. It really is the last Shangri la. A place of epic beauty both on the inside and on the outside. Viva Bhutan!
I am currently on a journey that is powered by the kindness of strangers. With no money, no credit cards, no gas and no place to stay, I am circling the globe on a bright yellow, vintage motorcycle with a sidecar, Kindness ONE® (Sort of like Air Force One, but kinder). Please click here to read more.