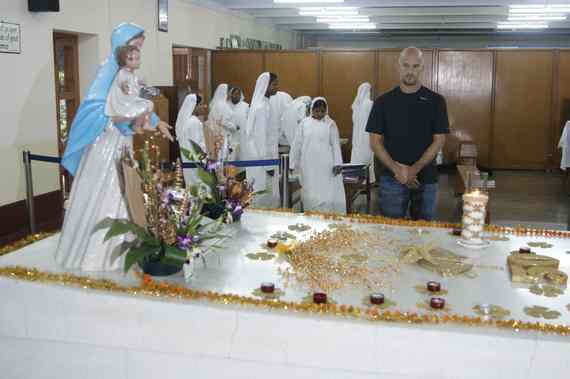 "Let us always meet each other with a smile, for the smile is the beginning of love" -- Mother Teresa

After my trip to the Himalayan Kingdom of Bhutan I wasn't sure how I would react as I reentered India. The peace and tranquility of Bhutan was soon to be shattered by the chaos of India. I have already ridden from Los Angeles on my trusted bike Kindness One and to find myself back in India after a detour up to Bhutan was a minor shock to the system.

I soon got used to it and went about looking for a place to stay for the night. On my arrival in Calcutta I wasn't having much luck and Kindness One was playing up again. I asked many people to help me out but my luck had seemingly run out. Then I came across the Missionaries of Charity, which is the charity that Mother Teresa founded. The charity helps the poor and underprivileged to hope again.
Two smiling sisters welcomed me into the mission. Unfortunately there was no place for me to stay but I got the chance to pray by Mother Teresa's tomb and refocus my scrambled mind. Here was a woman who epitomized what I was trying to infuse into my journey: love and kindness. She was someone who walked the walk. She shifted people's lives and even after her death her presence can still be felt in the mission and around the world. Her good deeds go on.
With my energy refocused I went back out into the streets to find a place to lay my head for the night...
I am currently on a journey that is powered by the kindness of strangers. With no money, no credit cards, no gas and no place to stay, I am circling the globe on a bright yellow, vintage motorcycle with a sidecar, Kindness ONE (Sort of like Air Force One, but kinder). Please click here to read more.