Kinesthetic Communication, and the power of touch-a killer app for Apple Watch and beyond?

After the recent Apple Developer conference, one question on many an Apple fan -- and shareholder's--minds is that of the potential success of the Apple Watch (yes I promise to not use any "time will tell" puns here). Having said that, it would seem that one of the coolest and perhaps most-groundbreaking aspects about Watch and the SDK for it, is going to be kinesthetic communication, and how that potentially plays out as an entire new category amongst wearables, IOE, and all things digital tech in between.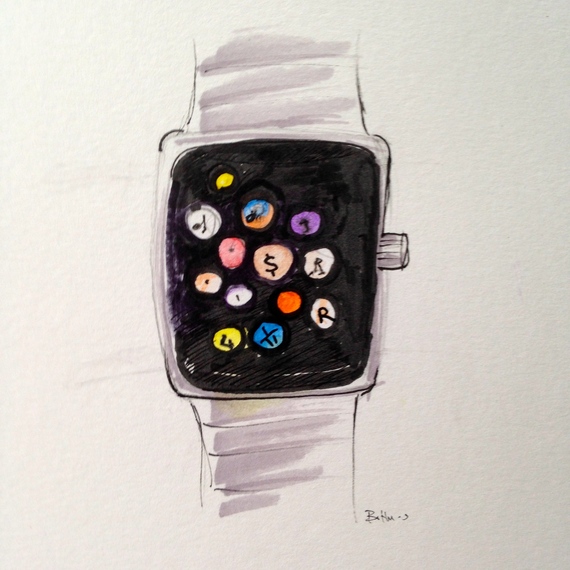 In the simplest of terms, kinesthetic communication is how any wearable device communicates with either the wearer, or another person, via some kind of tactile response, touching the wearer that is. While the iPhone has long had the ability to vibrate, it now has a proprietary system called microelectromechanical-system, aka MEMS. I believe this seemingly simple system, and slight difference of tacticle sensation, is actually going to really drive the success of watch.
Apple is already building into Watch some basic tactile functions: nudging you in the right direction when walking for navigation, tapping you on the wrist for receiving your notifications, and even feeling a lover's heart beat communicated back to you. But I am anxious to see what 3rd party developers come up with.
Apple calls Watch their most intimate product yet, observing "A device you wear is vastly different from one you keep on a desk or carry in your pocket". Frankly, I agree. Not only is information closer for viewing now, but it is there, in hands-free fashion, where you can receive tactile feedback both simultaneously and instantaneously. Think of the uses for that, well, you don't have to; akin to the app boom for the iPhone and its predecessors, simply fathom instead the ensuing creativity Watch developers will express using Watchkit, the software developer kit for Cupertino's latest device.
One can easily foresee apps for driving a car, since the device is freely suspended on your wrist, and as well: golfing, baseball, dancing, and just about any other physical activity, where before you'd clumsily be clutching an iPhone. This writer for one is enthused, having at least a few times ran like an ass, iPhone in hand, trying to read the screen at the same time. Hands-free not only means tracking activities smartphones can't typically, but the kinesthetic communication of the Watch allows for instant feedback as well. I'm talking the stuff that would make Pavlov drool thinking about: like a buzz on the wrist to correct your golf slice, or for when you enter car for it to remind you to buckle up. I also love the idea of an app I'd call PushupTrackr, reigning in on the movement of a wrist to count, and delicately buzzing you to let you know when you have finished your sets.
Gen Xers and those even older, likely recall the old AT&T slogan "reach out and touch someone", well MEMS brings this into more literal domain of course, in quite intimate fashion as it can even commute the human pulse. Perhaps the next teen social media app worth a dumptruck load on paper, will involve morse code style wrist buzzes sent back and forth? Intimacy is also privacy, the taptics that Watch uses doesn't disturb anyone else near you, say at the dinner table, unlike the cacophonus vibrate feature, no one knows you are being tapped:
Now that a device is on our wrist, and there 24/7, that tiny distinction allows for applications that developers wouldn't have otherwise done with the iPhone. Think, an app that buzzes your wrist a certain way when your dog walks off the property. Developers will surely take advantage of people's ability to discern different tactile sensations--"Taptics" as Apple is calling it, as another dimension to kinesthetic communication.

Location awareness as a concept also allows for some interesting intersections with kinesthetic communication, like a tap on the wrist when a fellow app user walks by, or perhaps to the beat of music even.
Combined with functions from Internet automator king and queen IFTTT and Zapier respectively, what you could program your watch to buzz you for automatically via 3rd party apps, is endless.
While kinesthetic communication might not pan out to be the embodiment of Watch, don't be surprised when it becomes a major part of it, like the vibrate feature never was. By virtue of that a respective Watch app being able to guarantee that it's in contact with you, there are avenues that can be utilized, like buzzing you a certain way as you enter a particular zone. Blind people can use it for all sorts of applications, more utilitarian than measuring golf swing (no offense golfers.)
My layman understanding of the psychology of touch, is that is a powerful one in its intimacy, to get a point across, that is, it more directly connects with our limbic brain. Think of the ramifications for Education, Health/Quantified self movement, IOE, Security, Payments, and Play, as blended with kinesthetic communication as a normal concept.
We will have to watch of course. ; )
Related
Popular in the Community